Queen's Faculty of Law is committed to increasing Indigenous representation within the legal profession, and supporting the Indigenous students who choose Queen's.
Queen's is situated on traditional Anishnaabe and Haudenosaunee Territory: to acknowledge this traditional territory is to recognize history that predates the earliest European colonies, and its significance for the Indigenous peoples who lived, and continue to live, upon it.
Indigenous teachings in our curriculum
All Queen's Law students are encouraged to explore Aboriginal and Indigenous law through our course offerings. As well as significant sections in some of our core courses, we offered the following in the 2018-19 school year. These courses are accompanied by frequent special visitors and speakers to the faculty, detailed below.
Aboriginal Law
Aboriginal Child Welfare
First Nations Negotiations
Bias in the Criminal Justice System
Meet Ann Deer, our Indigenous Recruitment & Support Coordinator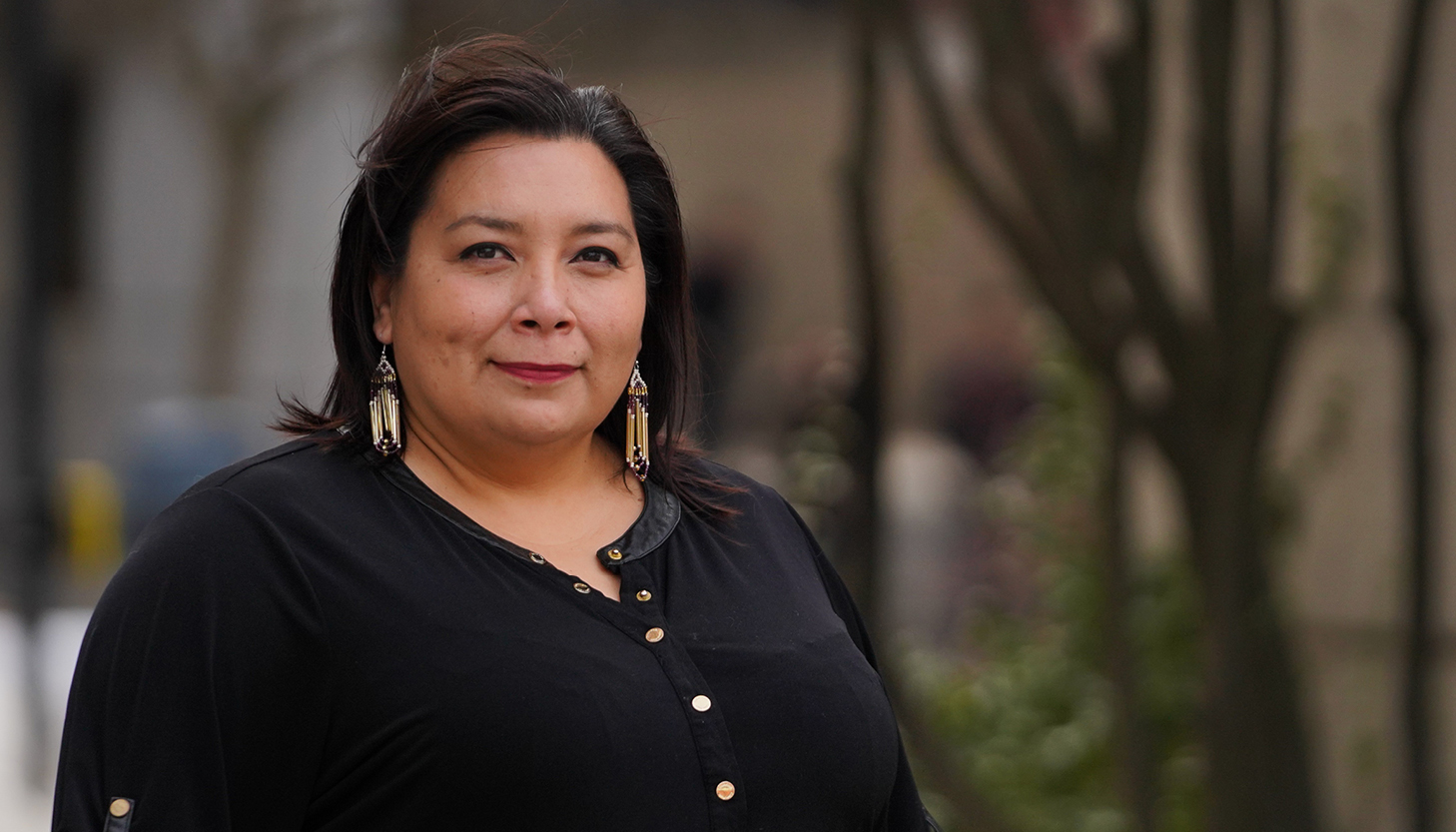 From the Wolf Clan, Mohawks of Akwesasne, Ann works for Queen's Law and the Smith School of Business, liaising with faculties and groups across Queen's and in the surrounding community.  She works with prospective students as well as current students, organizing discussions, cultural events, guest speakers, Feast nights and more. She is happy to connect Aboriginal students at Queen's Law!
Aboriginal student resources – at Queen's Law and across the university
Four Directions provides programming, cultural events, services and resources for the entire university, helping Indigenous students studying with us connect with each other and celebrate their heritage. The Queen's Law Aboriginal Law Students' Alliance meets law students' specific needs, and the university as a whole is also home to the Queen's Native Students' Association. Here at 128 Union Street, our Lederman Law Library has been acquiring and expanding its collection of Indigenous law resources, with a particular focus on works written and produced by Aboriginal people.
Indigenous Art in the Law School Atrium
As part of a greater initiative to increase the visibility of Indigenous art and culture and the recognition of Indigenous territory in spaces across Queen's campus, the Faculty of Law has launched a public art call for an Indigenous artist to produce an artwork for the atrium of the law school.
Thursday, September 13, 2018 saw "words that are lasting" by Hannah Claus, an artist of Kanien'kehá:ka and English heritage from Montreal, installed in our Atrium – a key piece of public art for the Faculty of Law.

The artwork is based on wampum belts, which record nation-to nation agreements and governance structures for Eastern Woodland nations, and for the Haudenosaunee in particular. The words within a wampum belt are meant to last "as long as the waters flow, the sun shines and the grasses grow". The suspended installation represents various historical belts and includes one belt invented by the artist to represent the three nations acknowledged as the custodians of this territory.
Queen's Law will be having a public celebration of this major work on September 28 at 12:30 p.m. in our Student Lounge. A small preceding ceremony will be live streaming on the Queen's live streaming server.
An 'Aboriginal Ambassador' and Canadian business leader
In 2013, we appointed David Sharpe, Law'95 as our Aboriginal Alumni Ambassador. A Mohawk and a member of the Mohawks of the Bay of Quinte, located near Deseronto, Ontario, David sits on our Dean's Council and is the President and Chief Operating Officer of Bridging Finance Inc., a private investment management firm based in Toronto.  David is currently the Chairman Emeritus of the Board of Governors of the First Nations University of Canada.  He is also on the Board of Directors of Native Child and Family Services of Toronto and a Board member of the economic development corporation for Eabametoong (Fort Hope) First Nation, a community located approximately 300 kilometres northeast of Thunder Bay. David's support is partly why Queen's Law has been so successful in having a range of Aboriginal leaders and voices visit the faculty. 
Recent Indigenous speakers, visitors and honorees at Queen's Law
Famed Indigenous architect Douglas Cardinal was granted an honorary degree at the law school during 2018 Convocation. Prior to this, Mr. Cardinal also spoke at the Faculty on March 31, 2017 to share an Indigenous perspective on what Canadian society looks like.Queen's Law has also recently created a bursary in Mr. Cardinal's name (see below).
A panel on the Gerald Stanley trial and the killing of Colten Boushie, with special guest, Mohawk lawyer Stephen Ford, attracted not only school-wide but national attention through a Facebook Live stream of the panel.
Dr. Mark Dockstator, President of First Nations University, was the guest of honour at our first Lederman Visitorship in the 2017-18 school year. He visited the campus for several days, leading intensive workshops for students with a visit culminating in an open lecture on reconciliation. We also welcomed Dr. Dockatator to the campus in 2015 for a talk entitled "Contemporary State of Aboriginal Issues in Canada" (2015)
In 2016, the Dean held a panel on Economic Development and reconciliation with Aboriginal Peoples, in conjunction with the 2016 Kawaskimhon Moot and including panelists: Ogimaa Duke Peltier, Dr. Mark Dockstator & Kelly LaRocca.
Ovide Mercredi, Canadian First Nations leader and former National Chief of the Assembly of First Nations, visited in 2015 for a talk entitled "The Current State of Aboriginal and Treaty Rights in Canada" (2015)
Blaine Flavel, Law'90, Chancellor at University of Saskatchewan, joined us in 2014 for a talk entitled "Challenges with Reconciling Aboriginal Interests and the Canadian Economy, An Energy Perspective"
Committed to Indigenous student success
2018 saw the creation of the Douglas Cardinal Bursary. Championed with a $100,000 gift from David Sharpe, additional support from Peter Brady (Law'96) and matched with faculty funds, this bursary will provide financial support to Indigenous students in any year of the JD program.
In 2015, the Queen's Law Students Society contributed $25,000, matched by Faculty funds, to create the Queen's LSS Aboriginal Entrance Award, a mixed merit- and needs-based award. This is only one small part of a tapestry of funding opportunities for Aboriginal students, available from the law school or through the university proper. Students are automatically evaluated for scholarships upon being offered admission at Queen's Law, and we're here to help you investigate other funding opportunities that might help you in your legal education. Other resources at the university include: 
Some Aboriginal alumni from Queen's Law
Among the Indigenous graduates of Queen's Law, we are proud to include:
Rose Boyko, Law'80, LLD'97, the first Aboriginal woman to be appointed a judge by the federal government, presided in the Ontario Superior Court of Justice (Newmarket area) from 1994 until her retirement in 2008. She was the first Canadian to sit on the UN Appeals Tribunal, has been a legal advisor with Justice Canada and Director of Indian Affairs' Indian Taxation Secretariat, and in 2012 received a Queen Elizabeth II Diamond Jubilee Medal.
Linda Locke, QC, Law'84, has been involved with Aboriginal law since graduation. She is the lawyer and manager of the Upper Skeena Counselling & Legal Assistance Society in Hazelton, B.C.; this clinic provides much-needed legal services to Aboriginal people and other disadvantaged residents in her community. A respected member of the bar in her region, she has become a strong, effective advocate for social justice through her work as lawyer, teacher, and mediator. In 2006, she became her province's first Aboriginal woman appointed Queen's Counsel.
Wayne Garnons-Williams, Law'90, a senior lawyer and Principal Director of Garwill Law Professional Corp. in Ottawa, provides corporate law services to start-ups and First Nation business ventures. He is also Tribunal Chair of the Federation of Saskatchewan Indian Nations Appeal Tribunal and Chair of the International Inter-Tribal Trade and Investment Organization.
Justice Joyce L. Pelletier, Law'90, was appointed to the Ontario Court of Justice in 2005. In her previous law practice, she focused extensively on servicing a First Nation and Aboriginal population in criminal defense and child protection work. She has also managed a large First Nation multi-social service child welfare and health agency. Justice Pelletier is an Ojibway woman from the Fort William First Nation.
Brian Eyolfson, Law'92 (Artsci'89), is serving as a commissioner on the National Inquiry into Missing and Murdered Indigenous Women and Girls. A human rights lawyer and member of Couchiching First Nation, he is one of five commissioners from across the country appointed by the federal government to the independent public inquiry.
David Sharpe, Law'95 (see above).
Other recent initiatives
Our third annual educational session for law students in Akwesasne took place in October 2019. This full-day workshop has Queen's Law community members working with the people of Akwesasne and exploring their legal traditions. 

Our internship agreement for Queen's law students with Debwewin internships allows them to work with indigenous organizations in Ontario, in partnership with Ontario Ministry of the Attorney General Indigenous Justice Division.
Cultural support for current Indigenous students through coffee chats, featuring Queen's Law faculty speaking to students on a variety of topics where their research intersects with Indigenous interests; 5-7 sessions per school year.
The creation of a Queen's Law Student's Society (LSS) Reconciliation Committee mandated with responding to the TRC Calls of Action; reviewing LSS policies and activities; and working with the faculty, LSS Core, and the LSS Aboriginal Student Representative to ensure that steps are taken by the LSS to think more deeply about its commitment to reconciliation and the implications of this commitment moving forward.
The creation of a permanent Aboriginal student representative spot in student government (LSS).
Queen's hosted the national Aboriginal law moot (Kawaskimhon) in March of 2016, which included film screenings and a panel on aboriginal reconciliation with two chiefs, a First Nations economic leader and the President of First Nations University. A 15-minute documentary to raise awareness of the moot is nearing completion.
The development of an undergraduate course in Aboriginal Law (LAW 202/702, to be offered both online for distance learners and in blended format for Queen's undergrad students. Beginning in Summer 2017, it is now being offered on an ongoing basis as part of the Queen's Certificate in Law). Course developer Hugo Choquette is also a frequent guest on podcast Fundamentals of Canadian Law, with episodes on the Trans Mountain Pipeline and other topics.
Dean Bill Flanagan participated in the KI Trip in the summer of 2015 to better understand the barriers and challenges facing the youth who live there.
Questions? 
If you have any questions about Indigenous students and studying at Queen's Law, please get in touch: we're here to answer your questions!