Queen's Faculty of Law is committed to increasing Indigenous representation within the legal profession, and supporting the Indigenous students who choose Queen's.
Queen's is situated on traditional Anishnaabe and Haudenosaunee Territory: to acknowledge this traditional territory is to recognize history that predates the earliest European colonies, and its significance for the Indigenous peoples who lived, and continue to live, upon it.
Indigenous teachings in our curriculum
All Queen's Law students are encouraged to explore Aboriginal and Indigenous law through our course offerings. As well as significant sections in some of our core courses, we offered the following in both the 2018-19 and 2019-20 school years: 
Aboriginal Law
Aboriginal Child Welfare
First Nations Negotiations
Bias in the Criminal Justice System
These courses are accompanied by frequent special visitors and speakers to the faculty, detailed below.
Meet Ann Deer, our Indigenous Recruitment & Support Coordinator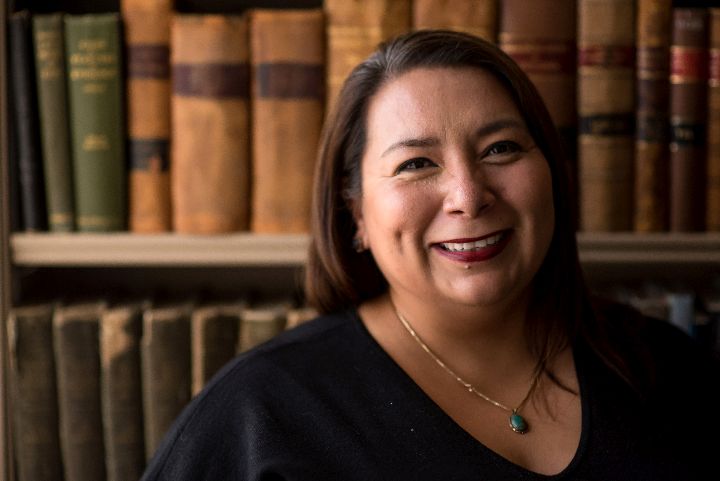 From the Wolf Clan, Mohawks of Akwesasne, Ann works for Queen's Law and the Smith School of Business, liaising with faculties and groups across Queen's and in the surrounding community.  She works with prospective students as well as current students, organizing discussions, cultural events, guest speakers, Feast nights and more. She is happy to connect Indigenous students at Queen's Law!
Indigenous student resources – at Queen's Law and across the university
Four Directions provides programming, cultural events, services and resources for the entire university, helping Indigenous students studying with us connect with each other and celebrate their heritage. The Queen's Law Indigenous Law Students' Alliance meets law students' specific needs, and the university as a whole is also home to the Queen's Native Students' Association. Here at 128 Union Street, our Lederman Law Library has been acquiring and expanding its collection of Indigenous law resources, with a particular focus on works written and produced by Indigenous people.
Recent Indigenous speakers, visitors and honorees at Queen's Law
In the 2019-20 school year, Queen's Law welcomed a wide range of  Indigenous scholars, lawyers, political leaders, community members and activists to the law school, including:
A screening in the law school of a documentary entitled nîpawistamâsowin: We Will Stand Up about the killing of Colten Boushie and the subsequent acquittal of his killer, with guests including Colten Boushie's sister, Jade Brown-Tootoosis.
Professor John Borrows and Senator Murray Sinclair were both honored by Queen's at its Fall 2019 Convocation. Dean Mark Walters was present at both ceremonies, participating in the recognition of these Indigenous leaders with honorary law degrees from Queen's.
Famed Indigenous architect Douglas Cardinal was granted an honorary degree at the law school during the Spring 2018 Convocation. Prior to this, Mr. Cardinal also spoke at the Faculty on March 31, 2017, to share an Indigenous perspective on what Canadian society looks like. Queen's Law has also recently created a bursary in Mr. Cardinal's name (see below).
A panel on the Gerald Stanley trial and the killing of Colten Boushie, with special guest, Mohawk lawyer Stephen Ford, attracted not only school-wide but national attention through a Facebook Live stream of the panel.
Dr. Mark Dockstator, then-President of First Nations University, was the guest of honour at our first Lederman Visitorship in the 2017-18 school year. He visited the campus for several days, leading intensive workshops for students with a visit culminating in an open lecture on reconciliation. We also welcomed Dr. Dockatator to the campus in 2015 for a talk entitled "Contemporary State of Aboriginal Issues in Canada."
In 2016, the Dean held a panel on Economic Development and Reconciliation with Aboriginal Peoples, in conjunction with the 2016 Kawaskimhon Moot and including panelists: Ogimaa Duke Peltier, Dr. Mark Dockstator and Kelly LaRocca.
Ovide Mercredi, Canadian First Nations leader and former National Chief of the Assembly of First Nations, visited in 2015 for a talk entitled "The Current State of Aboriginal and Treaty Rights in Canada." 
Blaine Flavel, Law'90, then-Chancellor at University of Saskatchewan, joined us in 2014 for a talk entitled "Challenges with Reconciling Aboriginal Interests and the Canadian Economy, An Energy Perspective."
Committed to Indigenous student success
2018 saw the creation of the Douglas Cardinal Bursary. Championed with a $100,000 gift from David Sharpe, additional support from Peter Brady, Law'96, and matched with faculty funds, this bursary provides financial support to Indigenous students in any year of the JD program.
In 2015, the Queen's Law Students Society contributed $25,000, matched by Faculty funds, to create the Queen's LSS Aboriginal Entrance Award, a mixed merit- and needs-based award. This is only one small part of a tapestry of funding opportunities for Indigenous students, available from the law school or through the university proper.
For more information on scholarships and bursaries at Queen's, including for Indigenous students, please visit the Faculty of Law Student Awards page.
Sign up for our emails
Sign up to receive updates regarding our Indigenous Initiatives at Queen's Law.
Questions? 
If you have any questions about Indigenous students and studying at Queen's Law, please get in touch: we're here to answer your questions!