Queen's Faculty of Law has been a leader in Canadian legal education since 1957. After two initial attempts to create a law faculty at Queen's – both unsanctioned by the Law Society and ultimately unsuccessful – our first Dean, J.A. Corry, established Queen's Law with its first cohort of 25 students in September, 1957.
Since then, the Faculty has grown in reputation and size. There has been no shortage of milestones: our relocation to the Faculty of Law building (called Sir John A. Macdonald Hall until 2020) in 1960 and subsequent expansion in 1966, the founding of the Queen's Law Journal, one of Canada's leading student-run legal journals, in 1968, and the creation of QUIC-LAW, the world's first computerized law database, in 1972.
From the Faculty's beginnings the initial law degree (first called an LLB, now called a Juris Doctor or JD) has been our main teaching focus, but other educational opportunities have been developed. In the late 1990s, Queen's Law began offering combined degrees which allow students to take a Master's in another discipline while earning a law degree. The 1990s also saw the opening of our Career Development Office, and in the early 2000s our unique spring International Law Programs were launched at Herstmonceux Castle in the UK.
In 2008, a PhD program joined our LLM program, and candidates from around the world now conduct research at the Faculty while obtaining advanced degrees. 2010 saw another step forward with the creation of the Centre for Law in the Contemporary Workplace, Canada's only research cluster focusing on labour law issues.
In 2017, building on the successful on-campus Law 201 undergraduate course, the Faculty created the Certificate in Law. This online undergraduate program allows students at Queen's and other universities to complete four courses, beginning with a broad introduction to Canadian law and progressing through courses in Aboriginal law, corporate law, intellectual property, and other areas.
Queen's alumni remain part of the law school for life. We are proud of their accomplishments and how they stay connected to the Faculty and each other. We look forward to welcoming graduates from all of our graduating classes at Homecoming every year.
About our Crest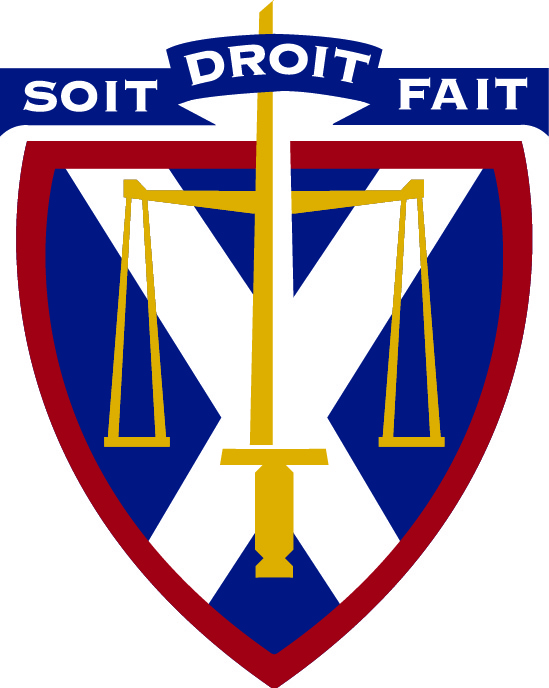 Originally designed by Andre Bieler, RCA, and updated in 2015, the Faculty crest combines symbols of the law and the University, superimposing the sword and scales of justice on the white cross of Saint Andrew. The red, blue, and gold of the crest represent Queen's University's colours.
"Soit droit fait" (Let law be made / Let right be done), the Faculty motto, is adapted from Norman French. The crest symbolizes the concept of the rule of law – the democratic ideal of government under just laws – and the dynamic tension between the two sides of law, one side creating the rules that govern our society, and the other side ensuring that these rules result in the greatest common good.