Exchange student ambassadors share their experiences at Queen's Law.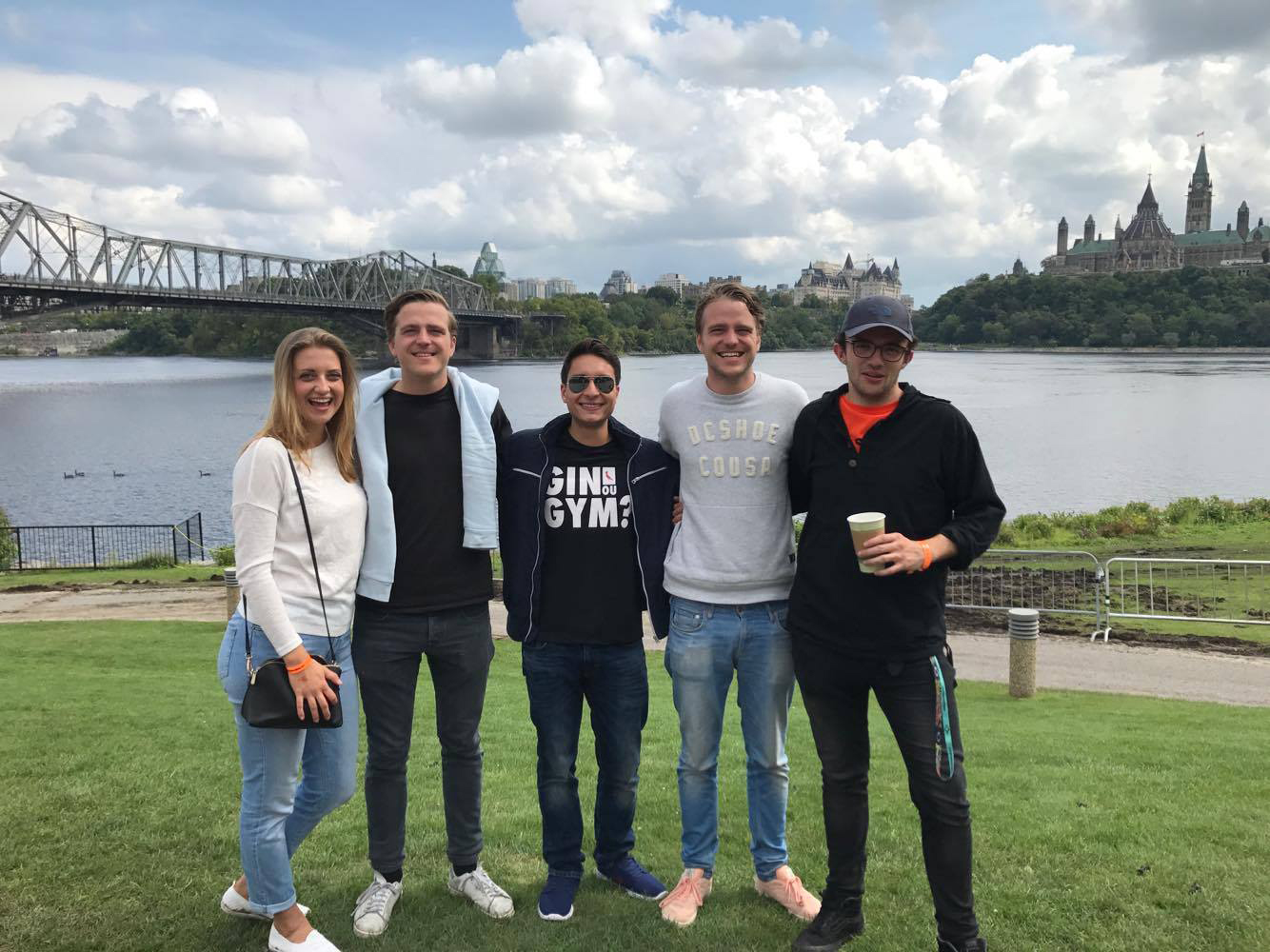 Tim van den Bosch
On exchange from the University of Groningen, Fall 2017
"My preparation for my exchange to Queen's University in Kingston, Canada was short and hectic, since I received my conformation that I had been accepted to study for a semester abroad pretty late. But once I received confirmation, I was more than thrilled. Having already studied abroad in South Korea previously, I knew how much fun being part of a large group of international students and exploring a new country and culture would be!
After a 10 hour flight from Amsterdam to Toronto with a layover in Copenhagen and a 3 hour bus ride straight to Kingston, I was finally at the place that would be my home for the coming months.
Upon opening the door of my house I found through Facebook, I was immediately surprised by the big Canadian hospitality, as my roommates had turned out all the lights and surprised me with a Welcome Tim party. Even my immense jet lag and fatigue from traveling couldn't ruin a good night out with the boys.
After settling down and the amazing NEWTS Orientation, in which you are able to meet a lot of exchange students (there are over 350!), I finally started to feel at home. The campus is relatively small and most of the lectures, shops, and restaurants are within walking distance. When strolling around campus, you will constantly run into friendly faces and be overwhelmed by the friendly and open Canadians and exchange students.
The lectures last longer than I was used to at my home university, and the teachers do demand that you keep up with your readings. On the other hand, the teachers are way more open, helpful and actually interested in you as a student. Classes are also more engaging than in the Netherlands. Teachers really want students to be involved in the learning process, which I found very pleasant.
The weekends are the best, since you can explore central Canada, which has so much to offer in terms of beautiful cities and arguably even prettier nature. So far I have visited Montreal, Quebec City, Ottawa, Toronto, London and some of the beautiful national parks.
Overall, an exchange in Canada is an amazing North American university experience, and I can say for sure, after talking to exchange people studying at different Canadian universities, "Queen's does it better". I would advise all students considering to apply for an exchange at Queen's to go for it and have the best time of your life!
Go Gaels!"

Anke Truter
On exchange from the University of Cape Town, Fall 2017
Introduction
To better understand my experience while on exchange at Queen's Law, I think the best place to start is with a short introduction. I would describe myself as a recluse of note who enjoys moderate amounts of "new things", socializing and more than moderate amounts of coffee, wine and good food – I have been known to succumb to a sense of adventure, if sufficiently tempted. 
As a graduate student I am slightly older (closer to thirty than twenty) than the average exchange student and therefore, my experiences may be a bit more off the beaten track. If anything, my stay in Kingston is a testimony to the diversity of activities available while on exchange at Queen's. If, however, you are interested to know about anything that happens after 10pm, I will not be a wealth of information, but here are some tips and tricks that I have gathered so far…
First Week
Accept the following as a truth universally unavoidable – your first week will be overwhelming. Now that we have that out of the way, here's how you'll survive it! First up, as soon as you arrive in Kingston your very first stop should be the QUIC office. This will be your one-stop shop for all incoming exchange students. Here you will find all of the information you will need, from banking, mobile plans, housing, healthcare and other miscellaneous helpful pointers. QUIC also has a series of orientation activities, including game nights, campus tours, and trips to Toronto, Niagara Falls and Ottawa. 
While QUIC will arrange multiple events throughout the semester, there will also be NEWTS orientation and Queen's Law orientation. These orientation events will be aimed at new students (freshers, incoming transfer and exchange students) and are the perfect place to make new friends and get to know campus and downtown areas in Kingston. Finally, Queen's Law will also host orientation events specifically tailored for incoming exchange students – I would suggest after visiting QUIC that you go straight to the Law Faculty to check in and make sure you have all the information you need. 
So between settling in and an overload of orientation, be prepared to answer questions like "where are you from?" and "what are you studying?" at least every five minutes that the first couple of days. Oh! And names! Names you cannot possibly hope to remember, not to mention how to pronounce all of them. So don't worry, it's almost impossible to not make friends. There will be no need for any bad teen film cliché's where you eat lunch in a bathroom stall on campus (I've done this and I feel no shame, it happens we've all been there! Right...?)
This is where I would like to take a pause and say all of these social/orientation events are completely voluntary. Queen's has also poured a lot effort into these, they are well organised and considerate of accessibility and inclusivity. Overall, organisers and coordinators are easily reachable via email and on campus should you have any questions or concerns about accessibility or participation. Some of these orientation events have costs involved, while others are free, so shop around and decide what suits your needs and budget! I do, however, stress that these events are extremely helpful in getting over those first-day jitters and potential bathroom lunches. 
Get to know Kingston
Remember when I mentioned I am an introvert? This will become painfully apparent in the following section. Here are some of the things that are great about Kingston that are all reachable by bus (which you get to ride for free as a full-time student) or on foot. The best is to get a bike - cheapies are easy to come by either on Kijiji.ca or Yellow Bike Action on Facebook. 
First up, explore! Grab friends or an upbeat playlist and get lost in Kingston. As the first capital of Canada, Kingston boasts some seriously quaint architecture. I firmly believe that you can only get to know a place by getting yourself seriously lost in it. With GPS, smartphones and a student card to grab a free bus ride, you really can't go too wrong. Added bonus, Canadians are hella friendly and directions will not be hard to come by.  Kingston is an old town and boasts some truly creepy stories, so another fun way to get to know the city is with the walking ghost tour!
Nature! Nature! Mother-flipping-Nature! Kingston has beautiful city parks, but also a number of smaller conservation areas. My number one recommendation is to take the time while the weather allows it and soak up all of the beautiful scenery Ontario has to offer. Also, I cannot recommend cycling on Wolf Island enough - the ferry is free and it's gorgeous! 
Go swimming! If, like me, you arrived in fall expecting colder weather only to find its still pumping at a steady 27 degrees you might be able to sneak in a swim in the beautiful lake! Now, there are a number of spots to choose from, depending on the distance you are willing to travel, but I would recommend chatting up locals and asking about more "secret" spots for extra beautiful dips! 
Insert honourable mention to the nightlife in Kingston, this is a small town with a big University, it should come as no surprise that there are a variety of bars and clubs on Princess Street, not to mention a fair share of house parties and Aberdeen street parties during the start of the semester. 
Food
Yes, when I found out I was going on the exchange the first thing I googled was "good food Kingston Canada". So here's a brief list of discoveries (on a budget!) that you cannot skip. There are so many others, but these were my repeat visits!
1.    Coffee Way Donuts: a Kingston staple and a challenge (completely made up by myself) to try each one of their deep fried pockets of love while in Kingston.
2.    Northside+Espresso: Hands-down the best coffee in Kingston. Yes, I tried nearly all the cups this town has to offer. Get the flat white, you're welcome. 
3.    Genova's: This little downtown gem bakes fresh focaccia's daily, then they add some killer toppings (options: meat/veg) and charge you six bucks for a sandwich that's enough for two meals. 
4.    Sally's Roti Shop: Get the roti, any variety you want and enjooooooy! It's filling, flavourful and the perfect winter warmer.
Groceries and where to get them? You may live one block away from Metro and then that will probably be where you're going to get 100% of your groceries. If you are getting set up or want to buy in bulk for a party, then you might want to shop around a little. 
Herewith a guide for your convenience:
1.    Metro/Loblaws: Greater variety of groceries and higher quality and range of "prepared meals" - an overall more polished experience. Metro has a 10% student discount on groceries every Tuesday and Thursday.
2.    Food Basics/Grant No Frills/Walmart: When you need to buy bulk or you don't need anything fancy, but do fancy spending a little less.
3.    Tara Health Foods/Grocery Basket: These are more "health" orientated grocery spots. Tara's on Princess Street is a Mecca of all things organic and natural – it smells great in there and I feel 5% healthier by just wandering through the aisles. 
Try new things
Oddball activities are a great way to meet new people and explore other cultures, Queen's hosts exchange students from all over the world and various clubs and associations arrange a number of cultural social events throughout the semester. Join the Swing Dancing club or get involved in a local cause – use this time to truly experience things and people in a new environment. 
As a closing note, I want to stress that through your entire exchange experience you stay kind to yourself. Do what makes you feel good and pursue the things you are passionate about, whether it be reading a book in one of the beautiful parks or standing in line to get into Stages – set your own pace and have a great time!