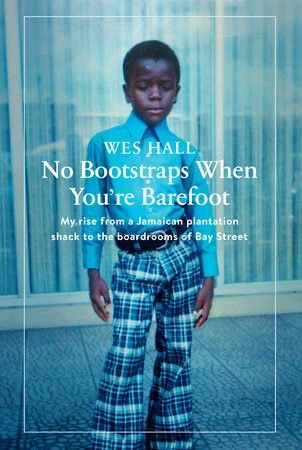 For those attending in person, join us at 3:30pm when event doors open to enjoy snacks and beverages

Zoom attendees to join at 4pm for event start time
About the event:
On October 14, Queen's University is excited to welcome Canadian business leader Wes Hall for a special fireside chat, moderated by Nigel Masenda, Law'20, with remarks from Dean Mark Walters, Faculty of Law, and Dean Wanda Costen, Smith School of Business.
During this special hybrid event, Wes and Nigel will discuss a range of issues, including their shared work with the BlackNorth Initiative, and its mission of ending anti-Black systemic racism throughout all facets of society by utilizing a business-first mindset, and ways to support and champion new pathways for future BIPOC leaders in law, business and beyond. Wes will speak to his remarkable journey to becoming one of Canada's most successful business leaders, as told in his new book, No Bootstraps When You're Barefoot: My rise from a Jamaican plantation shack to the boardrooms of Bay Street.
This will be an evening of inspiration and promise, celebrating the power of supporting each other to reach new heights of excellence, and reflecting on the critical work that still exists to dismantle systemic barriers to education and professional development. 
 

About the speakers:

 

Wes Hall, as the executive chairman and founder of Kingsdale Advisors, is one of North America's most influential powerbrokers and Canada's preeminent leader in shareholder advisory services, playing pivotal roles on multi-million and billion-dollar transactions for Air Canada, Xstrata, Citigroup, Tim Horton's, PetroCanada and many others. Hall is also the owner of QM Environmental, a leading national environmental and industrial services provider with over 450 employees, among other businesses. An instructor at the Rotman School of Management at the University of Toronto, he teaches Black Entrepreneurship & Leadership, a first-of-its-kind course in North America; he is the founder of the anti-Black racism initiative, BlackNorth; and in October 2021 became one of the investors on the hit series Dragon's Den.
 

 

Nigel Masenda is an associate at Greenberg Traurig LLP, a leading international full-service law firm, and was previously with Stikeman Elliott LLP. Nigel is also engaged in policy efforts through sitting on the BlackNorth Initiative's Education Committee, where he is responsible for establishing an action-oriented mandate, a set of key performance indicators, and clearly defined deliverables for dismantling anti-black systemic racism in Canadian education streams. Nigel holds a Bachelor of Arts in Political Science, where he graduated with first-class honours standings, from Brock University. He also holds a Juris Doctor degree from Queen's University, Faculty of Law, where he co-founded the Cecil Allan Fraser Bursary that provides financial support to Black Canadian or visible minority/racialized students enrolled in any year of the JD degree program in the Faculty of Law at Queen's University.
 

 

Dr. Wanda Costen, Dean of Smith School of Business, joined the Queen's University community in July 2021. Dr. Costen is known for being a champion of inclusiveness in business, and her collaborative approach to leadership brings a unique combination of experience in academic leadership, research and teaching, as well as senior management roles in the private and public sector. Dr. Costen engages and collaborates with community and business leaders, and university faculty, staff, students, and alumni as part of her ongoing commitment to ensuring Smith School of Business research and teaching prepares its graduates to meet society's changing expectations of business. Dr. Costen's passionate belief that businesses can drive positive social impact has made her a catalyst for partnerships between academia, business and public organizations on diversity initiatives and training programs throughout her career.

 

 

 


Mark Walters, Dean, Queen's Faculty of Law joined in 2019 and is recognized as one of Canada's leading scholars in public and constitutional law, legal history and legal theory. Dean Walters has researched and published extensively in these areas, with a special emphasis on the rights of Indigenous peoples, institutional structures and the history of legal ideas. His work on the rights of Indigenous peoples, focused on treaty relations between the Crown and Canada's Indigenous nations, has been cited by the Supreme Court of Canada, as well as by courts in Australia and New Zealand. He held the distinguished F.R. Scott Chair in Public and Constitutional Law at the McGill University Faculty of Law from July 1, 2016, until June 30, 2019. For the 17 years before that, he was a faculty member at Queen's Law, where he was appointed the school's the inaugural Associate Dean of Graduate Studies and Research, led the 2008 launch of its doctoral program and co-chaired the committee that developed its 2014-2019 strategic plan. Previously, he taught at Oxford University after practising law Toronto in the area of Aboriginal title and treaty rights.

 
Questions: lawevents@queensu.ca, Natalie Moniz-Henne