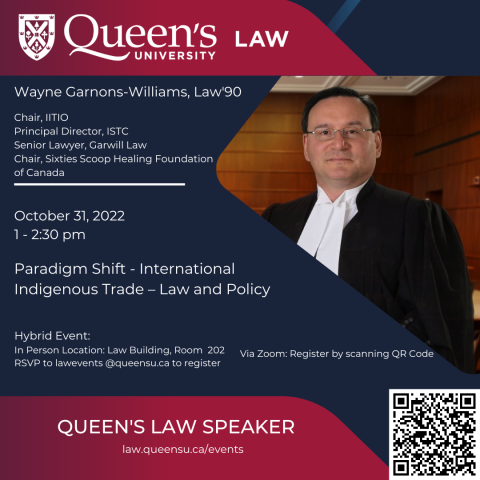 This is a Hybrid Event
In Person Location: Law Building, Room 202, RSVP to lawevents@queensu.ca
Via Zoom: Register Here
Paradigm Shift - International Indigenous Trade - Law and Policy
An examination of the evolution and development of global International Indigenous trade law and policy and its implication for future indigenous economic prosperity and environmentally responsible sustainable development.
Biography
Wayne is the founding President of International Inter-tribal Trade and Investment Organization, Senior Lawyer and Principal Director of the law firm Garwill Law Professional Corporation and leads an international business entitled Indigenous Sovereign Trade Consultancy Ltd. specializing in Tribal Trade and Sustainable Economic Development.
He is past Chair of the Federation of Saskatchewan Indian Nations Appeal Tribunal, past Chair of the National Council of Federal Aboriginal Employees is currently Board Chair of the Sixties Scoop Healing Foundation of Canada and is currently on the board of directors of the International Law Association – Canada Chapter, the Council of the Great Lakes Region and is one of the founding members of the Government of Canada, Global Affairs Working Group on Indigenous International Trade.
He is also a Research Fellow specializing in International Comparative Indigenous law at the University of Oklahoma, College of Law. He was appointed by Order in Council as a member to the NAFTA Chapter 19 Trade Remedies roster and then appointed in 2020 as a CUSMA Advisory Committee Member on Private Commercial Disputes, Article 31.22.
He has recently written five chapters and is co-editor for a textbook to be published by Cambridge University Press in 2023 on International Indigenous Trade & Environmental law and is teaching a course based on his textbook as part of the Bachelor of Indigenous Entrepreneurialism Program at the University of Waterloo, St. Paul's College campus.
Wayne was Canada's Indigenous lead in negotiating the innovative Indigenous Peoples Economic and Trade Cooperation Arrangement, story here.
Wayne also received the 2019 Award for Excellence in Aboriginal Relations from the Canadian Council for Aboriginal Business. The award recognized his contributions to building bridges between Aboriginal peoples and Canadian society and the substantial impact of his efforts across Canada and across all sectors, video here.