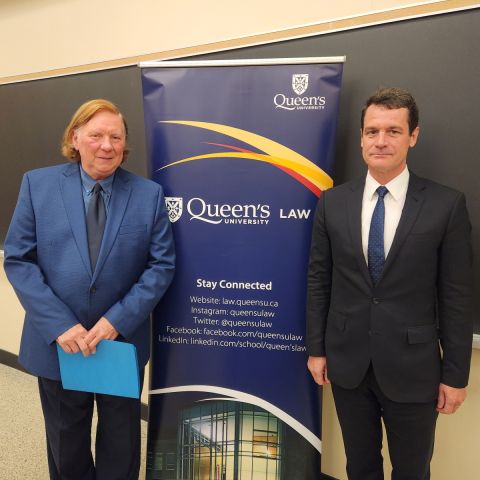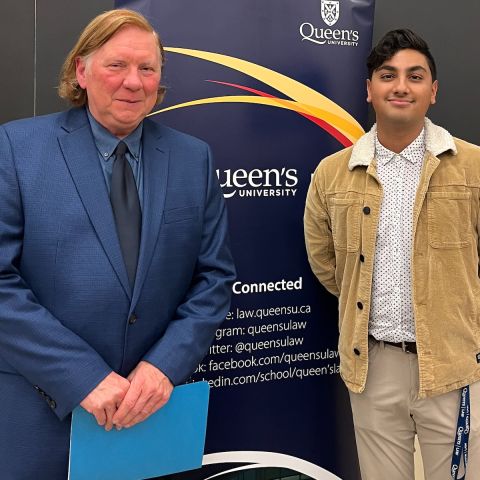 Recent public opinion polls suggest a growing number of Canadians are cynical about the ability and willingness of the core institutions in this country – in particular, the legislatures and the courts – to respond to changing public needs in ways that are fair and equitable. However, Supreme Court of Canada (SCC) Justice Malcolm Rowe harbors no such doubts.
The distinguished jurist who was the 2022 W.R. Lederman Visitor at Queen's Law, explained why in an October 19 lecture that was both wide-ranging and thought-provoking. Not surprisingly, the event drew a large audience at the law school, while others watched on-line.  
"Thinkers who are critical of contemporary society and properly call on us to comprehend historical injustices can make us doubtful of liberal democracy," Rowe said. "In their view they wonder how we can value a system under which so many wrongs have occurred."
He counters such arguments by pointing out that a liberal democracy evolves and that it can and does adapt. 
"Ours is a good country, one that warrants our devotion," said Rowe. "But such devotion needs to be founded on a mature understanding of history and how people in all of Canada's diversity live today. We should not tell ourselves comforting fairy tales, just as we should avoid empty, negative rhetoric. Rather, we should seek to achieve an inclusive and fair society while being practical and realistic."
Rowe opined that the courts have a critical role to play in building a fairer, more inclusive Canada and advancing the Reconciliation process. With that in mind, the 69-year-old St. John's native offered his audience a primer on the three levels of courts in Canada – trial, appeal, and the SCC – and a thumbnail summary of his own legal philosophy, which has been informed by the analytical legal traditions and writings of a trio of renowned legal theorists: Englishman Herbert L.A. Hart (1907-1992), Austrian Hans Kelsen (1881-1973), and American John Rawls (1921-2002).
Rowe noted that because the courts apply and interpret the laws made by our elected officials, the legal and legislative processes are inextricably linked. However, that doesn't mean judicial decisions are inherently political. Rather, they are based on "coherent and rigorously analytical methodology," and this is what gives them legitimacy. Rowe said that while it's essential that the courts stay within their defined role, judges must also be aware of the need for the law to evolve in line with societal change, all the while maintaining tolerance, and fairness. "I share John Rawls' view that reasonable differences are part of a healthy pluralistic society." 
Rowe underscored that point in his response to a question from the floor when he reminded law students in his audience that part of a lawyer's job is to educate the public on the role of the courts and to ask difficult legal questions that need to be answered. In reply to another question about how a young lawyer can best present a case in court, Rowe advised that 90 per cent of a lawyer's work should be done "before you're on your feet" in front of a judge. Preparation is the key for lawyers, just as it is for SCC justices.  
Event attendee Sahil Gaur, Law'24, says, "It was very interesting to hear Justice Rowe discuss the impartiality required of him in his duties as a public officer. Any Queen's Law student with an interest in becoming a judge would be well-served taking Justice Rowe's teachings on ideological neutrality with them.
"It was a privilege to have such a powerful and well-respected legal figure take the time to speak to me and my peers in-person at Queen's University."
By Ken Cuthbertson, Law'83