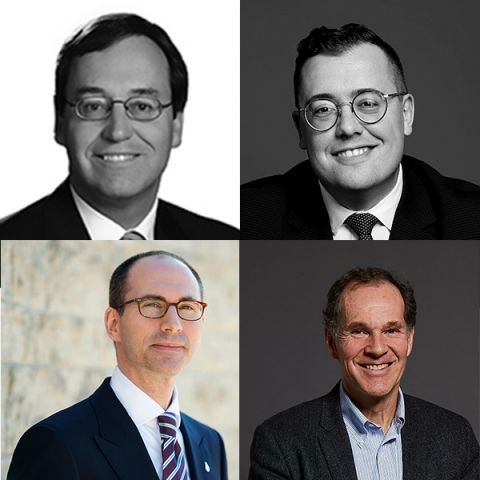 The Dean's Council Awards Committee has announced the names of the 2018 recipients of the Queen's Law alumni awards. "Every year, we are impressed by the quality and variety of candidates brought forward by our alumni in their nominations," says Bill Flanagan, Dean of Queen's Law. "This year is no exception, with an extraordinary group of distinguished alumni who have made exceptional contributions to the legal profession, to Queen's University and to the broader community."
This year's winners are:
Thomas Houston, Law'78 (Com'75), H.R.S. Ryan Law Alumni Award of Distinction (for overall distinction in the legal profession). One of Canada's leading corporate lawyers and a founder in 1985 of the Ottawa office of Dentons Canada LLP, Houston is well-known as an advisor to technology companies, ranging from startups through venture capital financings to exits, including mergers & acquisitions and initial public offerings.  A dedicated supporter of myriad worthwhile community causes in the nation's capital, he is also a two-term member of the Queen's Law Dean's Council (2011-17), a generous alumni donor and a mentor to both students and young lawyers.
Brian Kolenda, Law'10, Dan Soberman Outstanding Young Alumni Award (for early-career success). The newest partner at the Toronto law firm Lenczner Slaght Royce Smith Griffin, Kolenda – who made the Dean's Honours List at Queen's Law – has emerged as a rising star among Canadian trial lawyers. A member of The Advocates Society and its Young Advocates Standing Committee, he has contributed to initiatives concerning interventions, reform of the Rule of Civil Procedure, and organizing of professional networking opportunities. In addition, Kolenda teaches a course in International Law at U of T, is developing a similar course for Queen's Law, and has helped to coach the Queen's Law Trial Lawyers' Association moot team.
Owen Rees, Law'02, Justice Thomas Cromwell Distinguished Public Service Award (for sustained outstanding public service). Counsel with the Ottawa law firm Conway Baxter Wilson LLP, he is a former Executive Legal Officer to the Chief Justice of Canada (2012-15). He co-founded the Supreme Court Advocacy Institute, which led the Governor General to award him a Meritorious Service Medal in 2015 for improving access to justice. Earlier in his career, Rees was a college lecturer at Oxford, and an adjunct professor at Osgoode Hall Law School and at Queen's Law, where he taught administrative law.
Jim Walker, Law'81, J.A. (Alec) Corry Distinguished Alumni Award (for excelling in a career outside the traditional practice of law). A co-founder of a successful mid-market Canadian private equity firm, a CEO of a leading publicly traded  real estate company part of the Brookfield group of companies, and currently a Managing Partner of HOOPP Capital Partners investing private capital around the world, Walker has enjoyed a highly successful and diverse career in the fields of merchant banking and principal investing. Walker is also currently Chairman of Champion Petfoods and Spectrum Healthcare. Earlier in his career, he was a partner with Fraser & Beatty (now Dentons), specializing in mergers and acquisitions and securities law. Over the years, Walker has been a loyal alumnus and dedicated Queen's Law booster.