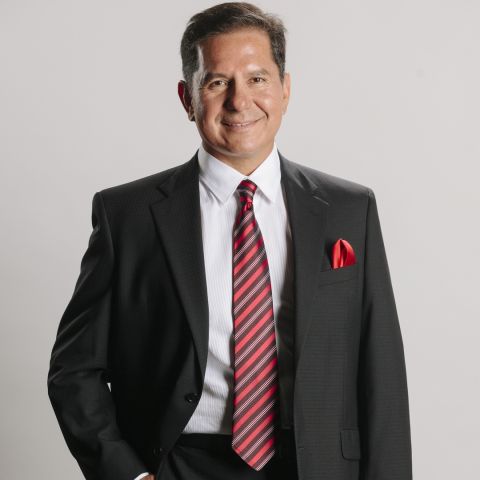 Indigenous rights activist Blaine Favel, Law'90, dedicates his 2022 Corry Distinguished Alumni Award to 'work still undone.'
One phrase that doesn't appear on Blaine Favel's illustrious résumé is "practising lawyer." 
Renowned as an entrepreneur, policy advisor, public advocate, educator – and, at different times in his career, both Grand Chief of the Federation of Saskatchewan Indian Nations and Chancellor of the University of Saskatchewan – Favel has instead used his legal training and leadership skills to advance Indigenous rights by generating awareness and action.
Those achievements were recognized by Queen's Law when he received the 2022 J.A. (Alec) Corry Distinguished Alumni Award "for excelling in a career outside the traditional practice of law."
At the presentation ceremony, Harvard Senior Fellow Kelley McKinnon, Law'88, noted the similarities between Favel and the former Queen's principal for whom the award is named. Both came from humble roots and studied at the University of Saskatchewan, she said. "Known as a visionary leader and innovative educator, Alec Corry could manage growth and inspire people in a time of tremendous change."
McKinnon said she witnessed the same passion and inspiration in Favel when she heard him speak at a 2015 conference on how to integrate Truth and Reconciliation Commission of Canada (TRC) recommendations and Indigenous knowledge into university curriculum. "He is clearly a person who has touched the lives of many," she said. 
Growing up on the Poundmaker Cree Nation in central Saskatchewan, Favel dreamed of one day becoming a lawyer. After receiving his Bachelor of Education degree at the University of Saskatchewan, he had offers from several larger law schools, but chose Queen's because "the tradition of outreach and kindness to Indigenous Canadians had already been experienced by my cousin, Albert Angus, Law'83, who told me I would feel welcome there," he recalled at the award ceremony.
An important revelation at law school happened early in first year, when he questioned a statement in his Property class that Canada was "owned by the Queen," Favel continued. The professor adjourned the class so she could research the answer, and subsequently introduced into the curriculum the idea of Aboriginal and Indigenous title to the land. 
This incident helped set the young student on a path he continues today. "I just want people to be honest and tell the truth," said Favel. "That's been my theme ever since; it will continue to be the theme of my life and my career."
After receiving an LLB from Queen's, Favel articled with Bennett Jones in Calgary. He then returned home to become the first lawyer on his reserve and one of only a handful of Aboriginal lawyers practising in Saskatchewan. His law career was put on hold, however, in 1992 when he was elected Chief of the Poundmaker Nation: their youngest ever leader, at age 26. Then in 1994, at age 29, he became the youngest ever Grand Chief of the 74-member Federation of Saskatchewan Indian Nations. In 2000, he began graduate studies at Harvard Business School, earning an MBA in 2001. 
Over the next few decades, Favel helped establish Canada's first Aboriginal-controlled bank, set up significant Indigenous participation in several agricultural and energy companies, and negotiated Indigenous interests in major western resource projects. He also served as a special advisor to National Chief Phil Fontaine and represented the Assembly of First Nations in selecting TRC Commissioners. After championing Indigenous priorities at the University of Saskatchewan, he was appointed Chancellor there in 2013 – the first Indigenous Chancellor of a major Canadian university.
"Much of the focus of my career has been on themes that are animating Queen's University today," said Favel in his acceptance speech. As examples he cited: "an increase of understanding and a decrease of intolerance, making Canada more receptive to, and honest about, its own history – about reconciliation, and the need for our peoples to work together."
Colonialism brought with it a "spirit of poverty" that has permeated the lives of Indigenous Canadians, Favel stated. "You see that through the consequences of missing and murdered Indigenous women … through the generations of Indigenous people in our jail system." 
Noting that his career has been dedicated to finding economic opportunities for First Nations people, he added, "I don't think it's too much to ask that there be a sharing of this country's wealth, and that there be a war on poverty within the Indigenous communities … The balance has to swing to fairness, and there has to be justice for Indigenous Canadians. That starts in institutions such as Queen's Law."
In order to be a great country, we must know our history and make changes where they need to be made, he suggested. "The seeds of our current deaths, our current pain, were planted a long time ago, and their roots run deep. When Indigenous people call for change, they're not advocating to tear out those plants, but to prune them to make sure that together we grow the best flowers and fruits and crops… based on the truth of this country and the truth of the contributions of Aboriginal people."
Saying that he accepted the award in the spirit of "work yet undone" Favel concluded, "I accept this prize with humility and share it with all Indigenous people… including those who are behind bars here in Kingston, their lives turned a different direction from mine for reasons that are beyond me. There, but for the grace of God, go I. Thank you very much."
By Nancy Dorrance