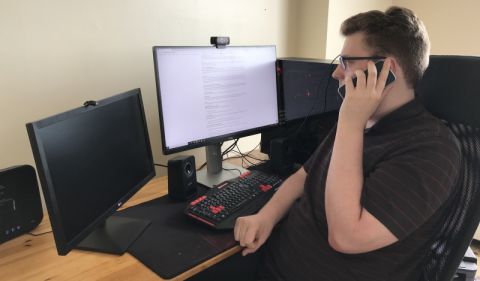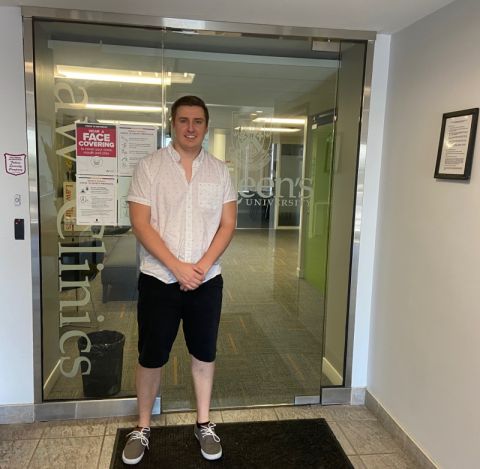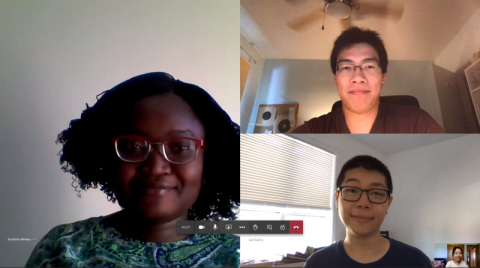 Settling into a new job can be challenging at any time but doing it in a global pandemic requires extra confidence and a ton of patience. That especially rings true for students whose new job is to serve some of the most vulnerable members in the community. With the doors closed to the Queen's Law Clinics (QLC) in downtown Kingston, this summer's student caseworkers have been learning and doing their work remotely – and admirably. 
"Our students have risen to the occasion and are providing exceptional legal services to clients under demanding conditions in this 'new normal'," says Karla McGrath, LLM'13, QLC's Executive Director. "From Kingston, clinic lawyers have been training and supervising our 21 summer caseworkers, some of whom are in their apartments nearby, in the Greater Toronto Area, and as far away as Vancouver." 
While students, lawyers, and staff in each of the five clinics have learned and are making the most of technology – Zoom, Microsoft Teams, and more – to deliver the top-notch client services for which the Queen's Law Clinics are known, the pandemic has been affecting each clinic in different ways.  
Queen's Legal Aid takes on two COVID consequences
With one-quarter of its new cases being coronavirus-related, Queen's Legal Aid (QLA) has seen a dramatic increase in two areas: landlord/tenant disputes and employment law matters. 
How should a landlord who is attempting to sell a building accommodate an immune-compromised tenant? How can tenants ensure maintenance standards are being met when City of Kingston property standards officers are unable to complete inspections? What can tenants do if they show up at their newly rented apartment only to find that the previous tenant has not vacated, when the landlord is unable to evict the previous tenants? These are just some of the unprecedented situations – beyond the more usual scenario of tenants losing their employment and being unable to pay rent – for which QLA student caseworkers have needed to find creative legal solutions. 
QLA caseworkers have also been advising Queen's students, many of whom will be attending classes remotely in the fall, on possible ways to terminate a tenancy early. "This problem forces us to speculate on how a court might treat this issue, should compromise between a landlord and tenant prove impossible to achieve," says QLA Outreach Co-ordinator Eli White, Law'21, who was excited to become a summer caseworker after completing QLA's Clinical Litigation Practice course last academic year. "Since our client intake process has switched to being conducted over the phone, it is harder to gauge the scale of the client's legal problem and the emotional impact it is having upon the client," he observes. "I have learned to pay much closer attention to their tone and how to listen more actively."         
For employment law cases, while most employees have understood temporary lay-offs due to their workplaces being closed, returning to work is presenting conflicts. Problems like whether an employer is required to recognize seniority in recalling staff members and whether an employee who is reluctant to return to work must do so even though the employer does not yet have sufficient safety protocols in place are among the questions caseworkers have needed to address.  
Blair Crew, QLA Director, sees the extent to which QLA students have risen to the challenges associated with working remotely. "From completing work at home, to adopting to conducting electronic hearings, where students can see neither the adjudicator nor their own client, I have been so impressed with the skills displayed by this summer's caseworkers." 
The students have noted the opportunity that comes with working from a remote environment. "As much as I miss the social aspect of working with colleagues in the office, I have been surprised at the extent to which I have been able to learn how to solve legal problems on my own, without more experienced caseworkers or review counsel being as easy to consult," says Winona Fitch, Law'22, who first joined  QLA in May.  
Elder Law Clinic gives clients peace of mind at critical time
With an additional student in the summer workforce of the Queen's Elder Law Clinic (QELC), caseworkers Claire Gibson, Britney Schyf, and Holly Schmid, all Law'22, have been especially attentive to clients whose legal needs are more pressing. 
Soon after declaring a state of emergency, the Ontario government issued a new regulation permitting the signing of wills and powers of attorney via audio-visual communication, with the will-maker and two witnesses being in three different locations. While this "counterpart" signing process is time-consuming, and best practices are that the documents be re-executed after the emergency has passed, it has allowed the QELC to meet the needs of many clients who were experiencing serious health issues, or who were feeling especially vulnerable during the pandemic in what could be a long period of isolation. 
"Because the interim process is remote, our clinic was also able to offer legal services to clients hospitalized some distance from Kingston," says QELC Director Blair Hicks. "We have been drawing up documents on short notice, and providing greater dignity, peace of mind, and control for those clients in their final days." 
Gibson points out another benefit from their quick adaption of the new laws governing remote document execution: "We were able to tailor our drafting to suit current circumstances."
"We often work with clients who are vulnerable or ill and we have learned how to be flexible to changing situations," says Schmid. "The summer experience has allowed us the opportunity to assess our clients' needs and capacity with more attention."
All preliminary introductions between students and clients are done by phone, followed by remote video meetings. Working diligently, QELC students have become experts with the various audio-visual electronic platforms and have successfully instructed many new and existing clients who had no previous experience using platforms like Skype, Facetime, and aTouchAway in addition to Zoom. Despite that client training time leading to some inevitable file delays, says Gibson, "our clinic remained driven in serving our clients to the best of our abilities."  
Helping them do that are the additional drafting resources that the QELC received last academic year through the ongoing support to the Queen's Law Clinics from the Class of '81 Clinical Programs Fund.  
Partnerships with the community legal clinics and the local federal institutions remain strong, with students continuing to serve existing clients and finding creative ways to assist and educate new clients by mail. The summer caseworkers have also been active in fine-tuning clinic procedures, resources, and manuals, in anticipation of the fall arrival of 16 new QELC student caseworkers. 
"We've had more time to start perfecting skills in legal writing, drafting, and effective alternative communication," says Schmid. "I think these skills will be favourable to us as we apply to summer and articling positions." 
Gibson agrees, adding, "This summer has helped me develop my ability to work independently, manage projects, and take initiative."
Prison Law Clinic creates new client connection protocols
Queen's Prison Law Clinic (QPLC) students once made frequent trips to the prisons to speak directly to clients and to participate in Disciplinary Court, but both activities have been suspended in an attempt to curb the spread of COVID-19. 
"Since students must now spend much of their week on the phone with clients and prospective clients, part of our clinic's fast adaptation to remote practice was to develop a new phone protocol," explains QPLC Director Kathy Ferreira, Law'01. "However, a prisoner's phone-time is limited and privacy can be a concern."
Dealing with these issues resulted in student caseworker Isaac Brownlee, Law'21, honing some skills. "Being unable to meet my clients and to interact with the Correctional Service face-to-face made it harder to understand exactly what clients went through on a daily basis," he says. "On the flip side, I have had the opportunity to greatly improve my written advocacy skills."
Brownlee and his fellow QPLC caseworkers are finding that preparation can mitigate some challenges. For instance, they gently steer the conversation, identify key topics to explore in advance, and make a plan for future calls on client's schedule. Correspondence continues to help ensure the parameters of the solicitor-client relationship are clearly defined. 
While client matters currently focus on release issues and institutional concerns, there may be a partial re-opening of Disciplinary Court via video before the fall, which would allow students to once again assist clients with serious institutional charges and gain valuable tribunal advocacy skills. QPLC students will be ready when that happens. 
"Learning from the QPLC lawyers has been very valuable," says Brownlee. "I have had the chance to build on my oral advocacy skills through Parole Board of Canada Hearings (via teleconference) and mock Disciplinary Court practice (in preparation for the reopening). My supervisor gives me feedback and suggestions to improve my skills." 
QPLC students and staff are working extensively with the clinic's practice management software to manage and store much of their client file information and to docket time. Doing these things is making remote work feasible as they all stay on the same page and move client matters forward. Like their counterparts in the other four clinics, QPLC students participate in regular Zoom meetings with their supervisor and connect with each other on Microsoft Teams. 
"It's not the summer we wanted, but we make the most of it," says Ferreira. "Full steam ahead!"
QPLC students are indeed making the most of the situation. "Despite COVID," says Brownlee, "I know that my time here this summer will assist me as I go forward in my legal career."
Family Law Clinic wraps up cases using new skills
Some familiar faces returned to the Queen's Family Law Clinic (QFLC), helping to ease the transition to remote learning and service delivery. Lena Macnicholas and Alisha Thakkar, both Law'21, completed the QFLC course in 2019-20, so they were trained in the clinic's work and well versed in its usual processes. While the clinic faced an additional challenge with the previously planned departure of Review Counsel Linda Smith, Law'92 – a "treasured" QFLC member for three years who was sent off to new adventures with a surprise party on Zoom –  former QLC articling student Jane Mundy, Law'18, came back to take on the supervising lawyer role. 
"The pandemic has made it more difficult to do the work and it takes more time, but we are adjusting and so are our community justice partners," says Karla McGrath, QFLC Director. "New versions of the new normal emerge. It's a brave new world." 
QFLC caseworkers are finding the biggest adjustment in working with clients is ensuring they have access to technology and understand how to use it. "Even if clients have internet access, a lot of them have never used technology such as Zoom," says Thakkar. "I have attended two court appearances with clients through Zoom, so I had to conduct Zoom practice sessions before each client's court date to ensure they could get onto the platform quickly."
MacNicholas has had similar experiences. "Fortunately, Zoom has many helpful user guides and we are becoming familiar with walking clients through testing it out before meetings and hearings," she adds. 
One important step, a "Wrap-Up" meeting, normally takes about an hour but is now a series of processes spread out over weeks. There are multiple Zoom meetings, documents are emailed or mailed to the client for signature rather than being handed across a table, and the execution of affidavits is being done remotely.  
Thakkar has participated in two online "Wrap up" meetings over the phone or through Zoom with clients, in which they review all documents prepared by the QFLC. To make the most of these meetings, the documents are sent to the clients in advance – and that has uncovered a benefit to clients. "The clients like being sent the documents ahead of time as they have more time to look through them," she explains. "They say they don't feel the same pressure to look through the [paperwork] quickly as when they would see the documents for the first time in a meeting room, where a student watches the client go through the documents."
The only slight disadvantage Thakkar sees in reviewing documents on Zoom is the fact that they cannot be commissioned on the spot. "The documents would have to be put into DocuSign (an electronic signature platform) and then a second meeting would have to be booked for the documents to be commissioned," she explains. "Overall, once clients figured out how to use the Zoom technology, these meetings are successful." 
Business Law Clinic opens virtual door to problem-solve
The biggest changes facing the Queen's Business Law Clinic (QBLC) this summer have been operational, both in terms of supervising student caseworkers and delivering services to clients. All students and staff transitioned quickly to learning new technologies and ways to deal with administrative matters, and moving all client communications to phone, emails and Zoom. But then one challenge emerged: how to maintain the open-door policy for students to ask their legal and administrative questions. 
"We resolved this issue by using the Teams group chat functions as our go-to place for asking interactive questions," says QBLC Director Tomilola Adebiyi. "These chat functions allowed us to replicate the open-door policy system as best as possible: questions were asked and answered, and thoroughly discussed on the platform instead of face to face."
They also scheduled weekly team meetings to check on each other, to discuss and resolve any challenges that arose in the week, as well as to uplift team spirit. "What I appreciate most while working at the QBLC is how our team has found alternative ways to stay connected socially and foster teamwork remotely," says Sheila Gu, Law'21. 
"Through the use of software, I am able to experience what it's like doing corporate, commercial, and intellectual property work in a small firm setting," says Jye Duong, Law'21. "Although working remotely makes it difficult to replicate the human interaction compared to working in the clinic office – as I did as a QLA caseworker – online communication, and particularly video calls, has made the transition easier."
Felix Suen, Law'21, agrees, saying, "Making the adjustment to remote work has definitely changed the learning curve to the practice of law, but as much as I miss the [physical] connectedness that an office provides, the QBLC has done an admirable job of adapting to the times."
For QBLC clients, moving to remote operations has been fairly easy to accomplish. Client meetings are conducted via Zoom and phone calls, and all correspondence is now via e-mail.
While most clients are technology-savvy enough to navigate the new technological platforms the QBLC now uses for its operations, that hasn't been the case for all. 
"I quickly learned that there is a gap in technological literacy in some of our clients, and sometimes, in myself," says Sheila Gu, Law'21. "This gap has made me more diligent and creative when it comes to client communication, whether it means sending Outlook calendar invites, demonstrating Zoom functions to clients or leaving voice messages a day before client meetings."
Jye Duong makes a keen observation from this summer's experience for the future: "Working remotely has provided me with a valuable glimpse of how technologies will continue to push the legal profession forward to adopt more flexible work arrangements."
By Lisa Graham
The Queen's Law Clinics gratefully acknowledge the support of Legal Aid Ontario, the Law Foundation of Ontario, Pro Bono Students Canada, the Class of Law'81, the United Way of KFL&A, and alumni and industry sponsors.