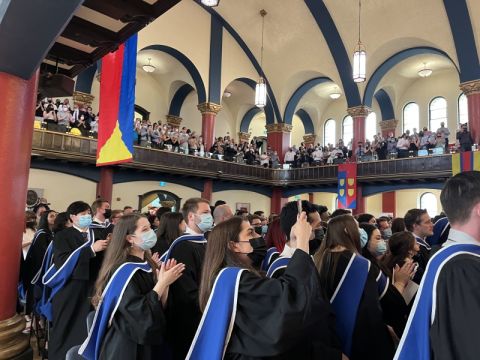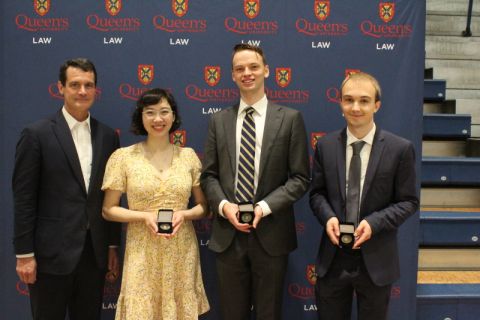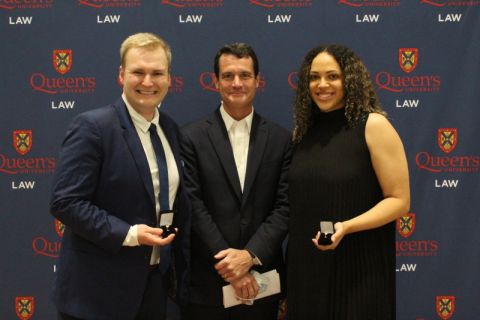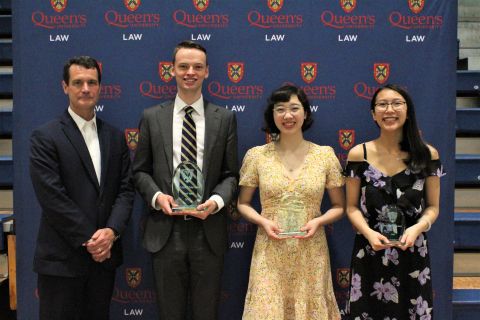 The crowd cheered at the first in-person Convocation ceremony in three years as almost 200 JD students crossed the stage in historic Grant Hall, becoming the newest Queen's Law alumni. Not even the rain could dampen the spirits of members of Law'22. After all, part of earning their degrees involved adapting quickly to new methods of learning as pandemic restrictions began one month before their first-year exams. 
"You responded to the unexpected with grace, patience, maturity, good will, and good humour," said Dean Mark Walters at a reception following the ceremony. "I will be forever in your debt for all that you have done to make this law school a true community just at the point when its sense of community came under stress and strain."
Ross Denny-Jiles, Law'22, outgoing Law Students' Society President, said, "Collaboration, teamwork, and community are the most important lessons that we have received." On behalf of his class, he thanked three groups of people in attendance: staff for "making Queen's Law the formidable legal institution it is;" faculty for their "unwavering commitment to creating engaging learning environments" and for inspiring students "to reach new levels of academic achievement and inquiry;" and families and friends for their strong support. 
Medals were given to graduates with the highest cumulative averages: Christina Tang, Andrew Irwin, and Oliver Flis. Ross Denny-Jiles and Dakota Bundy received Dean's Key awards for best embodying community values, collegiality, professionalism, service, and academic excellence. Dean's Scholar Awards were presented to the graduates with the highest third-year averages: Andrew Irwin (Gold Scholar), Christina Tang (Silver Scholar), and Iris Ngo (Bronze Scholar). 
As the newest graduates begin the next chapter of their lives, Dean Walters offered his advice: "Strive to be the author of your own story. You will confront the unexpected, and you will face challenges, professional and personal, beyond your control. What you do have control over, however, is the way you decide to respond…Be sure to write your part as the hero in your own epic story – the kind of person who responds to the wild world around them with a sense of strength, humility, empathy, compassion, insight, creativity, and resilience."
He added, "You will face new problems all the time, and this is what makes the world of law so fascinating: you have the opportunity to design innovative solutions to solve seemingly intractable problems to further the best interests of your clients, your firm, your government department, etc., as the case may be, and in doing so, you further the best interests of your communities and our society…As I look upon you, the graduating class of 2022, I feel reassured. I see the leaders of tomorrow. You guys are going to do great."
Agreeing, Denny-Jiles said to his classmates, "Remember that we are better equipped and better educated than any generation in history to take on the challenges of our time. We have all that we need to solve the problems facing us. To redesign the systems that organize our society, all we need do is try." 
Convocation for the classes of Law'20 and Law'21 will be held on June 21 at the Leon's Centre in downtown Kingston.