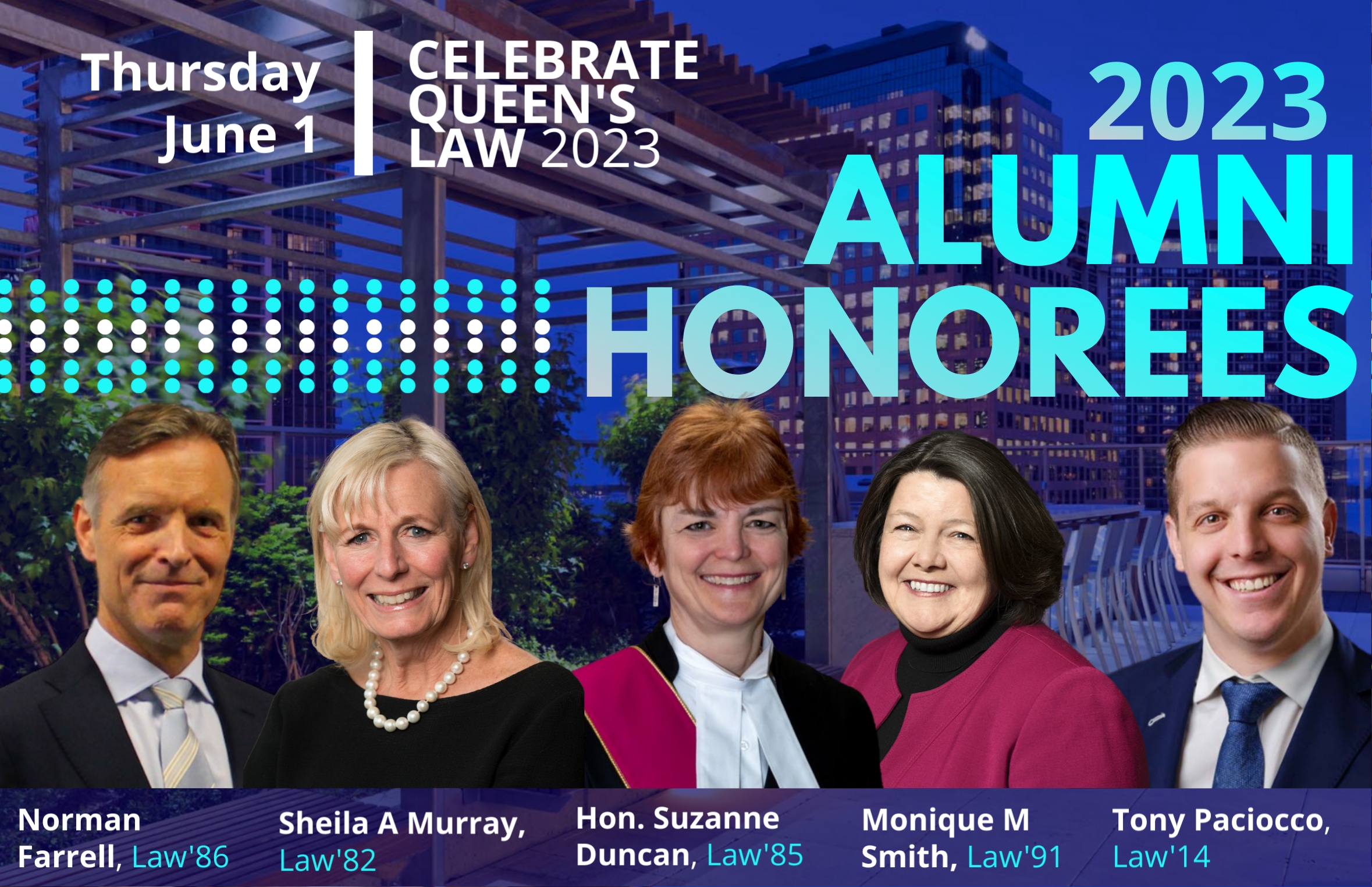 Selected by the Dean's Council awards committee from a strong list of nominees put forward by fellow grads, the 2023 winners are:
Sheila A Murray, Law'82
H.R.S. Ryan Law Alumni Award of Distinction
Sheila A Murray is an experienced corporate director, Chair of the Board of Teck Resources Limited and a trustee of Granite REIT, a director of BCE and Bell Canada, and former senior executive at CI Financial Corp.
During her tenure at CI Financial Corp., she served as President, Executive Vice-President, General Counsel and Secretary, and lead CI's mentoring program, which fosters the advancement of high-potential female employees. Prior to that, Murray worked at Blake, Cassel's and Graydon LLP where she practiced securities law with an emphasis on mergers and acquisitions, corporate finance and corporate reorganizations. Today, she serves on boards and committees, teaches securities regulation and corporate finance, and routinely appears as a panelist or speaker at a number of conferences on securities law and governance topics.
Tony Paciocco, Law'14
Dan Soberman Outstanding Young Alumni Award
Tony Paciocco is a Partner at Edelson Foord Law in Ottawa, which was recently named one of the Top 5 Criminal Law Boutique firms in the Ottawa/Montreal area by Canadian Lawyer Magazine.
Tony regularly conducts trials at the Ontario Court of Justice and Superior Court of Justice and has been lead counsel on a number of high-profile files throughout the province. He also does appellate work, having appeared before the Court of Appeal for Ontario numerous times. Tony is a frequent lecturer at Continuing Professional Development courses, where he's spoken about new marijuana legislation, the changing legislative regime for sexual offences, and stay applications for unreasonable trial delay. For four years, Tony was also an adjunct professor at Queen's Law, where he taught Criminal Trial Advocacy.
Chief Justice Suzanne Duncan, Law'85
Justice Thomas Cromwell Distinguished Public Service Award
The Honourable Suzanne Duncan was promoted to Chief Justice of the Supreme Court of Yukon in 2020, two years after her bench appointment. She has also been in-house legal counsel for the Kwanlin Dün First Nation government.
Throughout her career, Chief Justice Duncan has supported access to justice in a number of meaningful ways. During her time in practice in Yukon, she litigated extensively on Aboriginal law and Crown liability matters. At McCarthy Tétrault in Toronto, she handled labour law and civil litigation matters and developed a pro bono immigration practice that represented refugee claimants. She has served on the Executive of the Law Society of Yukon and as board chair of Yukon Legal Services Society that helps people with low and modest incomes. In 2018, she was appointed Chair of the Yukon Employment Standards Board, which hears appeals and provides recommendations on the minimum wage amount. She also served on the board of the Homes First Society, a Toronto agency in that provides stable shelter and support to individuals who are among the hardest to house. She is also a co-author of the book The Law of Privilege in Canada.
Norman Farrell, Law'86
Justice Thomas Cromwell Distinguished Public Service Award
Norman Farrell has spent over 20 years prosecuting persons involved in genocide, war crimes, crimes against humanity and acts of terror.  Recently he was the Prosecutor of the Special Tribunal for Lebanon, and is the former Deputy Prosecutor for the UN International Criminal Tribunal for the Former Yugoslavia.
Prior to working for the United Nations, he was the Legal Advisor on International Criminal Law and International Humanitarian Law for the International Committee of the Red Cross (ICRC) in Geneva. For the ICRC, he also worked as Regional Legal Advisor for East Africa covering Ethiopia, Kenya, and Tanzania, and as a delegate in Sarajevo. Before heading abroad, he spent eight years as counsel in the Crown Law Office (Criminal) in Toronto, arguing before the Ontario Court of Appeal and Supreme Court of Canada.
Monique M Smith, Law'91
J.A. (Alec) Corry Distinguished Alumni Award
Monique M Smith is a former Ontario Cabinet Minister and Ontario's first Representative in Washington. She now provides strategic advice on Canada/U.S. relations, the cultural sector and on strengthening democratic institutions in various parts of the world.
Ms. Smith was appointed Ontario's first Representative in Washington, DC, in September 2013. Prior to that, she led Ontario Premier Kathleen Wynne's transition team and helped steward the government's first six months in office. She had previously served as Ontario's Minister of Intergovernmental Affairs, Government House Leader, Minister of Tourism, and Minister of Revenue. During her first four years of elected office, she served as Parliamentary Assistant to the Minister of Health and Long-Term Care.
Before being elected in 2003, Ms. Smith served as Executive Director of the Association of Canadian Publishers and as Chief of Staff to the Leader of the Official Opposition in the Ontario Legislature, Dalton McGuinty. She began her career practicing labour and employment law at McCarthy Tétrault's  Toronto office.
She has presented at international conferences on government transitions, Canada/U.S. relations, and strengthening democracies.