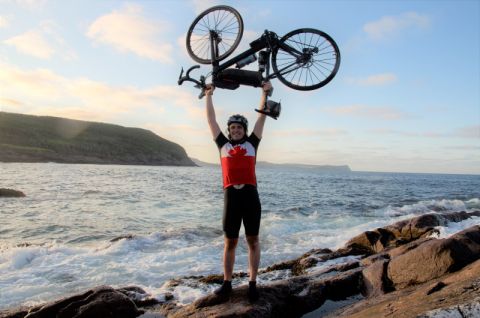 Matt Stackhouse, Law'24 (Artsci'19), arrived on campus to start law school just days after completing his two-month journey cycling across Canada. He had taken up a challenge to help improve the mental health of many youths by raising awareness – and more than $5,000 – for Jack.org. 
Sitting down for this Q&A, Stackhouse shares why he got involved with the challenge, what he finds helpful to maintain his mental health, his advice for students, and more. 
Why did you decide to cycle from Tofino, B.C. to St. John's, N.L.?
Before 2020, I had never owned a road bike. Then I got really into cycling during the COVID lockdown as it was a way to get outside, see people at a distance, and respect the government regulations. I was immediately hooked. My first few rides were 30 kilometers, and I slowly built up to 80 and then 100 km. In December, I was going over my 2021 goals and thought it would be an incredible experience to cycle from the Pacific to the Atlantic oceans and a great opportunity to raise awareness and funds for mental health, which I think is an extremely important issue, especially during the pandemic.
What was it like cycling across the country? What were the highlights?
It was an amazing experience to see all the scenery in different environments. I recommend it to everyone. I know that not everyone loves cycling; I've driven across the country and that's also a great way to experience it. The number one highlight was going to local communities, meeting different people, seeing different cultures across Canada, and really gaining a better appreciation for the diversity of our country.
How does it feel to have completed this challenge?
It's very surreal. I'm very proud that I was able to finish it. There are a lot of skills, such as perseverance, that I was able to enhance and will draw on in the future. My fundraising goal was $1,000 (less than one-fifth of the total raised), so I'm very happy with the results. 
When and how did you get involved with Jack.org?
I first heard about Jack.org when I was in high school, as they're primarily focused on youth, and I went to a few of their events here at Queen's in undergrad, but it wasn't really until the first COVID lockdown that I became really passionate about mental health. Seeing the impact that it has on nearly everyone when there's so much uncertainty in the world brought it to the forefront. I got more involved with Jack.org doing an individual Jack ride, biking from Collingwood to Toronto to raise money there. I thought it would be a great idea to dedicate this across Canada ride to Jack.org.
What would you like to say to your supporters?
I'm incredibly appreciative of everyone who has given their support. I know that every donation to Jack.org is going directly to help Canada's youth, which they should all be very proud of. There are also people who supported me by reaching out to their friends and being there for them, so I'm appreciative to everyone who has taken a step to improve the mental health of others.
How does cycling improve your mental health?
Lots of studies show how exercise helps to improve mental health and it works for me. Prior to the COVID lockdowns, I'd been very active by playing hockey and soccer and doing a bunch of different activities. When looking for something that I could do by myself or distanced in a group, cycling fit right in to get exercise, get outdoors, and be with friends. 
How would you say the pandemic has affected the mental health of university students?
I think some students have had great coping mechanisms and support groups, but on the other hand, there are those for whom this immense uncertainty has led to various mental health issues. Fortunately, this year, we're starting in person and hopefully will continue to be in person, and I think socializing is a great avenue through which students can deal with their mental health. The pandemic has definitely affected university students a lot and I know there are many tools and resources on campus that Queen's students should reach out to and use because everyone here wants to help.
How does it help you to talk about mental health issues?
For a lot of my life, there was kind of a stigma around talking about mental health, so I kept a lot of those issues to myself, but when I got to Queen's for undergrad, I saw how much support there was. I made a lot of use out of the free therapy services and then was able to get more comfortable with certain friends and build a good support system. Talking about mental health issues really makes them a bit more manageable. I built things up bigger than they were if I kept them in my head and then it would seem impossible to tackle but talking them through with people has really helped me live a healthy and balanced lifestyle. 
What words of advice would you like to share with your fellow students about talking about and coping with mental health issues and/or how to empower themselves?
The first thing that I'd like to emphasize is that you're not alone. Lots of people are always willing to help. In particular, the therapy sessions at Queen's are a great way to get into it in a non-judgmental setting. I remember being extremely nervous opening up to friends, but after I did, I realized that most people want to help; they just don't know that you're going through a certain mental health problem, or they don't know how to help. The last point is really to be there for your peers. You never know who's going through mental health issues, so just being there for other people is a great way to support your fellow students and classmates here at Queen's.
What attracted you to Queen's Law?
I feel very fortunate to have been accepted by Queen's Law. I was obviously attracted to Queen's Law because it has some of the brightest professors in the country, small class sizes, and a great curriculum. But what really did it for me were the relationships that students have with their peers and faculty, and how everyone works in a very collaborative manner. That's something I place an extremely high value on. After two weeks, I know I made the right decision.