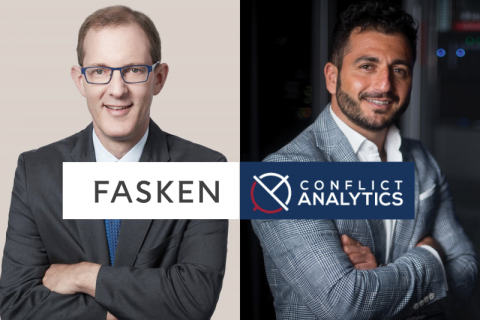 Fasken, a leading international law firm, has partnered with Queen's Law and the Conflict Analytics Lab (CAL) to invest in the ongoing professional education of its lawyers. 
The partnership involves a new dynamic sessional program taught by Queen's law and business experts for Fasken lawyers, staff, clients, and affiliates. This program will focus on a diverse array of prominent issues that have a direct impact on legal practice. "There's a real opportunity to offer sessions, for our firm members and clients, that explore both the hard and soft skills in demand in today's legal services market," says Robert Garmaise, Chief Innovation Officer with Fasken. "By partnering with Queen's, we combine their multidisciplinary analytics research and academics with our practical insights for law." 
With CAL, a global consortium founded at Queen's in 2018 to focus on the optimization of conflict resolution, Fasken looks to approach the legal industry with the lens of academics in the frontiers of cutting-edge research. This approach will ensure the firm is ahead of technological trends affecting legal services. 
Professor Samuel Dahan, CAL Director, explains what differentiates the joint initiative: "Queen's scholars will present their own research, so the insights are directly from the subject matter experts and we will provide networking opportunities for those looking to dive further into an area of interest."
Through the partnership, a series of relevant and timely Continuing Legal Education sessions are being developed for Fasken members and clients. Technical topics include contract management, cybersecurity and risk, data science and algorithms, data management, ethics of AI, legal application of data analytics, negotiation, and legal matter management. Management topics include design thinking, diversity and managing bias, resilience, and sustainability.  
"The Conflict Analytics Lab is very honored to be partnering with Fasken," says Dahan. "We are confident that this professional development program will have a meaningful impact on the legal profession, and we look forward to a fruitful collaboration."