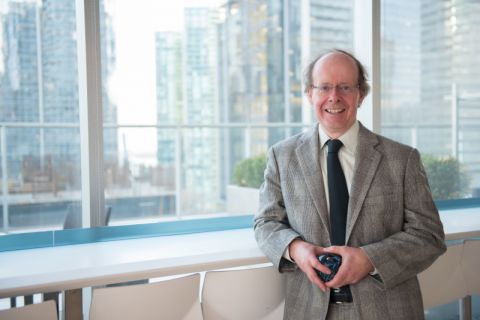 As Chief General Counsel with the Department of Justice, Rob Frater, Law'84, is involved in much of the major litigation that's conducted on behalf of the Government of Canada. This has put him front-and-centre representing Ottawa in many high-profile cases that have made headlines in recent years. Currently, Frater is serving as Ottawa's lead counsel in the Meng Wanzhou extradition proceedings now underway in Vancouver. 
He's done all this work demonstrating an exemplary knowledge of the law, integrity, fairness, and civility. Those are the criteria the judging panel seek when considering the nominees for the Catzman Award for Professionalism and Civility. 
And those are precisely the attributes for which Frater, the 2020 winner of the Catzman Award from The Advocates' Society, is known and that have served him well in his long, distinguished career at the federal Department of Justice. 
"The Government of Canada is a huge place. When you're involved in sensitive litigation, there'll always be a wide range of opinions from a wide variety of sources about how cases should be handled," he says. "Getting to a position involves extensive consultation, and it's very important to listen to others' views. Resolving disagreements requires respectful dialogue." 
As Chief General Counsel, a position he has held for five years, Frater provides advice to senior decision makers in Ottawa on a range of litigation and policy matters. He also conducts appeals to the Supreme Court of Canada and other appeal courts. 
During his student days, arguing such cases wasn't a role that Frater ever envisioned for himself, much less one that he aspired to. The Richmond Hill native came to Queen's Law in the autumn of 1981 intent on a career in international law. That all changed when at the end of first year, he landed a summer job at the Crown Attorney's office in Newmarket. The next summer, he did legal research for Professor Ron Price. Those experiences steered him toward working in the field of criminal law. Frater joined the Department of Justice in 1986 and never looked back. Next year will mark his 35th year with the federal government. 
His many career accomplishments and sterling reputation aside, Frater confides that he had no real expectations of winning the Catzman Award, which usually goes to a lawyer in private practice. "My colleagues put forward my name and I was honoured just to be nominated," he says. "That and the fact Marvin Catzman was such a distinguished jurist made it very special for me win this award."  
The Ottawa resident was honoured in a virtual ceremony that was part of the September 22 opening of the Opening of the Courts of Ontario. Like so many other Canadians during the COVID-19 pandemic, Frater has been working from home lately, and so he didn't travel to Toronto for the event. 
Queen's Law winners of the Catzman Award
The Catzman Award was created in 2008 by the family of the late Ontario Court of Appeal Judge Marvin A. Catzman, together with The Advocates' Society and the Chief Justice of Ontario's Advisory Committee on Professionalism. Robert Frater is the fifth Queen's Law grad to receive the Catzman Award in the 11 years it has been awarded. Other alumni to have done so include: Bryan A. Carroll, Law'71 (a co-winner in 2011); Connie Reeve, Law'82 (2012); Donald Bayne, Law'69 (2016); and Gregory Richards, Law'79 (2019).
"My dining room table is now my desk. I think I've become familiar with every video platform going," he says with a laugh. "There's no end of meetings to attend, and, if anything, my workload only seems to have increased during the pandemic."    
Despite this, he finds himself musing about his possible retirement in 2021 and about finally having time for things on his "to-do" list. For one, he hopes to visit Queen's Law and deliver the 2020 McCarthy Tetrault LLP Lecture in Legal Ethics and Professional Responsibility. He was scheduled to do so in March; however, the event was postponed because of the pandemic.
Frater is still deciding what to talk about in his lecture, but one topic he might expound upon is the wisdom of law students and young lawyers following in his footsteps by practising in the public service. 
"Generally speaking, you'll get more opportunities to actually argue cases – not just motions – earlier in your career than you would in the private sector, particularly in big firms. If you want to litigate, there is no substitute for getting frequent opportunities to be on your feet," says Frater.
By Ken Cuthbertson