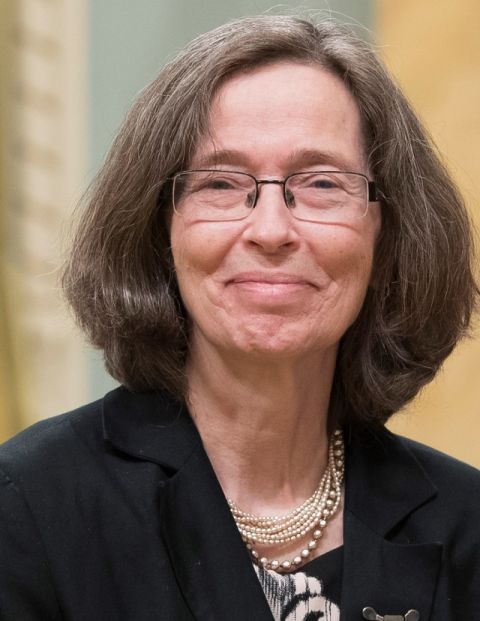 "My interest in prison law was fuelled by the Queen's Correctional Law Project" – Catherine Latimer, Law'78, recipient of the 2022 Thomas Cromwell Distinguished Public Service Award
Her participation in a Queen's Law clinical program in second year provided the catalyst for what would become Catherine Latimer's lifelong mission: to ensure justice for some of Canada's most vulnerable, marginalized people. "My interest in prison law was fuelled by the Queen's Correctional Law Project (now Queen's Prison Law Clinic)," says the recipient of the Faculty's Thomas Cromwell Distinguished Public Service Award.
Coincidentally, the person for whom her award was named had had a similar experience while at Queen's. Now retired from the Supreme Court of Canada, the Honourable Thomas Cromwell, Law'76, LLD'10 (Mus'73), recalled at the 2022 presentation ceremony that his own student involvement with the Project had been a "particularly important and formative" experience.
"I'm especially pleased to be presenting the award this year to Catherine Latimer, who is devoting her talent and industry to the service of the John Howard Society (JHS) of Canada, where she's been Executive Director since 2011," Cromwell continued. Noting that the JHS mission is to promote effective, just, and humane responses to the causes and consequences of crime, he added: "This work, however, is only one manifestation of her continuous commitment to public service."
Previously, as a policy lawyer for the federal government, Latimer provided analysis and policy advice to the Department of the Solicitor General, the Privy Council Office and the Department of Justice, where she served as Director General of Youth Justice and Strategic Initiatives. A fellow of the Broadbent Institute and past President of the National Associations Active in Criminal Justice, she became a member of the Order of Canada in 2017. 
That citation reads, in part: "Catherine Latimer has devoted her career to advancing a fair and balanced justice system reflective of Canadian values … She has been at the centre of many innovative approaches to national policy, including the development and implementation of the Youth Criminal Justice Act, which has been credited with significantly lowering recidivism and aiding in rehabilitation."
A summer job at a young offenders' vocational facility, while earning her BA from the University of Waterloo, raised Latimer's awareness of the need to protect the rights of youth who are in conflict with the law. That led to her enrolment in Queen's Law and involvement with the Correctional Law Project, which was headed first by Professor Ron Price and then by Professor Allan Manson. 
After earning her LLB, Latimer completed a master's degree in criminology at the University of Cambridge, articled at Osler, Hoskin & Harcourt, and spent two years working in legal aid before joining the federal public service in 1983 as a policy analyst in the Department of the Solicitor General. "I began law school wanting to help juvenile delinquents," she said, in accepting her alumni award. "So I was very pleased to have the opportunity to work on the renewal of youth justice and the transformation of the justice system."
The Department was home to many other Queen's alumni, Latimer recalled, paying tribute in particular to then-Deputy Minister George Thomson, Law'65, with whom she had collaborated on the Youth Criminal Justice Act. That legislation replaced the Young Offenders Act in 2003, providing the framework for a fairer and more effective youth justice system. "Without George's keen support, I don't think we would have gotten that off the ground," she affirmed.
Professor Nick Bala, Law'77 – "who seemed to have written every book there was at that time on youth justice issues!" – was a valuable source of information throughout the process, Latimer said. 
In 2011, she left public service to take on a new role, as Executive Director of the John Howard Society of Canada. With branches in 60 communities across the country, the not-for-profit organization promotes practical, evidenced-based policies while providing services, programs, and education to all those affected by the criminal justice system, advocating for the fair treatment of every individual. 
Harkening back to her student involvement with the Queen's Correctional Law Project, Latimer said, "I'm enormously grateful to Queen's for making this experience available to me. This clinic still has a profound interest in remedying injustice for some of the most vulnerable Canadians, who are often feared and disliked. I'm pleased that the Prison Law Clinic continues under Director Kathy Ferreira, Law'01, staff lawyers Paul Quick, Law'09, John Luscombe, Law'20, and with input from Professor Lisa Kerr."
The John Howard Society has also benefited greatly from the services of articling students from Queen's Law, noted Latimer. "All have been hugely dedicated to improving our broken corrections system…  I'm so happy that Queen's continues to do that!"
By Nancy Dorrance