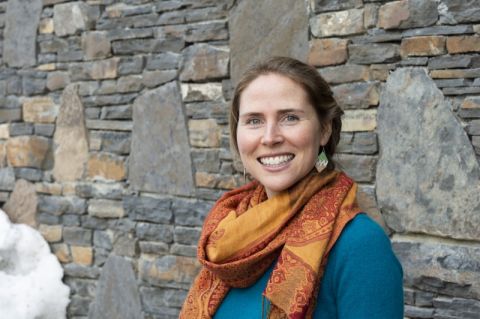 Lindsay Keegitah Borrows, an Anishinaabe lawyer, researcher, teacher, and PhD candidate, focuses her work on revitalizing Indigenous legal traditions for use in contemporary settings. She'll be continuing her burgeoning and influential academic career at Queen's Law when she takes up her new faculty post on July 1, 2022. 
"Within the world of Indigenous legal studies, Lindsay is at a scholarly cutting edge," says Dean Mark Walters. "She brings to us knowledge, skills, and experiences that will be invaluable as we build a program in Indigenous legal studies and as we work to fulfil our responsibilities as a law school relating to reconciliation."
The opportunity to play a key role in these initiatives is what attracted Borrows to Queen's. "The school's commitment to the TRC Calls to Action are evident in the new Strategic Framework, signalling the exciting growth that will come in these next few years," she says. "I'm also thrilled to become acquainted with this beautiful region of Anishinaabe and Haudenosaunee territories. I look forward to learning alongside colleagues and students across our various interests."
Borrows, of the Otter dodem, is a member of the Chippewas of Nawash First Nation whose reserve territory is on the Saugeen peninsula in Georgian Bay. After earning a BA in Native American studies from Dartmouth College and a JD from the University of Victoria, she practised Indigenous law and environmental law in Vancouver from 2016 to 2018. Then, she spent two years with UVic's Indigenous Law Research Unit providing legal support and research for First Nations articulating and implementing their Indigenous laws. Since September 2020, she has been pursuing graduate studies with the University of Alberta, first completing an LLM and now working on a PhD. Her dissertation is on the ways some Indigenous legal traditions conceptualize rights of nature.
Over the past 10 years, Borrows has been part of an innovative movement within legal scholarship in Canada. As a member of project teams collaborating closely with individual Indigenous communities, she has been on the ground to identify, explore, understand, and explain in new ways their traditions of legal ordering. These projects put community ideas of normative ordering first and non-Indigenous pre-conceptions of law second (or even to the side entirely). 
"I think it's essential that we do community-engaged research within academia," she explains. "Very often, Indigenous communities have been left out of the research process. This doesn't make sense because they're perfectly capable of engaging in these types of research opportunities and involving them in every step of the process is one way to ensure that community needs are met."
 
A linguist, Borrows has a particular interest in linking language – in her case Anishinaabemowin – with conceptions of law and the natural world from critical Indigenous legal viewpoints, as found in Anishinaabe and other Indigenous legal traditions within Canada and beyond. She has translated her work effectively into academic forms. Her book Otter's Journey through Indigenous Language and Law (UBC Press, 2018) weaves together story-telling, the importance of Indigenous languages, and a critical approach to law. 
Borrows also has considerable experience teaching law students within "on-the-land" or "in-community" contexts. As one of the leaders of the groundbreaking Anishinaabe Law Camps held within her community, she has been instrumental in providing students from many participating Canadian law schools with an intensive educational experience. 
Starting in the next academic year, Queen's Law students will have the opportunity to learn from this new approach. "I'm looking forward to getting outside and into communities with students for land-based learning opportunities in Indigenous law," Borrows says. "This will contribute to a growing body of innovative research in the field of Indigenous legal studies, and further equip the next generation of legal professionals with critical transsystemic skills for their practice beyond law school."