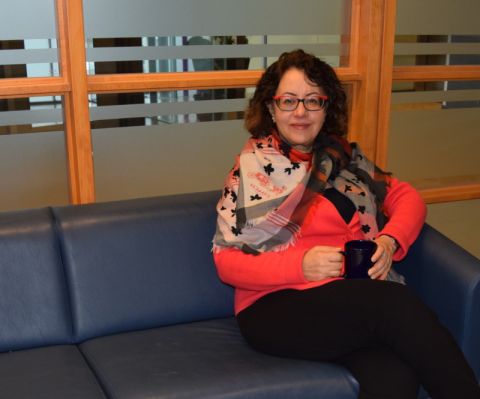 Queen's Law students and faculty members alike are benefiting this term from their interactions with one of Canada's leading human rights lawyers. Visiting Scholar Pearl Eliadis will be resident at Robert Sutherland Hall until the end of April and is looking forward to engaging further with the school's community members.
The Montreal-born lawyer and scholar serves as an adjunct professor at McGill University's Faculty of Law and is a member of the teaching faculty at the Max Bell School of Public Policy. With a curriculum vitae that includes more than two decades of working with the United Nations, governments and NGOs around the world, Eliadis is internationally known for her expertise in the fields of national institutions, human rights and democratic development.
"But in recent years, I've been reorienting my practice," she says. "These days, I'm spending more time in Canada and more time teaching and writing."
During her four-month stay on campus, Eliadis will be working on a book about modernizing our approach to civil liberties and reconciling those liberties and equality rights. For this book, she is critically examining the standard narratives about individual rights and negative rights, and their role in liberal democracies. She will also be undertaking research for a government study with a focus on administrative law and public administration. 
Eliadis is planning to involve Queen's Law graduate students in both initiatives and will be advertising the jobs shortly. "I hope students will enjoy working on these current and important issues," she says.
"We live at a time when there are many reasons to be pessimistic; however, I find that students often have a different, optimistic outlook. They give me reasons to hope and I find that hugely energizing. That's just one of the reasons I'm so looking forward to my time at Queen's Law."
By Ken Cuthbertson, Law'83