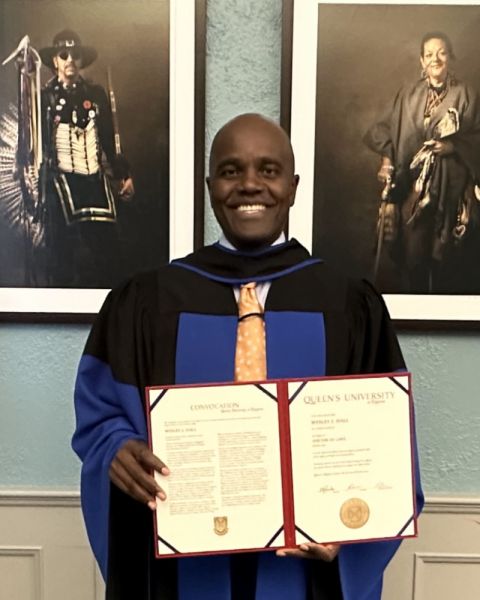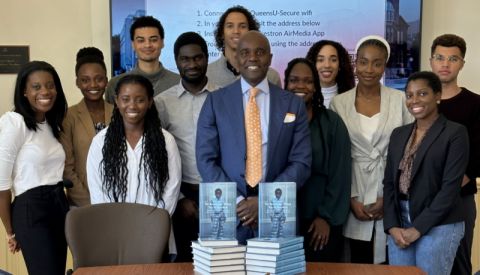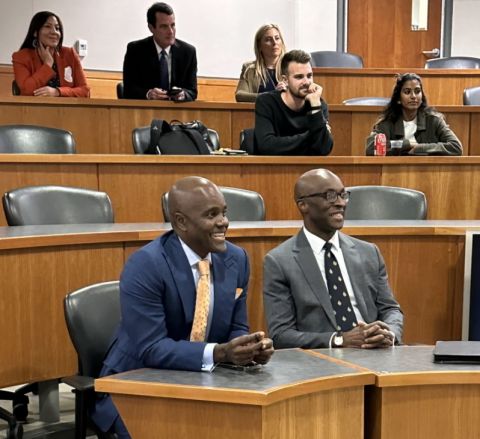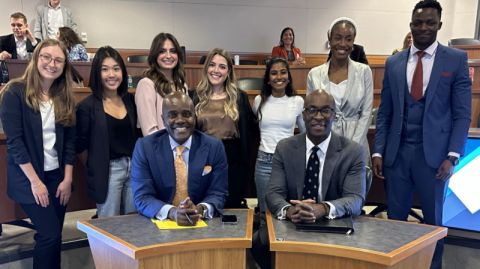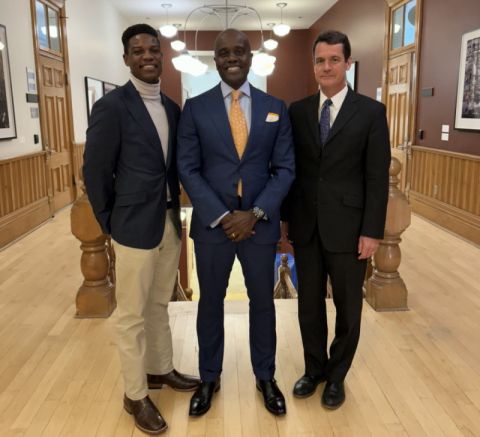 One of the most influential forces in Toronto's Financial District – and arguably Canada's leading Black executive – brought his inspirational message to campus on October 14, in a unique joint initiative of Queen's Law and the Smith School of Business. 
As the sun rose over Nixon Field that morning, Queen's University prepared to welcome Wes Hall, celebrated businessperson, philanthropist, advocate, and now the first Black recipient of an Honorary Doctor of Laws degree to be nominated by the Smith School of Business. Wes Hall, LLD'22, is known for breaking new ground. Arriving in Canada when he was 16 years old from Jamaica and starting his career in a law firm mail room on Bay Street, today Hall is known as one of North America's most influential powerbrokers and Canada's preeminent leader in shareholder advisory services.
In addition to being Executive Chairman and founder of Kingsdale Advisors, Hall is also the owner of QM Environmental, a leading national environmental and industrial services provider, and in 2020, he founded the anti-Black racism non-profit organization, BlackNorth Initiative. Hall is also the first Black "Dragon" from the CBC television show Dragons' Den. Along with his wife Christine, he is a noted philanthropist, lending his considerable talents to a number of important cause-based initiatives. Hall truly has a career filled with breaking barriers and rising to the top, while working to create more equitable pathways for future generations.
As Hall stepped to the podium in Grant Hall and addressed the crowd that included Smith MBA graduates and their families, he spoke of being an immigrant to Canada, of being abandoned as a child in a shack in Jamaica, and of the life-saving intervention of his beloved grandmother. He then surprised the audience by dedicating the honour of the degree to Queen's University 1852 alumnus and scholar, Robert Sutherland, the first person of color to practice law in North America. He concluded his remarks by encouraging everyone to dare to dream, and to accomplish exploits that will "stagger our ancestors," much like how his own grandmother would be, if she were alive to see him today.
Following the convocation ceremony, Hall met with Principal Patrick Deane and fellow Smith School of Business honoree Chief Clarence Louie. Hall and Chief Louie exchanged signed copies of their recently published books, including Hall's new bestselling memoir, No Bootstraps When You're Barefoot: My Rise from a Jamaican Plantation Shack to the Boardrooms of Bay Street, and reflected on the importance of receiving their honorary distinctions. 
Although this was Hall's first degree conferral at Queen's, his relationship with the institution has been established since 2020.  As the world was confronting the global pandemic, it was also a critical inflection point in North American society following the tragic deaths of multiple Black men and women in the United States at the hands of law enforcement. Publishing an article in the Globe and Mail entitled, "When I look in the mirror, I see George Floyd," Hall spoke to the anti-Black racism he and other Black Canadians experience daily. From this article, Hall began to receive phone calls from business leaders across Canada, and from these conversations formed the BlackNorth Initiative – an organization dedicated to reversing systematic racism through corporate and institutional commitments to diversity and inclusivity with real statistics, and a real commitment to results.
Meanwhile in 2020, Queen's Law student Nigel Masenda Law'20, was also breaking barriers.  Inspired by his own recent experiences as a Black law student, Nigel was determined to establish a bursary named for the first Black Queen's Law graduate, Cecil Allan Fraser, that would support future Black law students with financial need. As one of few Black students at Queen's Law, Masenda knew that access and equity required resources. Hall was one of few executives to respond to Masenda's calls for help, and he and his wife Christine personally pledged a generous gift to help fund the foundation of the bursary. 
Hall dedicated his afternoon to joint events sponsored by the Queen's Faculty of Law and Smith School of Business. His first stop was an exclusive meeting with 15 Black JD students, which reinforced the importance of the bursary to create access to legal education and capacity building, as the year before there had been less than a handful of Black students in the program. As the students sat around the table and welcomed the man who both inspired and supported their journey, Caroline Marful, Law'23, President of the Black Law Students' Association (BLSA)-Queen's, opened the meeting with gratitude to Hall and his wife, Christine. "I am grateful for the Fraser bursary and for the investment that Wes and Christine have made in Black Queen's Law students' futures," said Marful. "Wes and Christine's recognition and acknowledgement is a vote of confidence and a source of empowerment. Being supported by one of today's top leaders on Bay Street and their work breaking barriers inspires me, and I think all of us, to also join these ranks one day."
"I am grateful to have been a recipient of the Fraser bursary and the vote of confidence that it instills in me, and in all of us. We are all grateful for you, Wes and Christine, for your awe-inspiring work toward breaking barriers and building inclusivity." 
BLSA-Queen's member Kyra Devonish, Law'25, says she was also empowered and inspired by the visit. "Sitting down with him was a really good example for us. His work involves big corporate acquisitions and mergers, but his passion for philanthropy and bringing about change is equally strong. He talked about building your influence by being the best, and then using that influence to make an impact in areas that matter to you. After facing so much adversity in his life, to get to this point where he is really making a difference: it was so motivational."
Dean Mark Walters, Law '89, reflected on the meaning of such strong enrollment of Black students at Queen's Law, with 11 students in the 2025 class, a reflection of the commitment to inclusivity, hiring a Director of Indigenous Initiatives and Equity, Diversity and Inclusion to support recruitment, and the Faculty's focused work in re-examining admissions cycles and processes. "I am proud to be Dean of a law school that is dedicated to diversity in our student body and to see the work of our faculty and staff rewarded in the experience and education of these students is deeply fulfilling."
Hall and many of the students then joined representatives of the Queen's Law Students' Society and the Queen's MBA program for a student-organized event dubbed "Gaels' Den." Sharing their thoughts and ideas for social change and movement, students spoke with Hall and surprise panelist Eme Onuoha, MBA'08, who serves on the CPP Investments Global Leadership team. 
First-year students Uche Umolu, Kira Petriello, and Maria Saba were excited to represent Queen's Law and Pro Bono Students Canada-Queen's in the session. Each student passionately pitched their project – Umolu on Indigenous youth and public service, Petriello on legality surrounding solvency, and Saba on literacy and incarceration. Both Hall and Onuoha praised the students for their commitment to helping others and working on causes that are personally important to them. 
"Wes asked us questions and presented insights and constructive feedback about internal synergies and collaboration," Umolu reports. "A lot of our projects involve tackling systemic barriers, so he provided guidance on how we could approach that to ensure what we're doing doesn't just stay within the four walls of Queen's Law but goes back to the community. I left the room feeling genuinely inspired and motivated!"
Hall's visit inspired and motivated more than just these students when he concluded the day with a funny and poignant fireside chat, moderated by Nigel Masenda, the Queen's Law alumnus who first approached Hall to support the Fraser Bursary in 2020. Attended by a crowd of faculty, students, alumni, Kingston-area business stakeholders, and live-streamed to an audience on Zoom, Hall spoke about his recently released book and his passion for helping others.  
Speaking to his investment in Queen's Law students through the Fraser bursary, Hall remarked, "If we're going to solve the problem of Black representation on Bay Street, it has to start here, where they're educated, because the pipeline [to Bay Street jobs] just isn't there."
At the end of the chat, Masenda asked his friend what motivated him to continue working so hard, despite having reached a high level of influence. Was it money, success, prestige, or power? Hall immediately responded that none of those things motivated him. Instead, it was a picture in his office of him with the grandmother who raised him and his siblings, working long hours on a Jamaica plantation and sacrificing all for her family. 
"I promised to get her out of that tin shack, but I never did," he said, softly. "The work ethic I put in today is nothing compared to hers." 
Hall concluded the day joining the Black Law and MBA and students for a farewell reception and signing copies of his new book for attendees. Hall writes in the forward of his book, and he emphasized to the student and attendees, "My aim in describing how I navigated a system created to limit Black achievement isn't to draw a map for those coming up after me, it's to prove that no one should ever have to make the same journey."