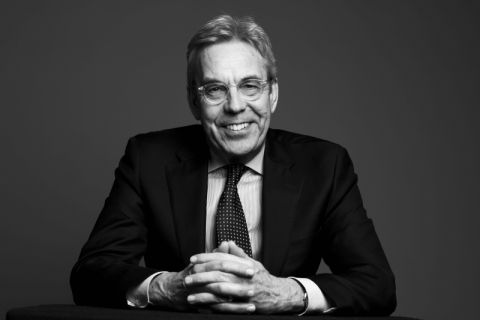 "Treat the other side the way you want to be treated," says Peter Griffin, Law'77, recognized as one of Canada's top civil litigators. Respect for your opponent and everyone involved in the case is among the sage advice Griffin, counsel with Lenczner Slaght LLP, gives to up and coming litigators. He has been awarded the Law Society Medal for his outstanding contributions to the profession, including his work on cases that resulted in precedent-setting decisions and his dedication to the education and mentorship of young lawyers. 
Griffin makes clear that the job of a civil litigator is about respect, collegiality, and professionalism, not personal quests to win no matter what and duking it out with another lawyer. "If you're respectful of people, you get farther," he says. And farther means getting things done in the interest of where a litigator's loyalty rests – with the client. "Whether it's a simple case or a complex case, the best service that you can do for your client is to figure out how to get to a resolution that is meaningful and acceptable to them," he explains. 
Also a strategic advisor on the Queen's Law Dean's Council and a member of the school's Moot Council, he reflects on how his alma mater gave him the opportunity to develop a breadth of strong foundational skills. "I had the benefit of a very broad grounding, broader than I thought was going to be helpful to me at the time, but in retrospect, very helpful," he recalls. He also credits Professor Emeritus Stanley (Sonny) Sadinsky, Law'63, and his other former teachers for their commitment to legal studies and their academic and professional backgrounds. "They instilled a sense of how what I was being taught would fit into a bigger picture," he adds. "That was motivating."
In 1992, Griffin, along with four other lawyers, co-founded the Toronto firm where he currently practices and what is today one of the country's leading litigation firms, Lenczner Slaght LLP. The firm has since grown to about 70 lawyers. Griffin served as a managing partner at the firm for eight years before stepping back from his managerial role and continuing to work as counsel to make room for the younger generation at the firm to take on its management. "I think the management of the firm has to progress to the people who are its future, not to be run by the people who are the present or the past," he says.
Throughout his legal career spanning more than 40 years, Griffin has received many honours, including the Ontario Bar Association Award for Excellence in Civil Litigation and being named one of "Canada's Most Influential Lawyers" (2014) by Canadian Lawyer magazine. He has been counsel on numerous precedent-setting decisions at the Supreme Court of Canada, including Grant Thorton v New Brunswick, which established guidance on the standards for limitation periods and discoverability. Being part of important cases like these, he says, is "gratifying to look back on" because of the impact they had on the law. But regardless of the size of the case, he maintains his focus on the client and resolving the issue as effectively and efficiently as possible for them. Litigators, he says, should always ask themselves one question: "What procedural step can I take that would bring this to a head in a way that will cause the issue to resolve?" 
While Griffin notes there isn't a template for a successful advocate, he emphasizes the importance of maintaining one's credibility and reputation as these are what lawyers "carry from case to case." He also encourages young lawyers to be diverse in their practice areas and skill sets. "Throw yourself into everything and anything you can get your hands on to get experience," he advises.
As a past President of The Advocates' Society, a Fellow of the American College of Trial Lawyers and a former long-term teacher of civil practice at The Institute of Law Clerks of Ontario and trial advocacy courses at Osgoode law school, Griffin's commitment to sharing his expertise has earned him high regard in the legal community. In addition, he mentors younger associates at the firm, working together on cases and providing them with hands-on experience. "I want to know that at the end of the day that we've worked together, and we've taught somebody and they come away from it a better lawyer," he says. 
And even while a busy litigation practice can cause many lawyers to put in their billable hours then head home, Griffin encourages all lawyers to engage deeply with their profession. "I find that it's our obligation to help others be better lawyers, to share our experience, and I think that's a privilege that comes with being a lawyer," he says. "One of the things we have to do is make all of us better."
By Geena Mortfield