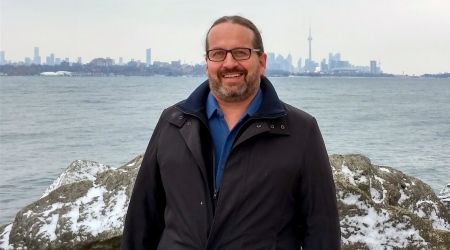 "Honoured. I'm very honoured to have a role in such an important initiative."
That's how Brian Eyolfson, Law'92 (Artsci'89), describes serving as a commissioner on the National Inquiry into Missing and Murdered Indigenous Women and Girls, announced by the federal government in August 2016. A human rights lawyer and member of Couchiching First Nation, he is one of five commissioners from across the country appointed to the independent public inquiry. 
"The terms of reference direct us to examine and report on the systemic causes of all forms of violence, including sexual violence, against Indigenous women and girls in Canada, as well as the underlying social, economic, cultural, institutional and historical causes," Eyolfson says. 
The commissioners, whose mandate began September 2016, will also examine institutional policies and practices responding to this issue; make recommendations on concrete and effective action to remove systemic causes of violence and increase the safety of Indigenous women and girls in Canada; and recommend ways to honour and commemorate the missing and murdered. They are expected to submit an interim report before November 1, 2017, and a final report the following year.
"It's a challenging mandate," he says, "but I'm grateful to be part of a wonderful team of commissioners and I'm also confident in the very capable team of staff that we've been putting together to help carry out the important work of the inquiry."
Eyolfson and the other commissioners are designing a trauma-informed process to receive the testimony and statements of those affected by violence, and are also working to include Indigenous protocols and practices in the inquiry's processes. The commissioners meet regularly and hold advisory meetings on various issues and with regional groups, and testimony-gathering events will begin this spring.
"The nature of our day-to-day work is evolving through the course of the inquiry," says Eyolfson. "As an independent inquiry, we had to essentially build from scratch. The initial work has been to build the infrastructure and hire the personnel needed to carry out the work of the inquiry." While designing the inquiry has been a challenging aspect of his work so far, he adds: "Seeing it come together has been rewarding."
Eyolfson brings over two decades of experience as a human rights lawyer to his work. His passion for human rights and Aboriginal rights drew him to law school at Queen's, where he helped to organize two conferences, one on lesbian and gay legal issues and another entitled "The Rule of Law at Kanesatake" following the Oka Crisis. He later worked at Aboriginal Legal Services of Toronto, which he represented at the Ipperwash Inquiry, and spent several years as a Vice-Chair with the Human Rights Tribunal of Ontario, where he gained insights into building accessible processes and procedures. "Shortly after I joined the Human Rights Tribunal, the legislation in Ontario changed to provide people direct access to it," he says. "As a member I had the opportunity to provide input into its new processes at the time."
More recently, Eyolfson acted as Deputy Director in the Legal Services Branch of the Ontario Ministry of Indigenous Relations and Reconciliation, where he assisted in the management of the legal branch. For now, however, his time is devoted to the inquiry.
"The work is incredibly important," says Eyolfson. "As our terms of reference state, the high numbers of deaths and disappearances of Indigenous women and girls in Canada is an ongoing national tragedy that must be brought to an end." 
By Emily Lieffers