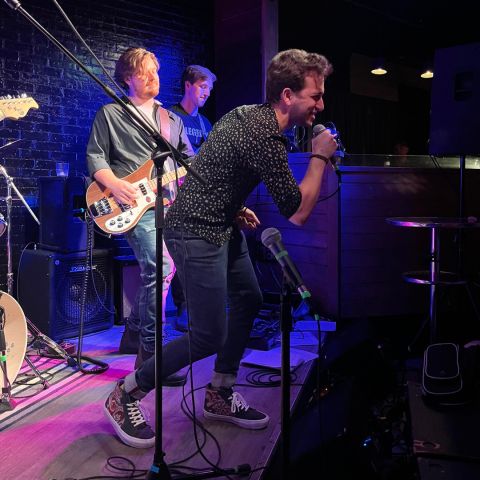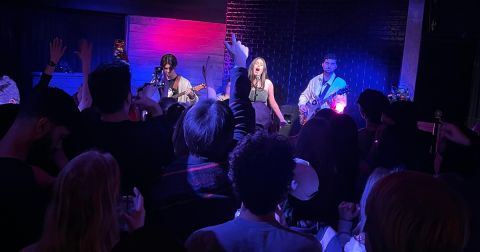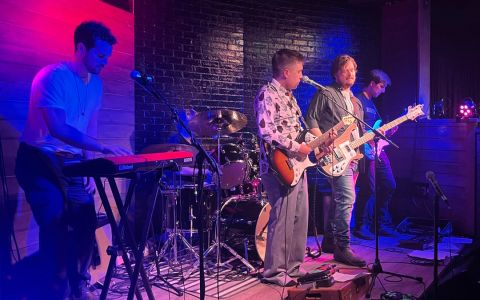 Lawlapalooza is back, and the organizers of two Kingston-based charities couldn't be happier. After a three-year Covid-related hiatus, the musical talent showcase in which students – and sometimes faculty – perform while raising money for good causes returned to an enthusiastic reception. 
Co-chairs Liran Yefet, Law'23, and Miranda Lacalamita, Law'24, announced that Lawlapalooza'23 raised about $4,000, which has been divided equally between Martha's Table and The Joe Chithalen Memorial Musical Instrument Lending Library (Joe's MILL). The former is a downtown store-front kitchen where hungry people in Kingston can have a nutritious meal and find needed social support, while the latter provides music lessons and lends instruments to members of the local community. 
"For me and my fellow 3Ls, this was one of our last chances to make memories together before we all go our separate ways at the end of April," said Yefet. "After spending most of the first two years of law school online, we're all trying to make the most of our last year where we actually get to attend in-person events."
Those who attended this year's Lawlapalooza enjoyed a variety of spirited musical performances that showcased the talents of Queen's Law students and a surprise on-stage performance by Professor Mary-Jo Maur, Law'85, LLM'92.
"Her singing was so good," enthused audience member Ingrid Kao, Law'23, "And it was great to see and interact with some of our professors when they weren't working."
Stuart Gordon, Law'23, who performed alongside classmates Alex Nogalo and Ben Poole, said he and other performers had "an absolute blast" being on stage at Lawlapalooza '23. "The audience was incredibly interactive, cheering at guitar and keyboard solos and singing along whenever they knew the words." 
Lawlapalooza'23 co-organizer Liran Yefet echoed Kao and Gordon's sentiments. 
"The turnout was fantastic. The crowd was singing and dancing along with the performers. We even had Dean Mark Walters show up, along with a few professors. I'm grateful for everyone who came out, and I've heard that everyone who did so really enjoyed themselves," she said.
"We'd like to thank our sponsors Cassels, and Long & McQuade for helping to make Lawlapalooza'23 possible." 
By Ken Cuthbertson, Law'83