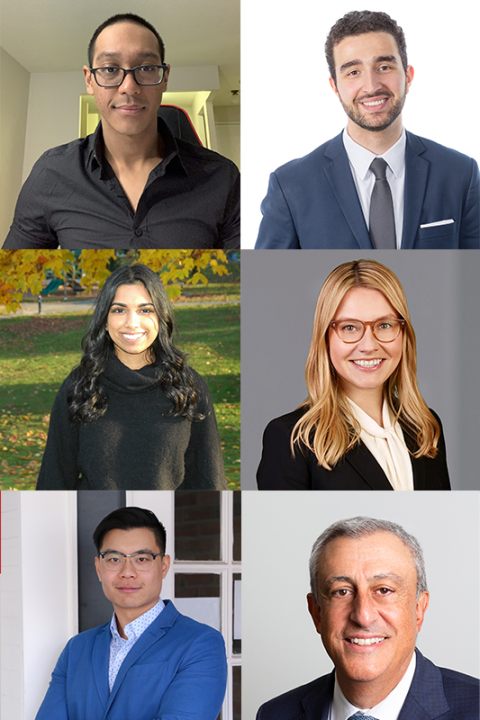 One of the best ways to find out what it's like to work in a certain type of career is to talk to someone already doing it. First-year students have that opportunity thanks to the Shadow Program, a Career Development Office initiative that pairs them with legal professionals working in big or small law firms, in corporations, with the government, or with public-interest organizations. 
"As a first-generation student, finding connections with legal professionals is not an easy task," says Kevin Lau, Law'23. "The Shadow Program makes the process much less daunting to someone like me."
Lau's mentor was Stephen Shamie, Law'86, a partner and senior labour and employment lawyer with Hicks Morley Hamilton Stewart Storie LLP's Toronto office. "It is important that we, as practising lawyers, do everything possible to assist students as they embark on their careers," says Shamie. "Queen's Law provided great opportunities for me as a student, and I believe it is incumbent on grads like me to 'give back' in whatever way we can."
In their Zoom discussion, he shared practical advice on how to be a great lawyer down the road. "He stressed how important skills of listening and preparation are to legal practice, so I am more aware of the work to be done," says Lau. "It is quite a relief to hear that though academics are important, it is also important to enjoy life as a law student." 
For Shamie, the best part of the Shadow Program is having an opportunity to listen to students on their experiences to date and try to guide them with as much information as possible, so they can make informed decisions. "There is so much information about 'private practice' that law students can't possibly be expected to know at this stage and everything we can do to improve their understanding will be beneficial," he explains, noting that the pair will keep an ongoing dialogue. 
Rena Taggar, Law'23, learned about practising with a large full-service firm from Corina Capmare, Law'19, an associate with Cassels Brock and Blackwell LLP in Toronto. "My main takeaway was that it is ok to not have everything figured out in 1L and to open myself up to the different opportunities that are available to me," says Taggar. "Corina also talked about the culture of working at a large firm and how to best manage time when you have a lot to do. These reminders were helpful for me as I navigate the end of 1L and prepare for 2L."
Having found the Shadow Program experience valuable when she was a student, Capmare wanted to pay it forward. "I wanted to share some of my experiences and think of any questions I had during my first year of law school that I could now answer with the 'gift' of hindsight," she says. She shared her "tips & tricks" on how to get through law school and made sure there was time for Taggar to ask questions and discuss whatever she was most interested in.
Marina Saporito, Law'23, wanted to explore different opportunities within public interest law and to learn about searching for jobs in the area and what the day-to-day looks like. She got that from her mentor Samantha Wynne, Law'13, International Policy Manager with the World Jewish Restitution Organization in New York. "Samantha highlighted the importance of getting involved, trying new things, and saying 'yes!' to opportunities that come your way," says Saporito. "I really appreciated Samantha's honesty in sharing her career journey and I'm looking forward to speaking with her about selecting my classes and determining my next steps in pursuing my goals." 
"I feel very fortunate to have had such a diverse and rewarding career in international law since graduating, and I am thankful to my professors at Queen's Law for inspiring me on this journey," says Wynne. "Over the years, I have made a point of mentoring students and young lawyers who are interested in exploring public interest careers, and I was especially excited to share my day-to-day experiences and provide a better understanding of what a career in this field could be like."
Kevin Kiss, Law'23, came to law school without a specific career path in mind but was able to discern what areas he was more interested in by the end of first semester. Next, he wanted to know the type of careers he could pursue in those areas. Helping him with that was his mentor, Mark Asfar, Law'17, in-house counsel with engineering/architecture firm J.L. Richards & Associates Limited in Ottawa. 
"I learned about the surprising amount of flexibility within the legal field, and how you are not particularly locked into any position that you might find to be a bad fit for you," says Kiss, who enjoyed finding out what Asfar does on a typical day. "It was also nice to learn about what the articling the process is, and overall, how it is to transition from a law student to an actual lawyer."
Remembering all the questions and competing goals he had in first year, Asfar wanted to keep things informal in their lunch hour Zoom chat. That casual feel is just what Kiss liked best. "Being able to speak casually made the whole experience very accessible and let me really dive into the questions I have always had for practising lawyers. I'm getting excited to see what the future holds for my own career."
As a student, Asfar had a "great experience" with the Shadow Program. "I figured that this would be a great way to give back and return the favour," he says. "It was amazing to hear Kevin's excitement for different areas of law and everything he has learned so far. It made my week to get to connect and remember the thrill of law school!"
Discovering your Career Path in Law
Before their winter term Shadow Program experiences, first-year students had the opportunity to participate in "Discovering your Career Path in Law," an information session co-hosted by the Career Development Office and an upper-year student to help students learn how to identify their values, interests, personality, and strengths in relation to different legal career paths and options. 
"The session was helpful for me because it emphasized looking for something that YOU like and what suits your needs," says Taggar. "It reminded me to think about what is important to me when I seek future employment and to remember it as I go through law school. It connected well with my Shadow Program experience because I was able to ask Corina questions that are important to me in terms of my values. Speaking with her allowed me to explore a practice area from the outside and see if it could potentially align with what I would like to do in the future."
Lau also appreciated the session's introspective focus to guide him in his search for a career path in law. "Participating in the Shadow Program allowed me to inquire about those career paths with Mr. Shamie and I was able to affirm what I knew about myself and have an imagination of what life would be like within the industry," he says. "I believe that I have yet to scratch the surface, but it is the right step forward.'
Kiss learned of something that is perhaps more important than finding an area of law one will enjoy: "finding a career that would allow you to live the life you want to live. I think there is some contention within professional fields between the idea of having better working hours versus having a larger salary, and I think this honestly comes down to reflecting on what kind of life you envision for yourself," he explains. "Sometimes I think it is easy to get lost in chasing grades and focusing on your strengths in law school, but I found it to be very helpful to reflect on where I wanted to end up equally, if not more, than where I was and what direction I was currently heading in."  
Saporito really appreciated the ways that the CDO team presented the four questions to help her determine the next steps in her career path. "In reflecting on my own values and interests, I felt that public interest law would be an excellent fit for me and was luckily able to speak to Samantha about this," she says. "Our conversation confirmed that this is an area of law I would like to pursue and helped me to identify areas of interest!"
Managing the Shadow Program this year was Career Development Coordinator Sara Ali, who has a passion for working with mentorship programs and has done so for several years. "The pandemic presented us an opportunity to run the program remotely, which turned out to be incredibly successful," she says. "Alumni were very eager and willing to support students; having the program run remotely allowed many alumni, who may not have been able to participate in the past, to get involved. The lessons learned from this year will support the program moving forward, as post-pandemic, we will be able to run Shadow sessions in-person and remotely."
"Discovering Your Career Path" and the Shadow Program demonstrated something else to the students and alumni. Capmare sums it up well: "I love connecting with Queen's Law students and alumni as it's a great reminder of the amazing Queen's Law community that we can tap into throughout our career."  
By Lisa Graham