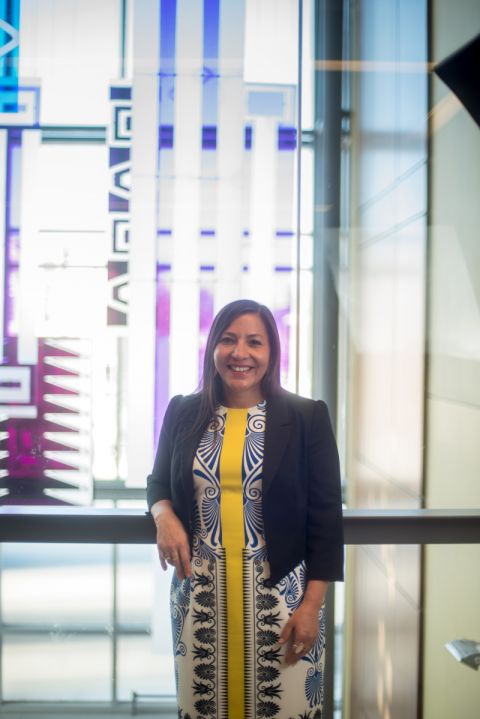 While growing up on the Tyendinaga Mohawk Territory and then in Thunder Bay, Ontario, Kanyen'keha:ka woman Stacia Loft saw the impacts of colonization on her people. She experienced her own loss of culture, the inability to speak her language, the silencing of women's voices, and the loss of solidarity in her community. When she was raising a child on her own, she struggled with finding housing, accessing food, obtaining childcare and making ends meet. It's through all these experiences that she learned focus, drive and determination can lead to positive impacts. She then set out on her own path to make a difference, which would include earning a law degree from Queen's. 
Over the past 15 years, Loft has dedicated her work to empowering Indigenous peoples to access cultural, language, educational and employment opportunities and to achieve financial independence. She served at federal and provincial levels to support community-based Indigenous programs, dealing with such issues as addictions, mental health, justice, homelessness. In 2015, she was elected a Band Councillor of the Mohawks of the Bay of Quinte for what would become her first of two consecutive two-year terms. Last fall, she campaigned to be Chief, coming in second to none other than the long-time incumbent Chief R. Donald Maracle. 
Since September 2017, she has been balancing all this work with her legal studies and heavy extra-curricular involvement. How does she do it? Stacia Loft, Law'20, discusses her academic and community service experiences, her exciting new endeavours and her plans to take her work global. 
Tell us about your work to empower your fellow members of the Mohawks of the Bay of Quinte.   
My work on Council was focused on creating increased opportunities by ensuring fair and equal access for our membership. This was done by raising and addressing underlying systemic practices of bias and conflict of interest, stemming from hundreds of years of colonization and intergenerational trauma. It was also a priority for me to ensure that more opportunities were available for the community to hear about the work underway or voice their concerns. During my tenure, this included holding consultation meetings to draft our own cannabis laws, presenting financial audits and implementing mediation tables to address concerns of community members. 
During my time on Council, I felt it was my responsibility to advocate for change to policies to achieve fairness. This included not only the two portfolios I held over the four years (Community Well-being and Housing), but all areas including education, infrastructure, policing, policy and human resources. The highlights that I found most rewarding were meeting with community members to hear their concerns and identify avenues for change. 
What I found in many situations is that the solution came back to policy considerations. Advocating for changes to policy to address gaps or capture new priorities, was definitely one of the first steps to identifying potential solutions. In instances where solutions could not be found in policy, the gears shifted to advocacy at the provincial or federal level. These cases included emergency housing, triaging rental housing applications based on need, engaging with legal counsel on band business, and land claim negotiation processes. All matters were not necessarily resolved through advocacy or resulted in a change to policy, but at least areas of need were flagged for future and further discussion on how to address gaps. 
The work was also focused on identifying opportunities for our own source of revenue in order to realize our independence and sovereignty as a Territory, and not at the behest of outside governments.
What did you learn while running for Chief of the Mohawks of the Bay of Quinte? 
I learned that we still have a lot of healing to do as a community. Lateral violence (directed against one's peers) is an everyday challenge to overcome for many people, but we are still at a stage when people do not realize that they are engaging in this kind of behaviour. It is damaging not only at an individual level but also at a familial level. I also learned that we are not yet at a place where open, honest and kind conversations can be had. There is so much trauma that many have not healed from and this impacts the ways in which we engage or fail to engage with each other.
During your time at Queen's Law, what student activities have you been involved in?
With the Indigenous Law Students' Alliance since 1L, I assisted with planning, coordinating and participation in activities such as Orange Shirt Day (raising awareness of children who attended Residential Schools), and the "Reconciliation on Bay Street" conference. I was a 1L representative of Level: Changing Lives Through Law and in 2L was Co-President of the club. We planned fundraising activities, movie nights and a panel discussion on "Access to Safe Drinking Water in Indigenous Communities."
Tell us about your soon-to-be published paper "Tax Liberty as Law: Beyond the Confines of an Imposed Taxation System on First Nations Peoples." 
This month, I am editing my paper for the Western Journal of Legal Studies to be ready for publication this spring. I wrote the paper as part of my Independent Supervised Project under the supervision of Professor Arthur Cockfield (Law'93). I initially submitted the paper for the Canadian Tax Foundation Student Writing Award and thought that if the paper was not chosen, it would be good to submit it to another source to ensure that the history and legal facts of taxation on First Nation peoples be understood by as many Canadians as possible. 
As an Indigenous person who has grown up and has lived both on- and off-Territory, I continue to experience interactions involving taxation almost every single day. I wrote this paper to educate non-Indigenous people on taxation from both an Indigenous and a legal perspective. I have woven in a discussion on treaties that speak to taxation and trade pre- and post-contact, focused on the legal history of taxation on Indigenous peoples, and have crafted a new legal test that determines whether or not a tax liberty is in play. 
How have you juggled law school with serving as an MBQ Councillor, running for Chief and raising a child? 
I am a planner by nature and have always been good at prioritizing; I take my time and others' time seriously. I actually don't believe I had to juggle my priorities but what I found is that everything fell into place by planning effectively. I scheduled my law school courses as best as I could to ensure that I would be able to meet my work commitments of Council while also having time to meet with community members and attend events. I did experience some overlap with community work, school and family commitments and there were things that I had to say "no" to, but I believe that this is part of balance. 
I triaged each priority by identifying areas/spaces that were either negative, ineffective or lacking value, against those that I believed to be results-oriented and focused, and adjusted my schedule accordingly. I believe that our experiences make us richer human beings and that in order to stoke our creative and problem-solving fires, we need to experience different spaces in order to ensure that we are actually fulsome and wholistic contributors to a cause.
Congratulations on being selected to participate in the Governor General's Leadership Conference this June! Tell us about the process and what you will be doing at it.  
I found out about the Governor General's Canadian Leadership Conference (GGCLC) through an alumna of the program who reached out to contacts at the school and shared an invitation to apply. The process involved completing an application and a 45 minute in-person interview with other candidates. I was excited and honoured to find out that I was one of 250 successful applicants selected to participate as a member of the GGCLC 2020. The GGCLC is a 15-day program that involves an opening plenary in Huntsville, and a study tour where members are divided into 16 groups and travel to a different place in Canada. At each "learning site," the study group meets with senior management, grassroots activists and local governments. Every evening, members identify and discuss issues. At the end of the tour, each study group prepares a report on the concerns of the communities visited and presents its findings to the Governor General and other members of the Conference.  
I understand you will be articling with Amnesty International in Ottawa starting in July. What interested you in working with this organization? 
I have been interested in and have followed the work of Amnesty International for a number of years. After completing the Public International Law Program at the Castle (Bader International Study Centre in the U.K.) in Spring 2018 – getting exposure to international human rights law and visiting the International Court of Justice and the United Nations – I knew that the work of a traditional law firm was not for me. I relate to organizations that challenge the status quo and that make us think about our impact on people and the environment from a cultural and rights-based lens. 
Amnesty has also focused on domestic human rights abuses against Indigenous communities. In 2018, Amnesty called for an independent probe into the treatment of Mohawk demonstrators in Tyendinaga at the hands of the OPP in 2007 and 2008 on the Culbertson Tract, which is land that has been under a land claim for more than 20 years.
What are you most proud of? 
I am proud and feel a great sense of privilege by being able to go back to school. It is difficult for single mothers to be able to complete post-secondary studies (I know this because I completed my undergraduate degree as a single mom) and even more difficult for single mothers to leave a career to go back to school. I had always wanted to go to law school and waited for the right time to make my move. I am proud of my daughter who has grown into an amazing human being; always kind, loving and determined. She has taught me my most important life lessons. I am also proud to be have been able to finish law school a semester early (in Fall 2019, which was possible by completing Castle credits and a higher course load in three upper-year terms).
Why did you choose Queen's Law for your JD degree?
I chose Queen's Law not only because of its reputation as being a stellar law school but also because it was close to my home in Tyendinaga Mohawk Territory. I was able to commute from the Territory to Kingston for class, and then head back home directly after. The peace of being at home and fulfilling my responsibilities here, as well as a having an opportunity to learn on Haudenosaunee Territory, was definitely the best choice for me.
How has Queen's Law prepared you for a career in law? 
Queen's Law has prepared me to think pragmatically and logically about issue identification while remaining solution focused. I am grateful to have learned from some amazing professors during my time at Queen's Law. 
What is your career goal?
My goal is to be able to support and contribute to the needs of my community, and the broader global Indigenous community on identifying solutions that will address long-standing and unresolved challenges to land claims and inherent and treaty rights. I want to see communities grow and become more prosperous on their own terms without outside interference.