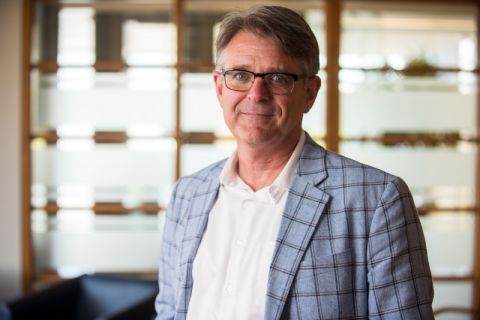 Phillip Drew, Law'00, LLM'12, knows quite a bit about legal education, and he knows it from different perspectives. 
Twenty-three years ago, then-Captain Drew with the Canadian Armed Forces (CAF) was learning all the fundamentals as a first-year student. Ten years after his graduation, he was back at Queen's Law to complete his master's degree. Next, he earned a doctorate in international law from the University of Frankfurt (Oder). 
Having started as an Intelligence Officer in what would become a 31-year career with the CAF, he served as a lawyer in the Office of the Judge Advocate General from the time he completed his articles with Gowlings (Ottawa) in 2001 until his release from the military in 2013. For the past eight years, he has been teaching International Humanitarian Law for Queen's International Law Programs at Herstmonceux Castle. Since 2016, he has been an Associate Professor with Australian National University College of Law. 
Returning to his alma mater once again, he is now the Assistant Dean of JD and Graduate Legal Studies. 
Assistant Dean Drew speaks about his Queen's Law and work experiences and his priorities for his new job. 
What motivated you to switch from a career in military intelligence to one in law?
I thoroughly enjoyed my career as an Intelligence Officer. I had the opportunity to travel the world and do some really fascinating work, particularly during the missions I did in the First Gulf War, Rwanda, and several other places people don't think of as holiday destinations. Although the jobs I did were very interesting, the reality of being an Intelligence Officer in the early 1990s meant that I was constantly away from home and my family. After I returned from my seven-month deployment to Rwanda, my wife and I discussed our future and decided that it was time for a change. I applied for and was accepted into the Military Legal Officer Training Plan, and we both started law school at Queen's in the autumn of 1997. 
What encouraged you to return to Queen's Law as an Assistant Dean?
I have a strong sense of loyalty for Queen's Law. My wife and I consider ourselves very fortunate to have received an exceptionally good legal education during our three years at the law school. We thoroughly enjoyed Queen's and have many fond memories of the time we spent here as students. Now it is time to give back.
What are you responsible for in this position?
I am responsible for virtually everything that has to do with legal education in the JD, LLM and PhD programs; from admissions to program design, through to ensuring that our curriculum meets the accreditation requirements imposed by the Law Society, Queen's University and the Ministry of Education. From the student perspective, I am the person who gets involved when our incredibly talented and dedicated staff in student services or student wellness need assistance. 
How does your previous work experience relate to your new role?
In each of my previous jobs, I received very specialized training and was exposed to unique and sometimes fascinating situations. I am finding that this job requires me to draw on all of the experience, training and education that I have been so fortunate to have received during my professional life. 
Prior to leaving the military, I was stationed at the Canadian Forces Military Law Centre, which is located on the grounds of RMC. My primary role there was to create and standardize legal training for the Canadian Forces and to develop professional training and education for military lawyers. As part of that job I was able to take specialized training in curriculum development and educational techniques. 
While I was at the Australian National University, I joined the Higher Education Academy, which is a program directed at helping academics improve their teaching and assessment techniques. 
I hope to draw on those experiences as we develop new programs and approaches in Queen's Law over the next several years.
What are your top priorities for the JD and graduate programs at Queen's Law?
My priorities for the programs are the same: to work with Dean Mark Walters (Law'89) and all members of the faculty and staff to provide our students with the best legal education experience in the country. 
Queen's Law is a unique school. Unlike most others, it is not a regional law school, but rather one that draws students from across the country, and from around the world. Insofar as the vast majority of our students are living away from their home communities, the law school becomes a new community for them. This sense of community is one of the things that first attracted me to Queen's. I would like to foster this environment and help Queen's Law continue its reputation for being not just an excellent law school, but a place where all students feel welcome.