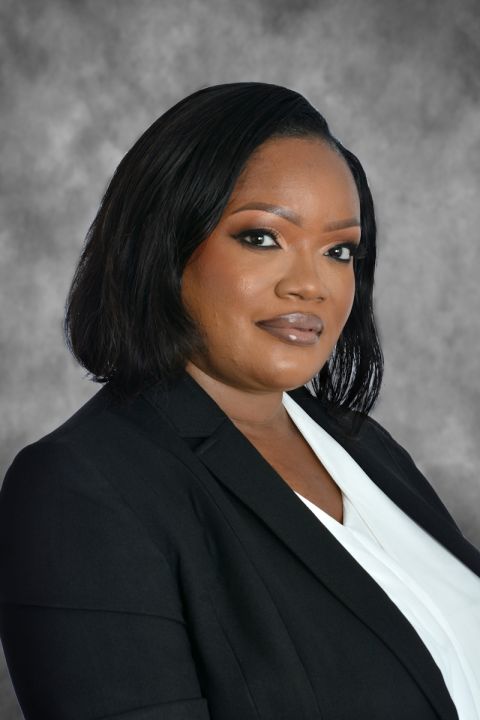 Six weeks after receiving her doctoral degree from Queen's Law, Alicia Elias-Roberts, PhD'23, was appointed Dean of Law at the University of the West Indies (UWI), St. Augustine Campus in Trinidad and Tobago. She began her four-year appointment on August 1.
Elias-Roberts arrived at Queen's in September 2016 as the first Robert Sutherand Fellow in Law. This award, established by the law school's alumni and friends to honour the legacy of a key Black figure in Queen's and Canadian history, supports graduate students coming from his Caribbean home region. She honoured that legacy, earning four additional awards and global recognition for her work on the legal consequences of unilateral petroleum activities in the Caribbean and other disputed maritime zones. During her PhD studies, she co-edited a book, wrote or co-authored nine chapters for peer-reviewed books, and had nine articles published in such international publications as the Journal of World Energy Law & Business (Oxford). 
She also holds both a Master of Laws and a Bachelor of Civil Laws degree from the University of Oxford, a Master of Laws degree in Energy, Environment and Natural Resource Law from the University of Houston, and a Bachelor of Laws degree from the University of Guyana.
One month into her new job, Dean Elias-Roberts spoke to Queen's Law Communications Manager Lisa Graham about her experience as a doctoral student at Queen's, how that experience will shape her deanship, and her main findings from her doctoral research. 
How would you describe the research environment, especially for doctoral students, at Queen's Law?
The research environment at Queen's is excellent. The physical space, the online resources, the teaching staff, and the community provided an intellectually stimulating environment within which it was easy for me to excel at my studies in Canada. The overall environment helped to enrich and enhance my studies and prepare me for my professional role of Deanship at the UWI in Trinidad and Tobago.
On Queen's campus, the Law Library provides a comfortable and quiet space for students to read, write, and do legal research. The library offers several important books and other resources for all law students. For books that might not be available at the library at Queen's, there is a facility for the library to loan the book from another library in Canada. I did that a few times and found it to be very helpful.
The ground floor of the Law Building has a very cozy study area for students. There is a separate study room for PhD students and while I studied there, I had my own locker. As a foreign student this space made me feel like the university cared about my well-being and I felt like I belonged on the campus.
The online legal resources are outstanding. The library subscribes to several key legal databases that I utilized while conducting my doctoral research. It is quite convenient to be able to virtually go online and get access to recent journal articles, cases, judicial decisions, etc. During the COVID-19 pandemic, I utilized the online facilities often to do my research. 
Queen's University supports students with their studies in several ways. Not only does it subscribe to legal databases, but it also subscribes to software that assists students in completing their research. Some of the software resources that I accessed from my student account to assist me while researching and writing included Microsoft Office 365, Endnote, and virus protection. I highlight these things because I have studied at other universities and often these types of resources are not freely available for students to access. 
I also had access to a large quota of printing/photocopying each academic year and I greatly appreciated this.  
As a PhD student, I was also able to access the Conference Travel Award to attend conferences overseas while I studied. This financial support helped to strengthen my research and build my network.
One of the best experiences I had while doing my PhD research was when I attended a "retreat" called Dissertation on the Lake. This event was organized by the School of Graduate Studies and was a special writing retreat away from the usual university spaces. It was very beneficial to me, and it is something that I now try to incorporate into my professional career.
How do you expect your Queen's Law experience will help shape your approach to your new deanship role?
My experience at Queen's will certainly shape my approach to my new deanship role. My studies helped me to better appreciate that law should and must be an agent of social change. Looking back, I see how the faculty facilitated this appreciation through all their teaching, course offerings, seminars, etc.
While completing my PhD, I attended several seminars that were organized by other Faculties. I also attended many multidisciplinary seminars and workshops, such as the Colloquium in Legal and Political Philosophy. I see this as an important feature of higher legal education that I would like to emulate as Dean. I would like the Faculty of Law at the UWI to collaborate with other Faculties and Departments to organize joint seminars and training that would be beneficial to students and academics from various disciplines. 
During my PhD studies, I interacted with several faculty members, including my PhD supervisor, Professor Bruce Pardy, and other members of my PhD supervisory committee, namely, Professor Joshua Karton and Professor Cherie Metcalf. The experiences were always welcoming and encouraging. I want my students to feel that I am approachable and to know that I have the best interest of my students as my goal.
An experience that made a positive impact on me was when Queen's Law invited students to hear presentations from applicants for faculty appointments at Queen's Law. It was amazing to me that the Faculty wanted to get feedback from students as part of its recruitment exercise. This experience made me adopt a student-centered type of approach. As the new Dean at the Faculty of Law at the UWI St. Augustine campus, I intend to encourage our Faculty Recruitment Committee to have the applicants for full-time academic posts do presentations before our faculty and students. As at Queen's, I will consider the feedback from our students as part of our recruitment exercise. I believe that our students' feedback is an important part of how we operate, and it should be considered an important aspect of our decision making where relevant.
What are you looking forward to most as Dean of Law at UWI's St. Augustine Campus?
One thing that I am looking forward to the most is setting up more outreach activities (for example, organizing seminars, workshops, and conferences, conducting research, and writing for publications) that will have positive impacts on the communities we serve. I also look forward to collaborating with various stakeholders such as governments, the judiciary, bar associations, diplomats, and the private sector to make a positive impact in legal education in the Caribbean and globally. 
What was your main finding in your doctoral thesis and how will it help the Caribbean region and its government? 
The title of my doctoral thesis is "Petroleum Activities in Disputed Maritime Areas: Guyana, a New Petroleum Frontier." My research discusses the legal consequences of unilateral petroleum activities in disputed maritime zones. I believe that my doctoral research will not only be helpful and pertinent to offshore oil and gas exploration and production in Guyana and in the Caribbean region, but in all countries that are involved in offshore exploration activities. Governments in countries with offshore petroleum projects, investors, and other relevant stakeholders should benefit from the views shared in my dissertation. One of the conclusions under my thesis is that under the United National Convention on the Law of the Sea (UNCLOS), states are under an international obligation to refrain from undertaking any acts related to drilling of wells, establishment of installations and appropriation of petroleum with respect to energy development in disputed maritime areas. However, my thesis highlighted that this is a treaty-based obligation and cannot be considered part of customary international law. Nevertheless, while there is no customary international law regarding this particular obligation, I posited that states have a general duty to operate in a manner that promotes peaceful coexistence.
My doctoral thesis also examined Joint Development Agreements (JDAs) and Unitization Agreements which enable states to bypass maritime disputes and proceedings about maritime delimitations, which may go on for years and still not produce satisfactory results. Where states share a common reservoir that straddles their territory, there is a customary international law requiring that one state should not extract the resource from the shared reservoir to the detriment of the others. However, JDAs allow states with contentious disputes to consider a way forward towards pragmatic development and management of the resources in maritime areas with overlapping claims. Although a number of these agreements predate UNCLOS, and there are model forms of Joint Development Agreements and Unitization Agreements, these types of agreements do not reflect customary international law. There is no customary law obligation for states to enter into JDAs or unitization agreements. 
In the Caribbean, Guyana's announcement of oil discovery in 2015 rekindled the border dispute between that country and Venezuela. In 2018 Guyana filed an application against Venezuela before the International Court of Justice (ICJ). The dispute between Venezuela and Guyana is currently pending before the ICJ. My dissertation is therefore timely and relevant since it discusses the legal consequences of unilateral petroleum activities in disputed maritime zones. Therefore, the Guyanese government, and countries in similar situations, as well as investors and other relevant stakeholders should benefit from the views shared in my research.  
Contributions to the Robert Sutherland Fellowship in Law can be made at https://www.givetoqueens.ca/sutherland