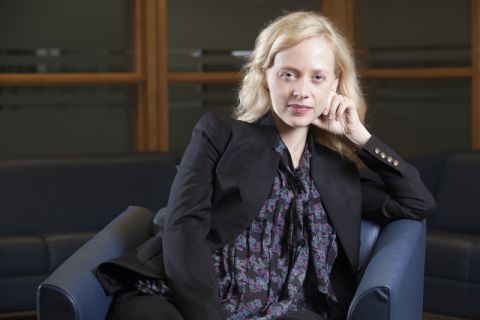 Professor Lisa Kerr receives a SSHRC grant to study fit sentencing for racialized defendants.
A judge must weigh many considerations when handing down a sentence.
Deterrence is one – will the sentence prevent future crimes by this individual, or similar crimes by other individuals?
Restitution for the victim might be another – can the sentence help to restore what the victim has lost?
Then there are personal circumstances such as criminal history, mental health, age and attitude.
In 1997, another factor was added, as Parliament tried to address the overrepresentation of Indigenous people in our prisons and jails. Section 718.2(e) of the Criminal Code tells sentencing judges to use restraint in imprisonment for all offenders, with "special attention to the circumstances of Aboriginal offenders." 
Then, in the 1999 R v. Gladue decision, the Supreme Court directed trial judges to take judicial notice – meaning that the lawyers are not required to file evidence in each case – of the systemic and historic factors that may have played a role in bringing a particular Indigenous offender before the courts. 
Judges must also consider the types of sentencing procedures and sanctions which may be appropriate given the Indigenous offender's heritage. "Gladue reports" are filed at sentencing and should contain case-specific evidence about the degree to which the individual is connected to the broader collective experiences and commitments of Indigenous people in Canada. 
In more recent years, particularly in regions with sharply growing rates of Black incarceration, the focus has turned to how other racialized defendants also experience structural disadvantage and how these background factors can lead to involvement with the criminal justice system. 
In recent cases involving Black defendants in Toronto and Halifax, some judges and lawyers have cited Gladue as a model for the relevance of social context evidence at sentencing. Defence counsel have filed Cultural Impact Assessments, similar to Gladue Reports, to aid the court in arriving at a proportionate sentence – one that is tied to the actual moral culpability of some Black defendants. 
"In Canadian law, both generally and at sentencing, there is an understanding that 'uniformity hides inequity.' You cannot pretend that all defendants who committed a particular offense have the same degree of culpability," says Professor Lisa Kerr, who is also Director of the Criminal Law Group. "There's a need to create a fit sentence which considers the actual personal and collective experiences that have contributed to the accused's circumstances. We recognize this reality in the sentencing of all offenders, and it comes up with particular force in the sentencing of many Indigenous and Black defendants." 
Kerr has long been interested in how Canadian sentencing law grapples with the question of moral blameworthiness, and her new Social Sciences and Humanities Research Council-funded project will allow her to critically examine how the Gladue jurisprudence is helping to frame the legal principles and evidentiary approaches for sentencing other racialized defendants. 
"My project will try to learn from the criminal lawyers who are grappling with these issues in their everyday work," she says. "And my aim is to produce a study that will be useful to them – chronicling the advocacy strategies, developments in the law, and the broader philosophical and moral questions that arise in dealing with issues of race in Canada's criminal justice system. I also want to bring together the experts involved in these cases and give them a chance to talk about their work in a non-adversarial setting."
Using the $45,553 she was awarded for "Sentencing Racialized Defendants: Collective Experience and the Promise of a Fit Sanction," Kerr will be hiring research assistants, attending court hearings and conferences to present work, and holding events featuring lawyers, judges and community groups who have done the work on key cases addressing whether and how to 'extend' Gladue to Black defendants.
"The prospect of 'extending' Gladue calls for a clarifying return to its animating aims, to its variously celebrated and contested history, and to the effects it has had on the criminal justice system and the wider society," she adds. "It's about making sure the criminal justice system thinks about the broader social context when sentencing. Our system is already formally committed to proportionate, individualized sentencing for everyone. The question is how to make that actually happen in specific cases."
By Phil Gaudreau