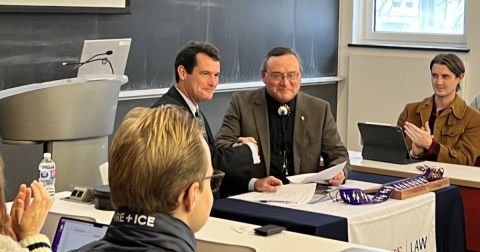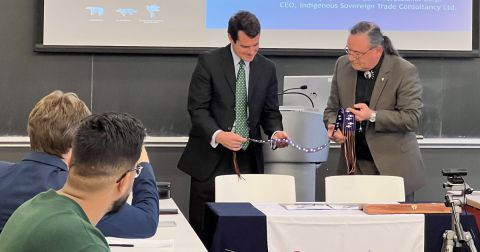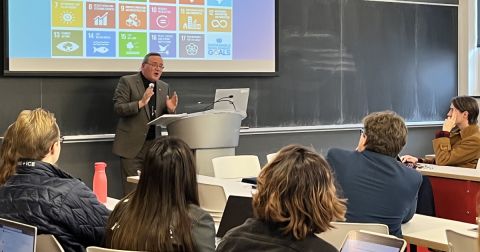 Queen's Law reached another important milestone in its participation in the Reconciliation process when it became the first Canadian law school to pledge its support of the principles and objectives being advanced by the International Inter-Tribal Trade and Investment Organization (IITIO). 
This came about on October 31 when in a ceremony at the law school Dean Mark Walters and Wayne Garnons-Williams, Law'90, the founding president of IITIO and Canada's Indigenous lead negotiator for the Indigenous Peoples Economic and Trade Cooperation Arrangement (IPETCA) – signed a Memorandum of Understanding to that effect.
As Garnons-Williams sees it, this new strategic alliance between Queen's Law and IITIO will facilitate an examination of Indigenous trade along the "Medicine line," which is the term he applies to the Canada-U.S. border. "It will allow IITIO and Queen's Law to partner with Canadian First Nations and American tribes that have been cut in two due to the establishment of this boundary so as to conduct research and develop tools from the law, history, and policy that focus on helping in the exercise of the inherent Indigenous right of intertribal trade," he says.
"Collaboration between tribal nations, law professors, law students, and IITIO will bring a focus of research to aid in the development of understanding for provincial, state, and federal governments in the development of international intertribal trade and investment. That in turn will help Indigenous business expand into new markets and employ and train local tribal members. This will allow for greater wealth circulating within the Indigenous communities, and in turn raise the tribal community's standard of living."
IITIO currently has similar collaborative relationships with the University of Oklahoma, College of Law, in Norman, OK, and the University of Waikato Faculty of Law, in Hamilton, New Zealand. 
IITIO as led by Garnons-Williams helped Canada through the Global Affairs Indigenous Working Group, develop, negotiate, and enter IPECTA with the governments of three other nations – New Zealand, Australia, and Taiwan, and their respective Indigenous working groups. As a result of the success of finalizing IPETCA, officials in the United States, Peru, Chile, and other nations with significant Indigenous populations are now considering becoming involved. 
As a cooperation-based, voluntary instrument, IPETCA sets up a framework for facilitating cooperation between participating countries that helps to identify and remove barriers to Indigenous peoples' economic empowerment and their participation in international trade. Among the 22 areas of business and trade topics for development in IPETCA, it also has clauses on responsible business conduct, traditional knowledge, and traditional cultural expressions.
The IPETCA arrangement also includes a provision whereby participating countries acknowledge that it is wrong to weaken or reduce protections for Indigenous peoples in order to attract trade or investment. Going forward, Indigenous representatives from each participating economy will be involved alongside government officials in the implementation and operation of IPETCA.
Once the participating nations officially implement the agreement, it will bring to the forefront the many links between Indigenous philosophy, economics, trade, and environmental stewardship.
"This arrangement is completely different from previous trade agreements, which focused on the economy, corporate prosperity, and general economic development for the nation," says Garnons-Williams. "While IPETCA focuses on those factors, it also has an overlaying of Indigenous rights-based concepts." 
That helps explain why for the Queen's Law signing ceremony he brought with him a symbolic gesture, a duplicate of the wampum belt that he presented at the IPETCA endorsement ceremony to the Crown in Right of Canada on behalf of the Canadian Indigenous negotiation team when Ottawa endorsed the IPETCA in June. Wampum belts customarily have been used to mark agreements between Indigenous peoples and between Indigenous people and European colonial powers when treaties and covenants were being arranged.
Garnons-Williams, who is a Plains Cree from Treaty 6, Moosomin First Nation, is one of Canada's leading advocates of Indigenous international trade. Not only is he the founding president of IITIO, he's also the senior lawyer and Principal Director of the Ottawa law firm Garwill Law Professional Corporation, and he heads the international company Indigenous Sovereign Trade Consultancy Limited, which specializes in tribal trade and sustainable economic development. In the words of the Canadian Council of Aboriginal Business, Garnons-Williams is "the catalyst [who] sparked a global movement to empower Indigenous Peoples' economic prosperity through the exercise of their inherent Indigenous economic trade rights."
Garnons-Williams detailed the background to a long history of Indigenous trade, and he outlined the rationale for his own efforts to revitalize and grow such trade internationally when after the October 31 signing ceremony at Queen's Law, he delivered a wide-ranging lecture titled, "Paradigm Shift – International Indigenous Trade – Law and Policy," to students and faculty. 
In his talk, Garnons-Williams traced the evolution and development of global international Indigenous trade law and policy, and he discussed its implications for future Indigenous economic prosperity and environmentally responsible sustainable development.
"IPECTA is a rights-based inclusive trade arrangement that's precedent-setting and supportive of Indigenous peoples' worldviews of advancing Indigenous economic development while providing environmental protection for lands, waters, and natural resources," he has said. "IPECTA facilitates Indigenous international trade while upholding important international environmental agreements, including the United Nations Sustainable Development Goals."
Garnons-Williams noted that while IPETCA was developed in close cooperation with Indigenous peoples in Canada through Global Affairs Canada's Indigenous Working Group on Trade Policy, it is open for other economies to join. IPETCA acknowledges the importance of enhancing the ability of Indigenous peoples and Indigenous businesses to benefit from the opportunities created by international trade and investment. 
For more information on the IITIO, the IPECTA, and on Wayne Garnons-Williams, read the Queen's Law story, "Law'90 grad helped negotiate innovative Indigenous trade arrangement," posted on December 20, 2021. 
By Ken Cuthbertson, Law'83