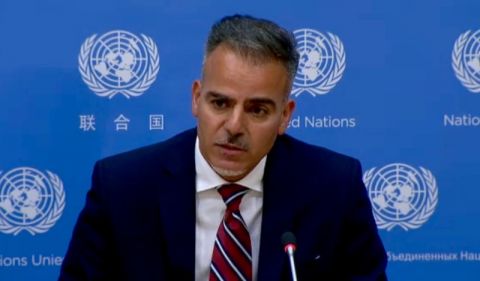 "This situation should shock the conscience of humanity." These are the words used by Professor Ardi Imseis to describe findings in a new report about the war in Yemen. Yesterday, he and his colleagues who serve on the UN Group of Eminent International and Regional Experts on Yemen, issued an advance copy of their report, "Yemen: A Pandemic of Impunity in a Tortured Land."   
One of the Arab world's poorest countries, Yemen has been embroiled in a multi-party civil war since 2014. The Group reports that it has a reasonable basis to believe that all parties to the conflict have violated and continue to violate international human rights law, international humanitarian law and other areas of international law.
Covering the 12-month period from July 2019 to June 2020, the Group of Experts found that "all parties continue to show no regard for international law or the lives, dignity, and rights of people in Yemen."
According to the report, the Yemen "war continues with no end in sight for the suffering millions caught in its grip. Whether through ongoing airstrikes, the crippling blockade, indiscriminate artillery attacks, impeding humanitarian relief supplies and access to food and healthcare, harm from landmines, arbitrary detention, torture and enforced disappearances, widespread displacement, assaults on civil society and minorities, recruitment and use of children, gender-based violence, and endemic impunity, Yemen remains a tortured land."
"Having meticulously documented the horrible toll this war has taken, it is now impossible for anyone to say, 'we did not know'," says Imseis. "The Group reiterates the urgency for the parties to reach a comprehensive ceasefire and achieve a sustainable, just and inclusive peace. Parties must immediately take steps to cease the ongoing violations and prevent new ones, as well as undertake to hold perpetrators accountable and ensure the realisation of victims' rights to reparations."
Among the key findings of the Group of Experts is that "third states have helped to perpetuate the conflict by continuing to supply the parties with weapons." These third states are the United Kingdom, France, Iran, the United States, and Canada. "This year we added Canada because there has been an uptick in arms sales by Canada in 2019," says Imseis. "We therefore reiterate our call for states to stop transferring arms to the parties to the conflict."
With respect to accountability, after repeatedly calling for relevant authorities to promptly investigate alleged violations and to prosecute those responsible in line with international obligations, the Group of Experts is not aware of any trials that have been completed related to violations that it has documented and it stressed the need to provide effective remedies for victims. 
In another key recommendation, the Group of Experts call on the international community to take further initiatives to help bridge the acute accountability gap. In particular, they call on the Security Council to integrate the human rights dimensions of the conflict in Yemen more fully into its agenda and to ensure there is no impunity for the most serious crimes by referring the situation in Yemen to the International Criminal Court and expanding the list of persons subject to Security Council sanctions. 
To ensure the human rights situation in Yemen remains on the Human Rights Council's agenda, the Group of Experts call on the Council to renew their Group's mandate and to ensure they have the resources to effectively deliver their its mandate, which includes collecting, preserving
and analysing information related to violations and crimes. 
The UN Group of Eminent International and Regional Experts on Yemen will present the final report officially to the UN Human Rights Council on September 29. 
Read more about the Group of Experts' new report: 
"Canada is fuelling war in Yemen with arms sales, UN report says," published in the Globe and Mail.
"Fresh war crimes fears highlighted in new Yemen report," published in the UN News. 
"Possible War Crimes in Yemen Fueled by Arms Flows From West, Iran: U.N.," published in the New York Times.  
"Yemen 'pandemic of impunity' must end: UN war crimes experts," published in France 24.
"Yémen: tous les acteurs à nouveau responsables de crimes de guerre," published in RTN.
 
"UN: Houthi rebels in Yemen recruited teenage girls," published in Al-Jazeera.