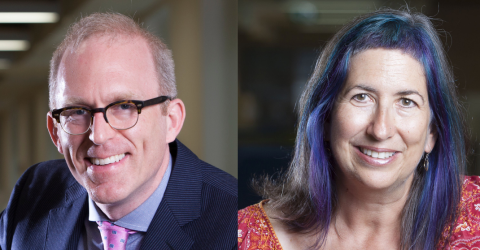 Professors Darryl Robinson and Sharry Aiken are members of an academic partnership that has been honoured with a 2023 Governor General's Innovation Award. These honours recognize and celebrate outstanding Canadian individuals and teams for exceptional and transformative innovations with a positive impact. The group also received an Impact Award from the Social Sciences and Humanities Research Council (SSHRC) in 2022, for its contributions to building a "just and inclusive society".
The Canadian Partnership for International Justice (CPIJ) is a $2.5-million research project that brings together for common cause a team of 25 researchers from eight universities, four university-based legal clinics, and four non-governmental organizations. Headed by Fannie Lafontaine (Université Laval), the CPIJ was launched in 2016 with help from Jayne Stoyles, Law'96. The CPIJ, which is a pan-Canadian collaboration, combines research and practice by linking academics, clinics, and non-governmental organizations to produce thoughtful, targeted research that has practical impacts.  Among its various outputs, the CPIJ has organized more than 60 webinars, seminars, conferences, and summer schools, and it produced more than 240 academic publications. 
The CPIJ' s activities urge that violent crises be addressed to prevent atrocities, punish perpetrators, reconcile victims and perpetrators, and identify the root causes of these crises. The CPIJ has intervened in various conflict situations, including in Ukraine, and has worked on colonial genocide and recognition of a new crime of ecocide.
Darryl Robinson was one of the original co-applicants who in 2016 helped to develop the CPIJ's framework. "In the 1990s, there was great enthusiasm for international justice – both criminal justice and other forms of responses to atrocity – but more recently there has been disappointment with the results and disillusionment with the choices of some of these bodies", says Robinson. "The CPIJ worked to reform and revitalize international justice, to create something more effective, more inclusive, and more responsive to all." 
Robinson has involved himself in a variety of initiatives that have worked to advance that goal. Asked for examples, he provided three. 
Firstly, he appeared before the International Criminal Court Appeal Chamber at the Hague, Netherlands, where he presented submissions over a one-week hearing as a "friend of the court," in the case against then-President Omar al-Bashir of Sudan. Secondly, in March 2023 Robinson briefed a large meeting of Unitec Nations (UN) diplomats and legal advisors on the draft Crimes Against Humanity Convention, the text of which is currently being debated at the UN.  And the third example is his on-going efforts to help define the proposed new crime of "ecocide." 
As Robinson explains, "The idea behind the crime of ecocide is to reframe the worst environmental wrongdoing.  It is not merely a 'regulatory' matter: these massive harms threaten the well-being and survival of future generations of humans and other species.  The stigma and sanction should reflect the actual gravity of the crime. The challenge is to combine environmental law and criminal law when the two don't always blend well."  
Some of Robinson's ideas – including a conception of "widespread damage" that encompasses transboundary harms and those suffered by humans and ecosystems – already have been picked up by an international panel of experts and European Parliament.
Sharry Aiken's involvement with the CPIJ traces back to her leadership role with the Canadian Centre for International Justice, the NGO partner that helped develop the initial pilot for the Partnership. As a scholar of international refugee law and forced migration, Aiken's work with the CPIJ mostly focused on knowledge mobilization. As Co-Editor-in-Chief of the PKI Global Justice Journal, Aiken focused on curating scholarly and policy contributions to the broad field of international and transitional justice. For example, a recent issue of the PKI Global Justice Journal considered the plight of Canadian citizens imprisoned and stranded in dangerous conditions in northeastern Syria. 
As a scholar of international refugee law, Aiken devotes herself to "thinking through how immigration remedies fit into the international justice puzzle," as she explains, and "to advocating for greater restraint by refugee-receiving states in deploying civil remedies like deportation or exile instead of doing the harder, but important, work of criminal prosecutions." 
Aiken is currently completing a project with a colleague that examines the impact of immigration detention on asylum seekers and refugees and the "racial logic" of immigration enforcement mechanisms. "We'll be presenting our draft paper at a number of upcoming workshops, and it will be published next year in a special issue of the Italian law journal Mondi Migranti that will focus the theme of on 'Refugees and Grassroots Solidarity.'"
Aiken notes that while the CPIJ partnership is winding down, the need to make the world aware of the dictates of international law remains urgent. She hastens to explain that doing so is vitally important and is making a difference. Says Aiken, "I'm going to sound an optimistic note: the system of international law that we now have isn't perfect, but it's a start, and because it is, I'd say the world is farther ahead today than it was in the 1940s, in the aftermath of World War II." 
To learn more about the emerging crime of ecocide, read these two articles by Professor Darryl Robinson:
For any readers interested in learning more about the PKI Global Justice Journal published by Queen's Law, Professor Sharry Aiken suggests a visit to the journal's website.
By Ken Cuthbertson, Law'83