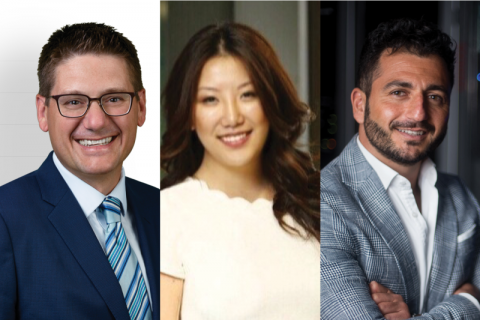 "The business of law is changing, and in a large part its future will be shaped by artificial intelligence technologies. Our Intelligent Settlement System, with predictive assessments and models based on AI, will help lawyers do their jobs better." These are the words of George Wray, Law'05 (Artsci'00), a partner with Borden Ladner Gervais LLP in Toronto and leader of its joint initiative with the Conflict Analytics Lab at Queen's. 
The Intelligent Settlement System, for which production will start later this spring, is intended to give litigators in personal injury matters an objective tool to better assess cases and to assist with pre-trial strategies and finding optimal negotiation strategies and outcomes. Its most immediate anticipated benefits include improved consistency and efficiency in dispute negotiation and settlement; projecting litigation outcomes; and understanding the specific demands and negotiating techniques and settlement ranges across individual law firms.
For BLG, the project is the latest way the firm is expanding its relationship with the Conflicts Analytics Lab, run by Queen's Law and the Smith School of Business. "This partnership will continue to let BLG better serve its clients and contribute to a deeper understanding of the future of law practice," says Wray.    
The new Intelligent Settlement System will be crucial for both the lab's research and the legal profession in general because it could help lawyers move beyond an intuitive approach to negotiation. 
"We think that the current approach to dispute resolution is fundamentally about 'bargaining in the shadow of the law,' where lawyers resolve disputes by speculating on what would happen if a court were to decide the matter," explains Professor Samuel Dahan, Director of the Conflict Analytics Lab. "However, we believe that this approach is sub-optimal because it is based mainly on intuition. First, calculating the odds of winning a court case is a challenging task because judicial decisions are shaped by hundreds of legal (and often non-legal) factors. Second, in many areas – such as consumer, municipal, and health disputes – approximately 90 per cent of disputes ended being resolved through negotiation. 
"Legal data constitute only the tip of the judicial iceberg," he adds, noting that "making predictions based solely on past legal precedents can produce inaccurate predictions."
Instrumental in creating the Intelligent Settlement System is Wendi Zhou, BLG's Manager of Strategic Research and a PhD student at Smith. "We will develop intelligent systems capable of reading and learning from existing negotiation agreements in the fields of municipal and health disputes," she says. "This project will have a significant impact on the way lawyers quantify the knowledge they have accumulated through their experienced practice."
Another key person will be a student intern, to be funded by Mitacs, a nonprofit national research organization. The Queen's-BLG project has been awarded $60,000 from the Mitacs Accelerate, a program through which interns can apply their specialized expertise while companies gain a competitive advantage.
Once the Queen's-BLG AI system is built and ready to give insightful and meaningful information and data, it will be of use not only to litigators, but also to another key stakeholder group. As Wray plans, "The deeper value of the system may lie in the services law firms can offer to our clients, for example, in assessing potential exposure across a company's entire litigation portfolio, with the ability to break down that exposure by type of matter, and budgeting current and anticipated legal spend and exposure across a company's broader business.
"Beyond this, finding out what else the AI system can help lawyers do is the exciting part."