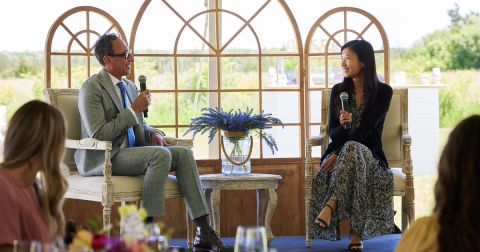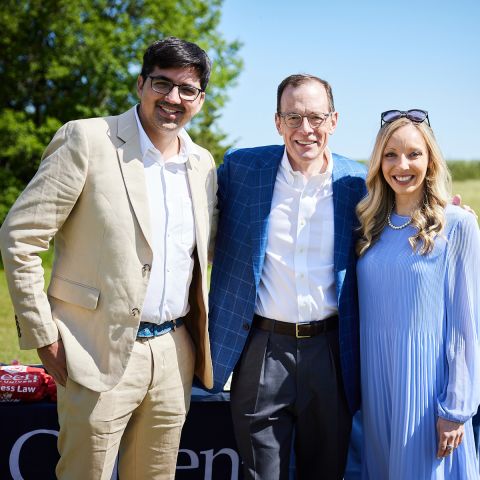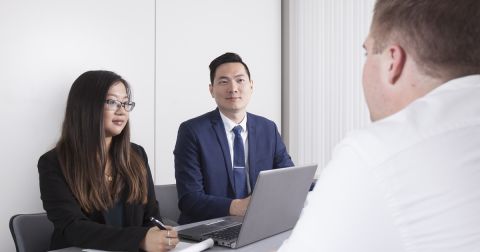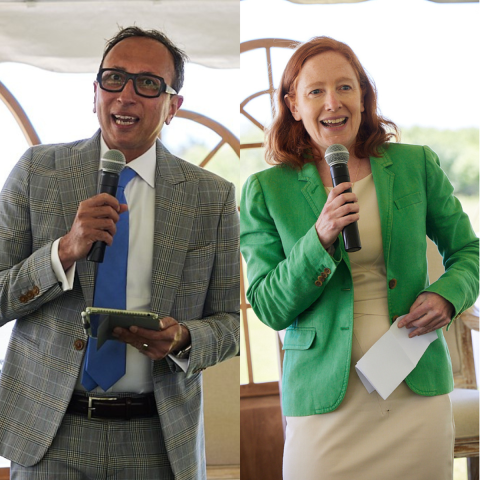 Donations and faculty hires generate increasing returns on investment for this generation of business-minded law students. 
From the earliest peace guilds that protected the haberdashers and merchant tailors of England's Tudor period to today's rapidly changing landscape of cryptocurrency and trade in the metaverse, the concept of business law has evolved to reflect the economic and social drivers of our society. We rely on established norms and laws to govern our interactions and ensure fairness in an increasingly expanding array of commercial and business transactions.
As times have changed in the world of business law, so too have they changed at Queen's. Business law has been a curriculum focus dating back to the 1957 founding of the Faculty of Law, but thanks to the support of alumni and other donors, the Faculty's business law offerings have increasingly evolved in recent years into a full-fledged and dynamic program with significant benefits to its learners.
Getting down to business
Since 2015, the David Allgood Professorship in Business Law, the Stephen Sigurdson Professorship in Corporate Law and Finance, and the Queen's Business Law Clinic (QBLC) Endowed Fund have all been established to benefit Queen's Business Law Program (QBLP). These endowments, along with ongoing contributions from Law'80 classmates to their class gift and the generous support of others, have added to the faculty complement, supported significant educational and networking experiences, and increased the QBLC's operations. Interactions have also grown between alumni and current students and between alumni and the program itself. The two professorships in particular united the support of 500 alumni, friends, law firms, corporations, and foundations.  
"The Allgood Professorship provided an opportunity for me to design and develop an academic program in an area that I am very passionate about," says Mohamed Khimji, who was hired in 2016 as the David Allgood Professor in Business Law and who is also the QBLP Director. "We have students with tremendous potential, very generous alumni, highly intelligent faculty, and skilled staff who together make it a pleasure and a privilege to work here."
Joining Khimji were Gail Henderson, hired in 2016, the school's recent Associate Dean of Faculty Relations now involved extensively in financial literacy, and Robert Yalden, a partner with Osler, Hoskin & Harcourt LLP and head of its Montreal Office's Corporate Law Department, hired in 2018 as the inaugural Sigurdson Professor. 
Establishing the case
With the additional strength of these prominent scholars, the Queen's Business Law Program has flourished. The research agenda has grown, with eight faculty attaining more than $1.4 million in government research grants in the past seven years. (See Research Impact below.
Perhaps most exciting for students, the program has expanded its curriculum from 13 offerings in 2015 to include courses on topics such as mergers and acquisitions (M&A), private equity, shareholder activism, and structuring business transactions. Full-time faculty now teach 10 of today's 18 courses, and other specialized seminars are taught by experienced practitioners. In the 2022-23 academic year, eight of these seminars are being offered, with alumni teaching seven of them. Khimji's next curricular growth goal is a law and accounting course collaboration with the Smith School of Business.
Alice Lin, Law'13, keynote speaker at a June 2022 event marking the QBLP's growth and supporting the career ambitions of junior business law alumni, says, "After nine years of practice, seeing how much the Business Law Program has grown and the class offerings they have now, I wish I'd had those classes and opportunities." Lin's distinct career trajectory, which took her through New York and California law firms enroute to her current role in high tech as Senior Corporate Counsel with Workday, Inc. in San Diego, made her a perfect fit to speak to young grads about their next career moves.
"Whenever I moved," she told them, "I always sought out Queen's Law alumni in the area to expand my network. They might be from different classes or had even graduated many years before me, but they've always been willing to help and chat. I'm paying that forward now."
One of the attendees listening was Ben Fickling, Law/MBA'20, a graduate of the JD/MBA program, one of two combined programs Queen's Law offers with the Smith School of Business (BCom/JD being the other). "What I loved about that event was the opportunity to meet with fellow alumni and hear about their experiences in practising law and what they've been up to since our last meeting," he says.
Events like this one are symbolic of the QBLP's current direction – making a more deliberate effort to engage internationally recognized scholars, practitioners, and alumni like Lin as speakers, mentors, and entry points into the field. The Faculty's Career Development Office organizes multiple recruitment events in partnership with full-service law firms each year, and coordinates programs like Osler BizBasics (funded by Osler, Hoskin & Harcourt LLP) that help ease students into the professional world through seminars on different facets of business law within the legal, corporate, and business advisory sectors.
In addition to the long-established International Business Law Program at Bader College at Herstmonceux Castle in East Sussex, U.K., students in recent years have also benefited from events like the annual Allgood and Law'80 lectures, coffee chats with prospective employers, new clubs such as Queen's M&A Association and Queen's Venture Law Society, and an expansion of the QBLC into new areas of practice. Mooting opportunities have also grown, with Queen's becoming the first Canadian school to sign onto the U.S.-based Transactional LawMeet in 2018.  
For Fickling, who was also a student research assistant to Yalden, opportunities like competitive mooting helped translate classroom knowledge into the skills that help him today in his career as an associate with Osler, Hoskin & Harcourt in Toronto.
"The moots are really about teamwork, and I was very lucky to work with three strong mooters and a fantastic researcher who helped us on some of the issues at hand," he says. "It was such a memorable experience in terms of the sheer amount of work that went into it and bringing your arguments to life in a courtroom."
Club events have also offered students the means to grow their careers and networks in directions that interest them.
Sarah Ferguson, Law'19 (Sc'13), was an executive member of the Corporate Law Club. "One interesting experience I had was moderating a panel of alumni who came from Toronto to Kingston as part of the Law'80 Careers in Business Law event," she says. "We also organized a trip to Toronto to meet with lawyers at a number of full-service firms."
The results of all this activity, investment, and effort speak for themselves: 95 per cent of the 2021 class members secured articling positions, and of the 73 per cent of them now in private practice, more than 80 per cent have some touchpoints back to their business law education. They are working in firms of all sizes, for securities regulators, and in the in-house counsel departments of corporations across Canada. Over the past few years in particular, a number of recent grads have made inroads into the New York and California markets.
Getting clinical
Another way students are sharpening their skills before venturing out into the world of business law has been through the Queen's Business Law Clinic. Since 2009, the clinic has offered pro bono legal services to start-ups, entrepreneurs, and non-profit organizations in the Kingston area which could not otherwise afford legal counsel, and the program continues to expand.
"The theoretical part is what the law school teaches them," says Tomilola Adebiyi, Clinic Director. "What we teach at the QBLC is how to do the actual work: interacting with the client and knowing how to ask the right questions in order to translate their 'book learning' into real life scenarios."
Adebiyi joined the clinic in 2019, bringing a unique blend of corporate law and pro bono legal work experience. Under her leadership – and powered by donations, including $510,000 from an anonymous donor to all five Queen's Law Clinics in 2013, as well as grants from the government and the Law Foundation of Ontario – the clinic has been strengthened, with both students and its clients benefiting.
Speaking of two recent ventures, she says, "We have been working with a local women's entrepreneurship initiative (WE-CAN) led by Queen's to provide legal advice for small businesses. Additionally, a higher demand we're seeing for intellectual property (IP) services has earned us support from the federal government, so we are developing future IP experts while supporting local start-ups."
Law'19's Ferguson was both a caseworker and summer student at the QBLC and calls it her most memorable learning experience. "Working with a wide variety of clients and having to manage multiple files at a time is quite similar to what I am doing now as an associate with McCarthy Tétrault's Toronto office," she says. "Having that experience of balancing different timelines and priorities is extremely valuable."
Ferguson is still connected to the clinic, helping to recruit lawyers to volunteer as review counsel. She also speaks with current students going through the job recruitment process. "Wanting to help students," she says, "is something Queen's Law alumni have in common."
Rendering a verdict
The feedback from students, alumni, donors, and faculty about the QBLP's refreshed focus and direction has been overwhelmingly positive.
Alumni like Hugh Hamilton, Law'93, now Senior Deputy General Counsel with Fidelity National Information Services in Jacksonville, Florida, are pleased about the resources now available to assist students with business law goals similar to theirs.
"When I came back for my 20th anniversary reunion, I went on a tour of the Business Law Clinic and I thought to myself, I wish this had been around when I was going to Queen's – some real, practical, on-the-ground work that you could do to actually help people," he says. "The experiential nature of the clinic makes it a great resource for students who are curious about the real-world experience."
He says he's continually impressed by Queen's Law students' interest in connecting, learning, and taking on challenges like their work in the QBLC. In giving his time and support as a speaker and donor, Hamilton thinks about his own time at Queen's, the positive impact it had on his career, and the type of advice and guidance he would like to receive if he were attending today.
As the impact of these significant donations, hires, and changes is still being fully realized, the QBLP has a strong footing for future growth.
"We are very proud of Queen's Business Law Program, but this is just the beginning," says Khimji. "There's a lot more to come."
Alumni and supporters wishing to learn about speaking, mentorship, or other ways they can assist the Queen's Business Law Program should contact Associate Dean Khimji.
Gifts supporting the QBLP may be made online through any of these funds:
 By Phil Gaudreau with files from Lisa Graham
 
Eight business law faculty have received research grants totalling more than $1.4 million in national SSHRC (Social Sciences & Humanities Research Council), LFO (Law Foundation of Ontario), and Canada's New Frontiers in Research competitions since 2015 for projects influencing policy and practice. Some highlights from their recent work:  
Associate Dean Mohamed Khimji, invited in 2020 to join the Canadian Conference on Personal Property Security Law, continues to help that organization of provincial and territorial government officials and academics drive law reform in secured financing. His recent articles on the topic appeared in Desautels Review of Private Enterprise & Law and the Banking & Finance Law Review.
Professor Bita Amani, with New Frontiers in Research funding, is collaborating on a project for a remote triage system using a voice and video interactive bot. Among her latest conference presentations on her emerging and published work on copyright, privacy, and AI governance was "AI and Equality by Design" at Can-Tech's annual conference. She is also Co-Director (with Professor K. Lahey) of Feminist Legal Studies Queen's.
Professor Gail Henderson, a collaborator on the Canadian Financial Diaries project to benefit financially vulnerable Canadian families, completed an LFO-funded project that helps governments, community groups, and regulators analyze risk in group RESPs. Another project, backed by SSHRC, provided policy guidance to education ministries, school boards, and elementary schools on teaching financial literacy.
Professor Joshua Karton is a co-lead investigator on the largest-ever empirical study of international commercial arbitration practice. He co-founded and continues to edit both the Canadian Journal of Commercial Arbitration and Kluwer Arbitration Practical Insights, a leading online research service for international arbitration practitioners. In 2021, he was elected to the International Academy of Comparative Law. 
Professor Erik Knutsen's recent research on insurance law has been cited by courts in Canada and the U.S. deciding issues ranging from insurance coverage for COVID-19 pandemic-related losses to automobile insurance. His articles have appeared in the Queen's Law Journal, the Connecticut Insurance Law Journal, the Cincinnati Law Review, and the Nevada Law Journal Forum.
Professor Kathleen Lahey, always at work on technical, legal, and human rights issues of gender equality and fiscal policy with countries at all levels of development, aims to identify and promote legal and socioeconomic provisions and policies that can meet the UN SDG Agenda (equality among all and protection of all forms of life on earth without end). Her latest research is published by Oxford University Press and the UN.
Professor Robert Yalden, appointed Co-Editor-in-Chief of the Canadian Business Law Journal last January, hosted a roundtable on "Emerging Issues for Dual-Class Share Structures" with policy-makers and shapers, resulting in his 2022 Report on current developments. He is leading a SSHRC-funded project assessing the consequences of governments granting rule-making power to Canadian securities commissions.
The late Professor Art Cockfield co-led a SSHRC-funded project to help governments devise optimal laws and policies allowing law enforcement to investigate and arrest financial criminals and terrorist financiers. He was often consulted by U.S. tax legislators and, in 2021, co-wrote a report and testified before Canada's Cullen Commission regarding money laundering and tax evasion.