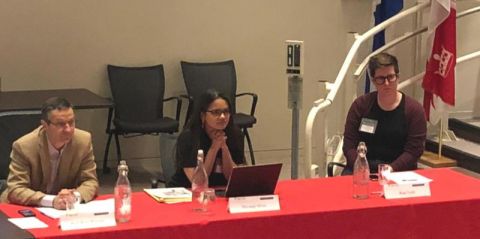 In her LLM thesis at Queen's, India native Shivangi Misra is exploring the legal theory on sexual consent. This research is a product of her combined areas of focus in anti-discrimination law, feminist legal theory, and international human rights law. She earned a dual degree in business and law at Symbiosis International University in Pune, Maharashtra, which she calls a "student city like Kingston, Ontario." Before joining the graduate program at Queen's Law last September, she worked in human rights law and advocacy with one of the New Delhi Area's leading public interest litigation NGOs, Lawyers Collective. There, as a legal officer, she assisted noted feminist Senior Advocate Indira Jaising. This summer, two of Misra's research papers were selected for academic conference presentations – one in Montreal, Quebec, and the other in Stockholm, Sweden. 
Shivangi Misra talks about her research, motivation and conference invitations. 
How did you develop your interest in your research area?
Growing up in India, as a woman, I grew conscious of discrimination based on sex quite early on. The restriction on your freedoms come in all forms, be it going outside on your own, the clothes we wear, the patriarchal customs and arbitrary duties placed on you domestically and otherwise. I was not comfortable, asked questions against the norms, and have not stopped since in educating myself on the subject. Fortunately, I have extremely supportive parents, who were determined to provide me with a quality education at home and access to education away from home. I chose to study law to be able to equip myself in this struggle, and now I am focusing my academic energy towards understanding, exploring and navigating legal space from a feminist perspective, which is often missing from the mainstream law. As a result, and with the guidance of some inspiring souls that I have met, I am deeply interested in anti-discrimination law and its development. 
Tell us some more about your research on the #MeToo movement?
After graduation, I was working with a leading public interest litigation NGO in India called Lawyers Collective with highly sensitized colleagues. When the Me Too movement began, we discussed the epidemic on a daily basis, both from experience-based as well as a legal view point. Some key aspects of this historic movement that stood out for me were the intergenerational divide between few feminists on the due process of law versus the so called "name and shame" method. In my research, I explore if the present "due process" in India satisfies, at least, the legal needs of the present times, which might justify alternative recourses. In the paper, I highlight the Me Too movement in the Indian academia, owing to a public list shared online releasing the names of men in the academia, accused of sexual misconduct by female students, without any due process. 
The movement belongs to all women, and my paper is an effort towards understanding if the students are not left out from the discourse because they are powerless in many ways. Sometimes, as demonstrated in the paper (through government responses, interviews and other methods), female students have not found faith in the current system which makes the public shaming a necessary mode of expression. 
Tell us about your conference presentation at McGill. 
On May 8 and 9, I presented a paper titled, "Breaking up the Band of Brothers: A Feminist Perspective on International Humanitarian Law" at the Dean Maxwell and Isle Cohen Seminar on International Law organized by McGill University's Faculty of Law. The paper focuses on the archaic language and the lack of female perspective in the law of armed conflict. I critically analyze the historical development of the law and identify the instances of extreme gender bias in the text resulting in the present myths and treatment of women within the text of the law. The paper concludes that international humanitarian law has a gender, and that it has been inherently discriminatory since inception with limited progress towards inclusivity and demands a feminist inquiry. 
Explain any ways in which participating in the McGill conference helped your work.
The McGill Seminar was really interesting due to its format, where a discussant introduced my paper first to which I responded focusing on the feedback and the critique by them. In my case, the discussant assigned was an anthropologist and it was refreshing to look at the paper from a non-legal perspective. They discussed my paper in terms of its commentary on religion and gender roles that is the foundation of my analysis of international humanitarian law. In that sense, it was extremely helpful because feminism and law is a highly inter-disciplinary area and taking their perspective into my future work will be challenging but meaningful. 
My experience of the conference overall was exciting and fulfilling because I engaged with people at the graduate level from all around the world, and grasped the level of great ongoing work. Sharing your own work with people who are also at a similar early academic stage (some of them at least) as you helps because it is relatable and less distant like other academic conferences. 
Tell us about your upcoming conference in next month in Sweden. 
I will be presenting my research paper on the "Me Too Movement in Higher Education Institutions in India" at the University of Stockholm in Sweden on June 17 and 18. The conference is organized by UC Berkeley Comparative Equality and Anti-Discrimination Law Study Group. The study group is a collective of scholars, activists, anti-discrimination/equality body legal professionals and private lawyers from six continents working together to address the problem of discrimination and inequality. I am an Advisory Board Member of the UC Berkeley Comparative Equality and Anti-Discrimination Law Study Group. My research looks at the implementation of the laws on sexual harassment in educational institutions and how young feminists are feeling disoriented with the older brand of feminist solutions for sexual harassment. 
Why did you choose Queen's Law for your LLM studies?
I was excited to join Queen's Law for three reasons. First reason being the quality and experience of the faculty in this institution is excellent, every interaction with them has been highly educational. The small class sizes ensures that there is ample attention towards all students. Secondly, the focused workshops on feminist legal studies are an exceptional effort towards expanding the academic frontiers on the subject. The line-up of speakers shared early last year was instrumental in making me choose Queen's Law. Thirdly, and in no way the least important, was my intention to study in Canada. I had heard about the welcoming and supportive nature of college education here, and I can confirm that it is true! I was a part of a very diverse graduate classroom, and I felt a part of a community instantly.