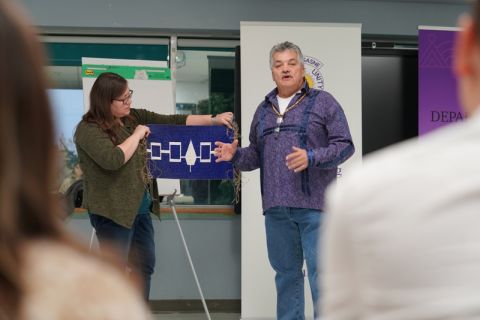 For the second consecutive year, 25 students, staff and faculty jumped at the opportunity to gain direct insight into Indigenous legal perspectives of some of Canada's First Nations peoples. The Queen's group took part in "Understanding Through Learning," a full-day roundtable discussion with Akwesasne community members on November 2.
Ann Deer, the Indigenous Recruitment and Support Coordinator at Queen's Law, organized the visit to Akwesasne Mohawk Territory – a region that straddles modern-day New York, Ontario and Québec. The event presented Queen's Law community members with the chance to visit the Akwesasne Court, discover historical conflict resolution techniques and explore the concept of restorative justice. 
"Akwesasne is the only Indigenous community with its own court system in place," states Deer. "This made for a unique chance to learn first-hand, from the Indigenous leaders who built the on-reserve court and developed its laws, and how the current state of the law works for and against Indigenous peoples."
The roundtable was borne out of numerous student conversations that sought to build upon the Queen's Law curriculum and enhance its integration of Indigenous legal concepts. Deer says it offered students an exceptional opportunity for the Queen's community to better understand Indigenous legal ideas and contrast them with the Canadian system.
Participants learned about the role of Indigenous traditions in shaping North American laws and borders, the impact that multiple levels of government can have on Akwesasne residents' daily lives, and how other Canadians may draw inspiration from Indigenous customs to improve the country's current system. 
"Participants walked away from this roundtable, understanding how little they know about Canada's Indigenous peoples," affirms Deer, "and that each of them can make a difference in the spirit of reconciliation."
Head Law Librarian, Amy Kaufman, Law'04, also attended and was grateful for her opportunity to visit the Akwesasne Mohawk Territory.
"I greatly valued the chance to learn from community members about the thoughtful and important work they perform in their justice system," says Kaufman. "I appreciated learning about the Great Peacemaker, as well as the meaning and significance of the two-row wampum belt."
The trip also helped launch the new Pro Bono Students Canada (PBSC) Akwesasne Self-Governance Project in partnership with Queen's Law and Akwesasne. The project involves PBSC students doing research, supervised by Queen's Law professors, for the Akwesasne Justice Department. Olivia Bonham-Carter, Law'20, and program co-coordinator for Pro Bono Students Canada – Queen's, notes that she was immediately struck by the impact of Canada's legal system on the Akwesasne community. 
"This visit fostered a great deal of learning and discussion," she acknowledges. "We were motivated to consider how the Canadian legal system perpetuates inequalities and imposes heavy burdens on our Indigenous peoples – from removing their ability to move freely to limiting their access to justice."
Bonham-Carter says that she was particularly moved by the event's rousing guest speakers, Elder Rick Oakes and Joyce King, Akwesasne Justice Department Director.
"I was so inspired listening to those who worked in the Akwesasne Justice Department and learning about the justice system they've created to respond to their community and its values," says Bonham-Carter. "[Elder] Oakes best summed up the day's purpose by asking us to take what we learned about indigenous legal perspectives in Akwesasne, and use it in our futures as lawyers, judges and professionals. I appreciate that they shared their culture, their history and their passion for justice in their community." 
By Justin Murphy