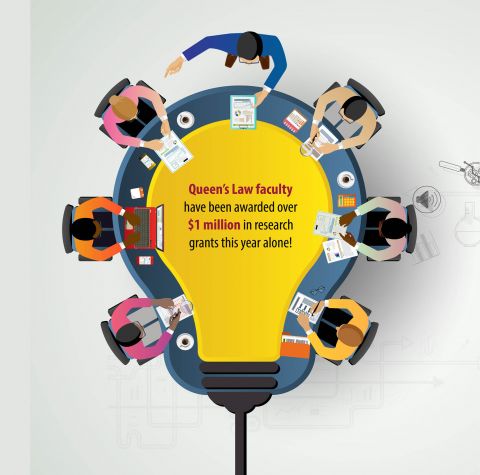 Queen's Law professors have excelled in national research competitions this year, receiving a grand total of $1,019,311. This amount is more than double the school's previous record. 
"The results are phenomenal!" says Dean Mark Walters, Law'89. "This success is fabulous for the grant recipients, of course, but it is also terribly important for the Faculty as a whole. Our scholarly community benefits in so many direct and indirect ways from the success of its members in attracting research dollars. In particular, a substantial portion of every grant is earmarked for research assistantships, creating numerous new opportunities for our students to get involved in cutting-edge legal research." 
Associate Dean (Graduate Studies and Research) Joshua Karton, who reviewed many of the grant proposals in draft form, had a good feeling that this would be a good year but was still floored by how strong the results were. "This was not only Queen's Law's strongest-ever showing in grant competitions but was also by far the largest number of external grants earned by any Canadian law school this year," he says. 
The funding, from the Social Sciences and Humanities Research Council of Canada (SSRHC), will support a wide range of issues from gender equality in the tax system and fighting cross-border financial crimes to the role of race in criminal sentencing and using AI to resolve disputes.
The grant-winning faculty and their projects are as follows: 
SSHRC New Frontiers in Research Grant 
(for "high-risk-high-reward" innovative interdisciplinary research from early career researchers)
Samuel Dahan: $244,562 for "AI-Tribunal for Small Claims: Building an Intelligent Dispute Resolution System"
SSHRC Insight Grants
(for research excellence, enabling scholars to address complex issues pertaining to individuals and societies, and to further collective understanding)
Kathleen Lahey: $211,504 for "From 'Tax Cuts for Growth' to 'Gender Equality for Growth' in Canada: Comparative Perspectives on the Crucial Role of 'Taxing for Gender Equality' in Fiscal Governance"
Art Cockfield: $152,859, with co-applicant Christian Leuprecht of Royal Military College of Canada, for "Invisible Underworld: Inhibiting Global Financial Crime"
Jean Thomas (co-applicant): $130,227 for "Tort Law in Its Social Context"
SSHRC Insight Development Grants
(for research in its initial stages, targeting emerging researchers, as well as researchers who would like to explore new research questions or experiment with new methods, theoretical approaches and/or ideas)
Jacob Weinrib, $55,612.00 for "Just Administration: A Unified Theory"
Lisa Kerr, $45,553.00 for "Sentencing Racialized Defendants: Collective Experience and the Promise of a Fit Sanction"
Ashwini Vasanthakumar, $33,649.00 for "Transitional Justice as Transnational Justice: partnering with diasporas to secure justice from afar"
SSHRC Partnership Development Grant
(for individuals to design and test new partnership approaches for research and/or related activities)
Kathleen Lahey with collaborators, including Bita Amani: $197,750 for "Taxing for Gender and Economic Equality in Ghana: Mobilizing Fiscal Policy Impact Analysis and Recommendations for Reform"
SSHRC Partnership Engage Grant 
(short-term and timely support for partnered research activities that will inform decision-making)
Kathleen Lahey: $25,000 for "Economic Gender Equality, Childcare, and Pay Equity in Canada: Making the Case for Public Policies that can Matter"
SSHRC Connection Grant 
(for events and outreach activities to exchange knowledge and to engage on research issues of value to those participating)
Sharry Aiken: $22,822 for the "De-Carceral Futures: Bridging Prison and Migrant Justice" workshop held May 9-10 in Kingston
In addition to the SSHRC grants, seven faculty members have received a total of $31,350 from Queen's University's internal grant competitions. The successful grant applicants are Associate Dean (Graduate Studies and Research) Josh Karton, and Professors Bita Amani, Kathleen Lahey, Nicolas Lamp, Cherie Metcalf, Sabine Tsuruda and Noah Weisbord. 
"All of these grants bring the number of Queen's Law faculty members holding an active grant up to over half of our faculty complement, also a record," says Karton. "I am so proud of my colleagues. The grant success we have enjoyed this year is a testament to the quality of their ideas and to the hard work they put in to develop those ideas."
Queen's Law is now inviting applications for a tenured/tenure-track position as a Queen's National Scholar in International Economic Law, at the rank of Assistant or Associate Professor, to begin July 1, 2020. See the full posting on the Queen's Law website. 
By Lisa Graham