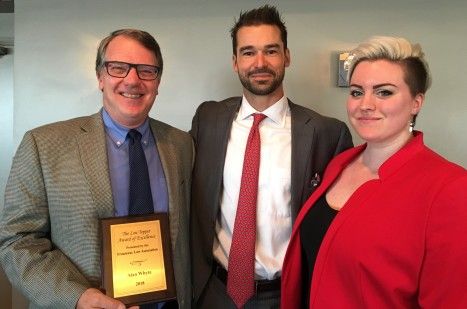 The ties that bind Kingston-area lawyers with Queen's Law are stronger than ever. It was a big night on June 26 for local alumni and their alma mater at the Frontenac Law Association's Annual General Meeting dinner.
Alan Whyte, Law'79 (Artsci'76), a partner in the Labour and Employment Law Group at Cunningham Swan Carty Little & Bonham LLP, received the Lou Tepper Award of Excellence for his exceptional contributions to the legal profession and the community in Frontenac County. 
At Queen's Law, he has been a Dean's Council member since 2013 and a sessional instructor of the Negotiation course for the last six years, so he knew exactly what to do with his prize money.  "I decided to donate the financial award to the Queen's Law Experiential Learning Fund," says Whyte. "That fund supports the operation of the clinics, which teach law students about the practical side of the subjects they learn in the classroom.
"Given Lou Tepper's long-time reputation as a highly regarded barrister practising in Kingston, I felt he would be happy to know he was contributing to the practical side of the law students' education," Whyte continues. "And as a member of the Dean's Council, I am aware of the significant value that the clinics provide to the overall legal education of the law students."
Rachel Law, Law'18 (Artsci'15), an articling student with the Queen's Law Clinics (QLC), received the Frontenac Law Association Award. The award, for a graduating student of Queen's Law who intends to practice law in Frontenac County, was established in recognition of the close and long-standing relationship between the FLA and the school. 
Working with the Queen's Law Clinics (QLC) in various roles over the past few years was instrumental in Law's decision to not only to begin her career in Kingston, but also in where to dedicate a key aspect of her practice. "Through the QLC, I have worked with impoverished and vulnerable Kingston residents to help them achieve better outcomes for families and children, as well as access to legal rights in a number of areas," she says. "This work exposed me to the tremendous weight of the legal issues faced by Kingston residents and made me aware of the systemic and societal barriers that bar these vulnerable people from accessing justice." 
She's been continuing to address these issues in the first few months of her articles, working with Karla McGrath, LLM'13, QLC's executive director, and community partners like Street Health. In their developing project, "The Broad Reach of the Limited Scope Retainer: Students Bridging an A2J Chasm," they explore access to justice problems for especially vulnerable clients in a family law context and look for systemic solutions, applying the perspectives of lawyers, students, community agencies, and ultimately, clients.  
Law, who attributes her success so far to the assistance and guidance of her mentors, is paying it forward. "I hope to share all that I have learned through working with the QLC and the community partners with students at various stages of law school in the hopes of encouraging them to work towards improving access to justice throughout their own careers," she says. "I plan to integrate some aspects of student mentorship into my practice as well."   
Also at the annual meeting, Warren WhiteKnight, Law'13, made his debut as the newly elected FLA President. The recent grad is an associate with Bergeron Clifford LLP and a sessional instructor teaching Alternative Dispute Resolution at Queen's Law. "I'm very excited by the opportunity and responsibility of serving our local lawyer members," he says of his new role. "I hope by helping our lawyer members through our library, annual 1000 Islands Legal Conference, and our CPD offerings, among other endeavours, that we can enhance their practices and thereby their clients' legal services and our community."  
What are his priorities for his year-long term? "I will continue our tradition of liaising with our provincial and local politicians," he says. "I am particularly interested in keeping momentum on discussions regarding Kingston's need for a renovated or new courthouse, which would be a boon to our members and our community at large."  
"I thoroughly enjoy being a part of the Kingston community and a member of the Frontenac Law Association," says FLA newcomer Rachel Law. "I am very excited to be able to start my career here and to participate in minimizing (and hopefully eliminating) barriers in access to justice for vulnerable people, both in Kingston and across Ontario."