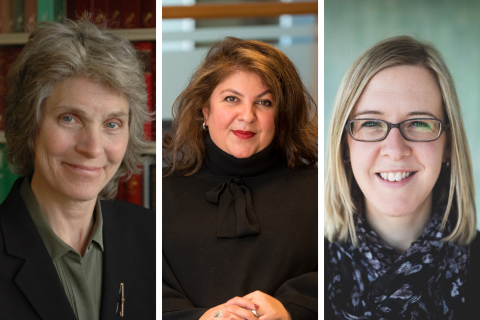 Access to affordable childcare is one of the biggest obstacles to income equality in Canada. The COVID crisis has magnified just how crucial the need for childcare resources are as some parents must work remotely, while others are spending long shifts in demanding jobs like those in health care and essential services. The impact of these issues on society is all too familiar to Queen's professors Kathleen Lahey (Law), Bita Amani (Law) and Lisa Pasolli (History). Now, they're doing something about it as part of a major international, interdisciplinary research team.   
They're participating in the project, "What is the Best Policy Mix for Diverse Canadian Families with Young Children? Re-imagining Family Polices," which has been awarded a $2.5 million Partnership Grant from the Social Sciences and Humanities Research Council of Canada.
"Government budgets are too small to fund adequate childcare let alone universal childcare in 'normal' times," says Lahey. "These budgets are even less able to address the complex and more intensified forms of women's unpaid care work during the COVID-19 pandemic. This project will identify multiple new trends and the role Canada is playing versus other countries these days."
The seven-year research project is led by Brock University professor Andrea Doucet, Canada Research Chair in Gender, Work and Care, and will study how three core issues – childcare services, parental leave policies, and employment policies – have an impact on diverse Canadian families. These include Indigenous, racialized, newcomer, single-parent, LGBTQI2S, low-income, rural, and student families, and those with children who have disabilities. 
Lahey and Pasolli are contributing to projects in the childcare cluster and Lahey is also co-leading a project on taxation, law, and family policy that crosses all three core issues. 
"Women are now facing basically double and triple care burdens due to the specific ways the pandemic is affecting work locations and conditions," explains Lahey. "Using new unpaid data figures that are starting to emerge, we will apply microsimulation analytic code to all of the new insights into women's increasing work time regarding COVID in order to statistically compare with traditional unpaid work practices/situations/hours in non-COVID years.  
"That will also explain why Alberta women, who face the largest income gaps in the country due to high demand for highly-paid fossil fuel industries, will be losing even more paid work hours during the COVID crisis than they did before, thus losing even more ground regarding gender equality unless the government does something dramatic about their high childcare costs," she continues. 
Professor Amani, who with Lahey, is among the original co-founders of Feminist Legal Studies Queen's (FLSQ), will be involving students, faculty, and members of the Kingston community in FLSQ research and conferences during the project. "Feminist Legal Studies Queen's is delighted to take this lead in working with this foundational, collaborative, and interdisciplinary partnership study to advance gender equality in Canadian law and policy," says Amani. "This work promises to bring about transformative changes that recognize women's productive capacities and support all Canadian families with members needing care."
Professor Pasolli, who will be examining the long history of debates about using tax measures to deliver child care benefits in Canada, points out that this project is even more relevant during the pandemic: "COVID-19 reveals that care work needs to be re-imagined in both pandemic and post-pandemic conditions. Safe care and safe work conditions are now forcing parents to make painful and sometimes dangerous choices." 
 
For each of the three core issues – childcare services, parental leave policies, and employment policies – researchers will explore four key questions:
How are current Canadian childcare, parental leave, and employment policies structured, financed and delivered, and what can we learn from national and international research?
What impacts do Canadian policies have on how diverse families live, work and care for their children and what can we learn from their lived experiences?
What approaches and data are needed to measure the effectiveness and inclusiveness of these family policies?
What is the best policy mix for Canada's diverse families with young children?
The project will produce childcare policies designed by researchers for diverse families. The research team is composed of 29 co-investigators, 24 collaborators, and 34 partners from Canadian universities, non-profit organizations, international organizations, government departments, unions, and a private sector company. More than 70 undergraduate and graduate students and several postdoctoral fellows will be trained. 
"This partnership project advances a key theme in Queen's Strategic Research Plan: Securing Successful and Just Societies through Scholarship, Governance, and Policy," says Queen's University's Vice-Principal (Research) Kimberly Woodhouse. "We are very pleased to support the work of Professors Lahey, Pasolli and Amani in this important area of research."
"I am delighted that our faculty members are deeply involved in this large-scale interdisciplinary project with the ultimate goal of bringing about a society that is more just," says Queen's Law Dean Mark Walters. "The timing couldn't be better."
By Lisa Graham