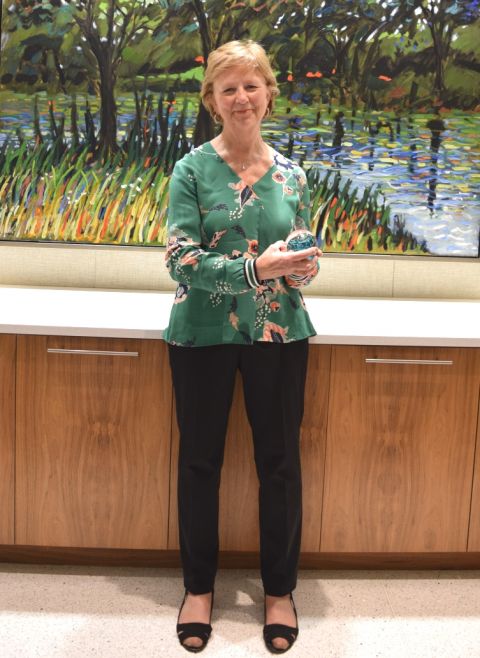 Throughout her distinguished career, this year's recipient of the Justice Thomas Cromwell Distinguished Public Service Award helped women and families on the journey to equality. 
The Honourable Judith Beaman, Law'75, began her legal studies at an interesting time for Queen's Law and for Canada.
During her studies, the federal government issued the final report on the Royal Commission on the Status of Women, aimed at fostering equal opportunities for women in Canada.
"I was fortunate to arrive on the steps of Macdonald Hall at a time when women were finally being permitted, and even actively encouraged, to join the profession of law," she says. "By my final year, the number of graduating female students had swelled to an amazing 18 per cent of the class."
Beaman was a part of a small group of female students at Queen's who, "saw every barrier as movable, and never failed to help one another through career and personal challenges." That message of confidence, connection and equality was reinforced as she – along with colleagues – established an all-women law firm in Toronto after graduation.  
Her specialty was family and child protection law, including presiding over adoption review cases with Ontario's Ministry of Community and Social Services. She also worked as a legal policy analyst at the Status of Women Canada Directorate in Ottawa shortly before being appointed a Judge of the Ontario Court of Justice in 1998. Additionally, she served as Regional Senior Justice for Eastern Ontario from 2008 until 2014. She retired from the bench in 2016.
In 2015, Beaman was appointed by the Ontario government to lead a commission mandated to respond to the broad harm caused by unreliable hair testing by the Motherisk Drug Testing Laboratory at Toronto's Hospital for Sick Children.
"If I were to identify the most powerful lesson that I learned from these roles, it was how important it is to recognize just how hard the journey to equality is for women and others when coupled with poverty, marginalization, and power imbalance," she says. "Beginning with my family law clients, then carrying through to those who appeared before me in court, and finally to the parents who were overwhelmed by the flawed Motherisk hair test, the systemic barriers they faced were painfully reinforced on a daily basis. I still remind myself that it can be so easy, from our perspective, to feel that for all women we have come much further than we actually have."
Beaman says she is "thrilled to bits" to receive the Cromwell Award, noting the important achievements of the Honourable Thomas Cromwell's judicial, teaching and practice careers. "His many important judgments, his dedication to judicial education, and his commitment to critical legal issues such as judicial ethics and access to justice," she says, "have created a public service legacy in Canada for us all to try to emulate.
About the Justice Thomas Cromwell Distinguished Public Service Award 
The Honourable Thomas Cromwell, CC, Law'76, LLD'12 (Mus'73), served as a Supreme Court of Canada Justice from 2008 until his retirement in 2016. He is a Kingston native and, following his graduation from Queen's, served as a sessional lecturer at Queen's Law from 1980 to 1982. The Justice Thomas Cromwell Distinguished Public Service Award is given annually to a Queen's Law graduate who has achieved excellence through their work in the public sector.
By Phil Gaudreau