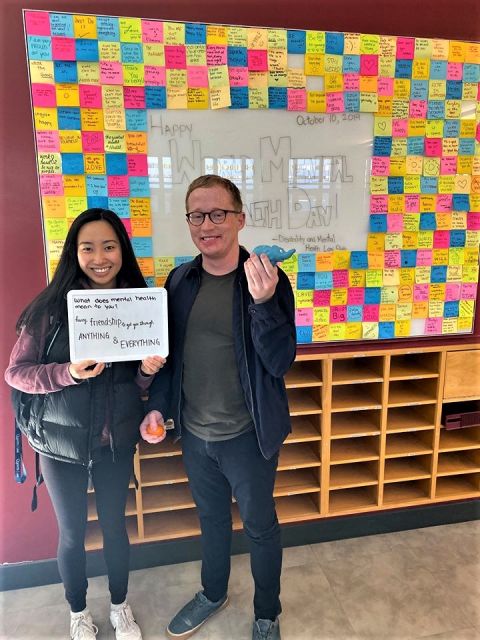 Whether you want to have a serious conversation about wellness in the legal profession, learn about courses and jobs relating to health law, or just cuddle puppies and enjoy tasty treats, the Disability and Mental Health Club (DAMH) has something for you. 
Sarah MacDonald, Law'20 (ArtSci'17), has been involved in the rapidly growing club for the past three years, taking on the role of president last year.
"We promote wellness and mental well-being among law students and bring attention to the prevalence of mental illness (stress, anxiety, depression) and disability within the profession," she says.  
The club achieves these goals through an annual program of events, which are organized and promoted by its 17 members, and supported by the Queen's Law Students' Society, the school's Manager of Education & Equity Services, and donations from sponsors.
Their most popular and visible event is Puppy Therapy Day, where registered therapy dogs lend a paw and cheer up Queen's Law students just prior to exam time. 
The club also hosts an annual Wellness Day, this year on March 6. On this day, DAMH Club members will be handing out healthy snacks, coffee and tea cards, and other prizes while also leading yoga sessions, and gathering positive and encouraging sticky note messages for a public display.
Throughout the year, the club occasionally hosts career panels and helps promote courses related to well-being and the legal profession, such as the mental health law course.
Finally, they mark significant health and wellness days, such as Bell Let's Talk Day in January and World Mental Health Day in October, on their social media channels.
The regular exposure to the topic of mental well-being, coupled with the personal experiences of some of her friends and colleagues, has certainly made an impact on MacDonald and her future career choices.
"I plan on seeking an employer that promotes well-being and has programs to help those struggling with mental illness," MacDonald says. "My involvement with the club has also inspired me to work in the field of health law after graduation."
To join the club or learn more, contact Sarah MacDonald or Breanna Goss.
By Phil Gaudreau