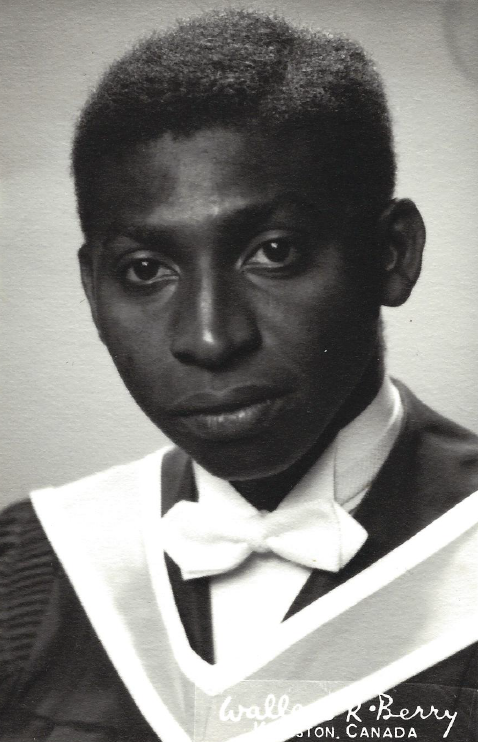 "I had an idea in 2019 to create a bursary targeted at improving representation of Black law students at Queen's," says Nigel Masenda, Law'20. As President of the Black Law Students' Association – Queen's Chapter, he laid the groundwork. After partnering with the Queen's Pre-Law Society (QPLS) and reaching out to both clubs' networks, their efforts are paying off. Fundraising is off to a great start with several donors committing to support the new Cecil Allan Fraser Bursary for Black JD students. 
"Given the social climate," says Masenda, "it is befitting to name the bursary after Cecil Allan Fraser – the first Black Queen's Law student and graduate."
Two months ago, QPLS Co-President Daniel Wolfe (Artsci'21) reached out to offer his club's assistance to BLSA-Queen's. "I felt strongly compelled to consider my position as an ally to the Black Lives Matter movement and what I could do to enact meaningful change," he says. "I, along with the QPLS team, felt that student organizations can be far more effective in this movement if they go beyond a corporate statement. It was then that I had a conversation with Nigel about the bursary project and felt that together we could see the bursary to its completion."
How did the two student groups go about raising funds? "With speed and efficiency," says Masenda. "There was, and still is, a shared understanding that there is a finite window to take action. After devising a donor proposal package, we leveraged our networks and targeted organizations and institutions that we knew would support the initiative and they subsequently reached out to their connections." 
"Our proposal was met with a great deal of interest," says Wolfe. "Very quickly the idea for the bursary project became a resounding reality."
As Masenda aptly puts it, "It was an organic snowball."
One of the interested organizations was the Canadian Council of Business Leaders Against Anti-Black Systemic Racism, which launched the BlackNorth Initiative to increase the representation of Blacks in boardrooms and executive suites across Canada. 
"The BlackNorth Initiative is committed to the removal of anti-Black systemic barriers negatively affecting the lives of Black Canadians," says Wes Hall, founder and Chair of the Canadian Council of Business Leaders Against Anti-Black Systemic Racism. "We are proud to support a meaningful initiative to ensure barriers are continuously removed for Black students, creating equal opportunity."
Dean Mark Walters shares that sentiment and Queen's Law is contributing $100,000 to the Cecil Allan Fraser Bursary. "The initiative of Nigel Masenda and Daniel Wolfe and the financial commitments made by our donors are truly wonderful and will make a real difference for Black students," he says. "Their dedication generally to justice for Black communities is really inspiring. We are so thrilled to be able to work with all of them to ensure that we follow through and ensure our law school is truly one that reflects the diversity of Canadian society." 
The bursary's honoree, Cecil Fraser, QC, Law'61 (Arts'58), is remembered fondly by classmate Nelson A. (Sandy) McKay, QC, Law'61 (Arts'59). "Cecil was simply one of our 'class brothers'," says McKay, referring to their graduating class of 17 students. "We had great fun together, because Cecil had the wonderfully good-humoured way of making us laugh," he continues. "Cecil's class years were very warm. He'd sit quietly and take in the lectures. He would, very quietly, respond to the professors' questions, and most often he would offer insights to the discussions that almost none of us ever considered!"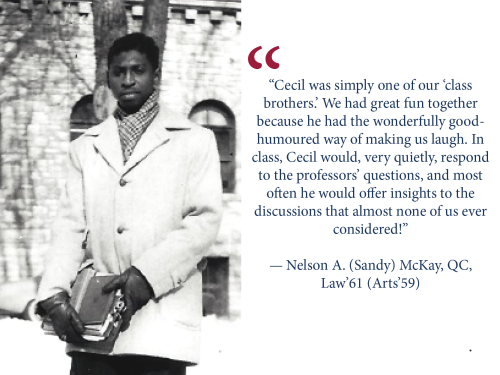 Throughout his law school years, Fraser and his wife, Rose (welcomed fondly by the class as an "aunt") worked to ensure he would graduate. After excelling in his studies and receiving his law degree, Fraser went directly into the federal civil service working as a Senior Solicitor in Ottawa. There, he led a successful legal career and was universally respected for his talents. In 1992, he was awarded the Commemorative Medal for the 125th Anniversary of the Confederation of Canada in recognition of his significant contributions to his fellow citizens, to his community, and to Canada. Though he died in 1994, his becoming a lawyer had long influenced the lives of his and Rose's four children: Hugh Fraser (Artsci'74), Donovan Fraser (Artsci'76, MEd'90), Andrea Fraser-Johnstone, and Christopher Fraser. 
Eldest son Hugh went on to become a Justice of the Ontario Court. "Dad remained close to many of his classmates throughout his professional life," he says. "In his understated way, my father was grateful for the opportunity that Queen's gave him and very much wanted his children to benefit from his experience. Law school is a life-changing experience for everyone who graduates – and for the lives of many others." 
To explain, Hugh Fraser recalls an incident while speaking at public schools in the Toronto area 30 years ago. "I was told by minority students that they didn't even think it possible for a Black person to become a lawyer until they met me. I responded that I had never entertained any such doubt. Given the fact that my father was a successful lawyer, I assumed that it was a path open to me as well, if I wished to pursue it."   
Providing some help to open that path to more Black students is indeed a goal that Nigel Masenda and Daniel Wolfe set for the Cecil Allan Fraser Bursary. "This is a small step in the right direction," says Wolfe. "I'm ecstatic that the bursary will offer financial support to Black law students where financial disadvantage is disproportionately a barrier to continued education."
However, both of the bursary's initiators state that such funding is "far from sufficient" to resolve systemic issues. "It has been beautiful getting to learn about Cecil's experience and I am encouraged by those who have stepped up to the challenge," says Masenda. "This bursary is a necessary foundational block that may assist in ameliorating the lack of Black representation in the legal profession, however, a significant amount of work remains to be done."
To make a gift to the Cecil Allan Fraser Bursary, please visit www.givetoqueens.ca/fraser.
By Lisa Graham