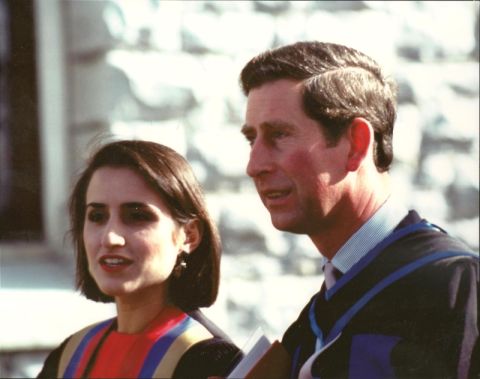 A highlight of Queen's University's 150th anniversary celebrations in 1991-1992 was a Royal Visit from then-Prince Charles and Diana, Princess of Wales. The visit's main focus was a Convocation convened on October 28, 1991, in Grant Hall to grant Prince Charles an honorary Doctor of Laws degree and hear him deliver Queen Elizabeth's greetings and a major address on Canadian unity. As the student-elected Rector (who, among other duties, represents all Queen's students on the university's Board of Trustees), Antoinette Mongillo, Law'92 (Artsci'88), was in a prime position to mingle with the man who would become King Charles III of England – and Canada. She shares her memories of that momentous day: 
My term as Rector was like no other because it coincided with the University's Sesquicentennial. Plans for a Royal Visit were already underway when I was elected. For a small group of us, there were security background checks and protocol training (don't speak until spoken to, etc.). I was tasked with accompanying Prince Charles on a walkabout from Grant Hall to the John Deutsch University Centre on Union Street. 
I was nervous (what do you say to a Prince after all?), but then he walked over after seeing Diana off on her visit to the Princess of Wales' Own Regiment downtown, and said something like, "Lead the way." For a short part of the walk from the front of Grant Hall around to the road that ran behind the library (the walkabout route) there were no crowds, and he asked me questions about my studies, my future aspirations, and my role as Rector. As we came around the corner from Grant Hall, the crowd and the cheers were unbelievable. I remember how in-the-moment and engaged he was. He seemed genuinely interested in student life at Queen's, shaking hands and chatting with students all along the route. He was quick-witted and funny and spoke without condescension. I remember how excited and happy the crowd of students was, often cheering for him, yelling out comments (to which he responded with a quick comeback). A euphoria seemed to sweep through the route. I had never seen anything like it – the cheering crowd or the personable, affable Prince.  His visit changed my view of the monarchy and left me with a new appreciation for the role of the monarchy in Canadian society.
 
The next day, I found under the door of the Rector's Office a beautiful 8x10 photo of Prince Charles and me engaged in conversation. It was in a manila envelope, no note, and to this day I haven't been able to find out who left it for me. I had it framed and it has been on my desk in my home office in every place I've lived since the day I got it. 
Antoinette Mongillo is now Senior Director (Legal Contracts) with the Washington Prime Group and resides in Longmeadow, Massachusetts.