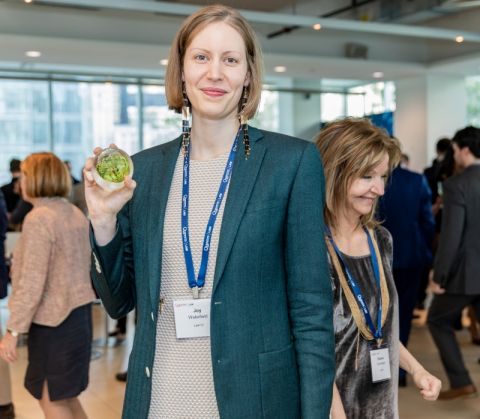 The 2019 Dan Soberman Outstanding Young Alumni Award recipient is working to increase access to law in northern Ontario.
Joy Wakefield, Law'12, sees her Soberman Award win as a means of increasing awareness of the important and innovative legal work going on in Thunder Bay and other northern communities.
"We have lots of challenges that are unique to smaller communities, and I am proud to bring awareness to the successes and what we are pioneering up here," she says. 
Wakefield is a staff lawyer for Legal Aid Ontario and is seconded part-time to Nokiiwin Tribal Council, working with communities on the north shore of Lake Superior. The work has two parts – a big picture component where she works to educate individuals about their rights and tackles systemic challenges, and a more hands-on piece where she is working directly with community members.
"It's like being an ER lawyer – people come to see us when they're in crisis," she says.
One of the greatest successes Wakefield has enjoyed over her five years in Thunder Bay has been the introduction of more community-driven restorative justice solutions. 
"When you see the community take pride in and create their own solutions to issues, that's really exciting," she says of two recent pre-charge diversions, a way of resolving matters outside the legal system. "This, in turn, becomes work the court system no longer has to do – that's a real benefit and a reduced cost."
Wakefield admits some days are discouraging, including the recent announcement of impending cuts to legal aid in Ontario. However, she firmly believes in the need for her work – particularly in northern Ontario, which has poor access to justice and grapples with the ongoing effects of the colonization of Indigenous Peoples, like the trauma of residential schools.
The seeds of her interest in access to justice were first sown at Queen's when she worked for Queen's Legal Aid and the Business Law Clinic. Wakefield says the clinics gave her fresh insight into challenges people can face, particularly those living with low income. However, if you had asked her in 2012 where she would be going after graduation, her answer would not have been Thunder Bay.
"I had very different ideas about what I would do before applying to law school, during, and after … and none of those ideas involved criminal defense law in the north," she explains. "Yet addressing racism and the legacy of colonialism is important to me and seeing the positive outcomes is highly rewarding. It just clicked for me."
About the Award
Dan Soberman, LLD'08, was the youngest of Queen's Law's three founding faculty members in 1957, and he served as Dean from 1967 to 1977. He taught at the Faculty of Law until his retirement in 2001 at which time he became a Professor Emeritus. The Dan Soberman Outstanding Young Alumni Award annually celebrates early-career success by recent Queen's Law graduates.
By Phil Gaudreau