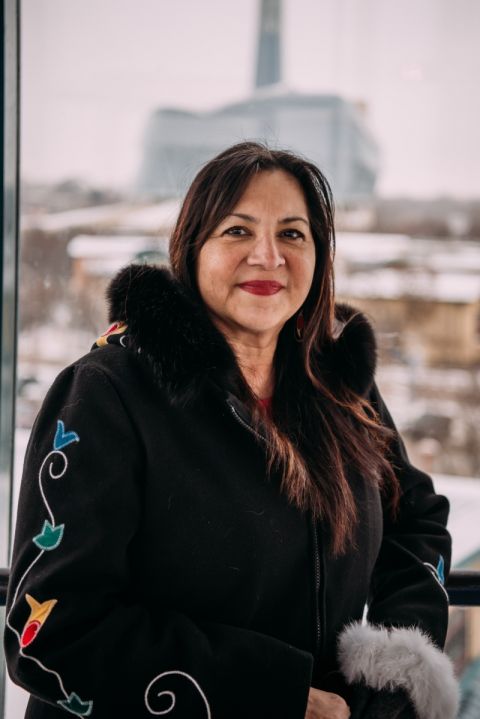 For Loretta Ross, Law'89, Commissioner for the Treaty Relations Commission of Manitoba, it's a priority to challenge people's understanding of Treaties and how they can be a means of reconciliation. She oversees a team that helps facilitate change in the relations between First Nations people and governments and non-First Nation people and governments. Ross, a member of her home province's Hollow Water First Nation, previously practised law for 28 years, counselling numerous First Nations people, governments and organizations, notably the Assembly of Manitoba Chiefs and Assembly of First Nations on child and family matters, residential school survivor claims, specific land claims, Treaty land entitlement, trusts, and hydro development.
Commissioner Ross, recipient of this year's Justice Thomas Cromwell Distinguished Public Service Award for sustained and outstanding public service, shares her insights as Treaty Commissioner, her career path, and her Queen's Law experiences.
What is the main focus of your work as Commissioner of the Treaty Relations Commission of Manitoba, and why?
I believe that much of the difficulties in the First Nation / non-First Nation relationship lie in the lack of knowledge and understanding of the historical relationship. In Manitoba in particular, the Treaties were the basis of this relationship and unfortunately, the First Nation perspective of the Treaties has never been taught or shared and therefore understood. A significant part of the work that we do is to bring this education to everyone. We have to keep in mind that the knowledge transfer even amongst First Nation people has been interrupted through events like the residential schools, the Sixties Scoop and the Indian Act. I truly believe that knowledge is power and once we all have this knowledge, the power to make the required changes will follow. The First Nation worldview must be understood and given the space to exist alongside Canadian worldview. 
At the Commission, we also conduct research that will help in gaining a better understanding of the Treaties and the Treaties can be a framework for moving forward. The Treaties are not documents intended to stay in the past but are living agreements that affect us today and in the future. We need to take the time to understand this. Our current educational institutions are moving towards this and we work with them in curriculum support and development as well. I am blessed to work with a Council of Elders who teach me and the TRCM staff so much about the Treaties and the Treaty Relationship. 
During my term as Commissioner, we have developed a post-secondary course on the Treaties and the Treaty Relationship that is accredited and delivered by the Elders. What was initially going to be a one-year course has developed into a four-year course. This course is significant as it teaches us that pedagogy is important in the way that we understand each other as well. 
What was your career path after graduation?
After I left Queen's, I articled in Toronto at Lang, Michener Lawrence and Shaw. I thought that I would experience the "big city" legal world to see if it was for me. About half-way through my articles, I had realized that my heart was in Manitoba and I would return home. I had to redo my articles as the process was different in Manitoba than Ontario, but I had managed to arrange a slightly different articling experience. The Law Society agreed to allow me to complete nine months of my articling requirement with the Manitoba Justice Inquiry that was being led by then-Judge Murray Sinclair and Justice Alvin Hamilton. I completed three months of my articles in a law firm, but it was my experience with the Inquiry that opened my mind to the Canadian legal system and its application to First Nation people. I had always felt that the Canadian legal system was foreign to me in some way and through my experience began to understand that the principles on which the Canadian legal system was based were quite different than what I had grown up with. From that point on, my career was focussed on trying to make changes that not just "accommodated" First Nation principles and worldviews but made space for it. This has been a life-long journey and whether my work was in Child and Family Services, land claims, self-government negotiations or residential school claims, this major difference remained.
After receiving my call to the bar, I practised law for a couple of years with the firm Keyser, Harris and was lucky enough to make some lifelong friends and mentors. After a couple of years with Keyser, Harris, I became in-house counsel for the Assembly of Manitoba Chiefs, where I worked for approximately 10 years. I was on the legal team as the Assembly negotiated a self-government agreement with the federal Crown. After 10 years I went back to private practice.
I left the firm after a few years and opened up my own practice, which eventually led me to work for my own community of Hollow Water First Nation on governance issues. 
It seems that my journey has led me to the current work that I do at the Treaty Relations Commission of Manitoba.
How did your time at Queen's Law inspire or prepare you to initiate this type of work?
Going through law school has shown me that there is much work to do. I have to say that my academic learning of the law at Queen's in the 1980s did not assist me other than to help me understand the Canadian legal system and perhaps how Canadian and Indigenous law can co-exist. However, there is much work that needs to be done. What I did learn through my time at Queen's is that the traditional institutions can change, albeit with much push and effort. While I was at Queen's, the feminist movement was perhaps at its height in the law school and I witnessed how institutions could change. 
Is there anything else you'd like to share with us?
My recent return to Queen's last November made me proud that an institution as prestigious as Queen's can and has embraced change that is more open and inclusive. While I have no doubt that there is more than can be done, I was pleased with the changes. 
We have to overcome the fear that we are giving something up or losing something when we look to make space for First Nation people. We forget that First Nation people are the original inhabitants and all we are doing is ensuring that the land and space is to be shared so that everyone can have a healthy and good life. Minopimatiziwin… to live a good life.