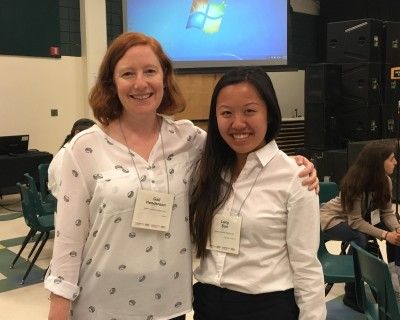 One year into a two-year, SSHRC-funded study on financial literacy education resources, research assistant Lucy Sun, Law'19, joined Queen's professors Gail Henderson (Law) and Pamela Beach (Education) in sharing preliminary research findings. The group made their presentation at the Canadian Society for Studies in Education conference "Congress 2018," held at the University of Regina last week. Congress brings together thousands of scholars from across the social sciences and humanities every year.
Henderson, Beach and Sun, along with Faculty of Education PhD candidate Jen McConnel, are conducting the study to gain a better understanding of the resources made available to teachers through the Financial Consumer Agency of Canada's financial literacy database and of how teachers evaluate financial literacy resources for use in their classrooms. 
The presentation focused on the first phase of the study, which examined resources in the database and compared key themes among three categories of resources: those produced by financial services companies, those sponsored by financial services companies and those neither produced nor sponsored by financial services companies. This third category includes resources produced by government, non-profit organizations and individuals.
"The concern with financial services companies producing or sponsoring resources is that the companies are in a conflict of interest between maximizing profits and actually educating students to manage their finances wisely" explains Henderson. "The frequency of key themes was fairly consistent across the three categories, but some, such as banks as safe places to put your money and understanding financial products, were more frequent in resources produced by financial services companies. More analysis is needed to determine whether this is evidence of a conflict of interest in these educational materials, which is what the team will be doing this summer."
As Beach knows from her previous research, elementary teachers are using online resources to seek out information related to classroom practice. "The results of this phase of the study will assist teachers in identifying accessible, high-quality and credible educational materials related to financial literacy" says Beach. "The next two phases will explore teachers' views of financial literacy education and the role of financial literacy resources in teacher learning and instruction. Hearing directly from teachers can provide important feedback on the usefulness of resources in the database as well as whether teachers perceive a conflict of interest in these educational materials."
The presentation was part of a roundtable panel titled "Empowering Students & Questioning Content." The presentations focused on how education curricula are created and perhaps influenced externally by government and the private sector. Faculty from the nearby First Nations University were among the audience members.
The opportunity for students to participate in academic conferences like Congress allows them to gain experience in presenting and insight into an academic career path. Sun commented how memorable this experience has been for her: "I have learned so much about the process of conducting rigourous, empirical research and how to apply this research to answering novel research questions. I'm so grateful that Queen's Law offers these experiences to students and that I was able to be a part of it."