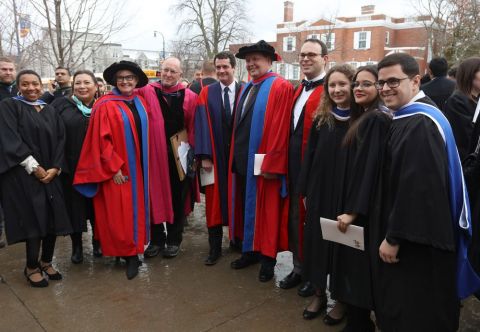 (November 22, 2019)
Convocation is a key date in the Queen's Law calendar every year, but Fall 2019 saw a number of exceptional moments throughout the week, including in the university's recognition of Indigenous leadership.  
Dean Mark Walters, Law'89, celebrated two prominent Indigenous changemakers as they were awarded honorary Doctor of Laws degrees.  
He also hooded two PhDs, six LLMs, and four JDs, and acknowledged 40 undergraduates receiving their Certificate in Law at the Law convocation on Wednesday.
"It was a true honour for me to robe Canada's leading Indigenous legal scholar, John Borrows, and to host Senator Murray Sinclair as they received honorary degrees from Queen's University last week on Wednesday and Friday, respectively." said Dean Mark Walters.
"Both Professor Borrows and Senator Sinclair made time to meet with Indigenous law students, and Senator Sinclair was especially pleased to see the quotation of his passage on reconciliation on the wall of our atrium. It was a privilege to be on the stage and in their company at the convocation ceremonies at which their contributions to Canadian society were honoured." 
LLD honoree Senator Murray Sinclair is the former Chief Commissioner of the Truth and Reconciliation Commission (TRC). Sinclair served the justice system in Manitoba for over 25 years. He was the first Aboriginal judge appointed in Manitoba and Canada's second. He served as Co-Chair of the Aboriginal Justice Inquiry in Manitoba. As head of the TRC, he participated in hundreds of hearings across Canada, culminating in the issuance of the TRC's report in 2015. He also oversaw an active multi-million-dollar fundraising program to support various TRC events and activities, and to allow survivors to travel to attend TRC events. He served as an adjunct professor of law at the University of Manitoba. Senator Sinclair has received honorary doctorates from a dozen Canadian universities. He was appointed to the Senate on April 2, 2016.
The Queen's Law atrium now features a short but powerful quote by Senator Sinclair thanks to a class gift by Law'18. His words provide a daily reminder to law students that the journey of reconciliation is far from over, and that they have an important role to play in maintaining its momentum.
Also bestowed with an honorary LLD was John Joseph Borrows, the Canada Research Chair in Indigenous Law at the University of Victoria Law School in British Columbia. He is the 2017 Killam Prize winner in Social Sciences; 2019 Molson Prize from the Canada Council for the Arts. John is Anishinaabe/Ojibway and a member of the Chippewa of the Nawash First Nation in Ontario, Canada. His publications include, Recovering Canada; The Resurgence of Indigenous Law (Donald Smiley Award for the best book in Canadian Political Science, 2002), Canada's Indigenous Constitution (Canadian Law and Society Best Book Award 2011), Drawing Out Law: A Spirit's Guide (2010), Freedom and Indigenous Constitutionalism (Donald Smiley Award for the best book in Canadian Political Science, 2016), The Right Relationship (with Michael Coyle, ed.), Resurgence and Reconciliation (with Michael Asch, Jim Tully, eds.), Law's Indigenous Ethics (forthcoming) all from the University of Toronto Press. 
Professor Nick Bala, Law'77, was also on centre stage at Convocation. Having been designated the William R. Lederman Distinguished University Professor in May, he received his official certificate, which he now displays proudly in his office. 
Visit the Fall Convocation 2019 Photo Gallery