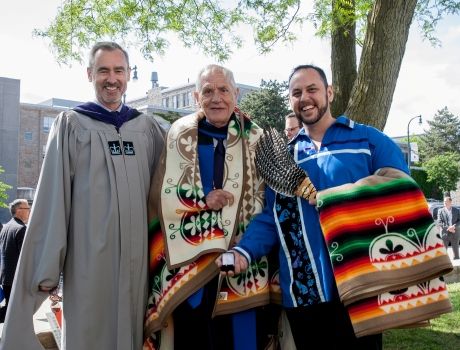 For many years before pursuing a legal education, Jason Mercredi worked with several organizations dedicated to advancing Aboriginal rights. It was his involvement with Treaty 1-11 that familiarized him with treaty histories and law, and influenced him to study law in the first place. "I wanted to be in a position where I could make 'yeses' happen for Indigenous people, and that's why I chose to go to law school," he says.   
During his three years at Queen's, the Mushkegowuk Cree from Winnipeg has honoured his heritage within the law school and the university, making "enormous and transformative contributions." At this year's Convocation, he was awarded the Dean's Key for best embodying the school's community values, collegiality, professionalism and service.
As a Queen's student, Mercredi volunteered with the university's Truth and Reconciliation Commission (TRC) Task Force, worked collaboratively with Queen's housing department to inspire a First Nation housing policy, helped implement more awareness and access to first-term and emergency bursaries, and he also gave guest presentations on Indigenous history. His work with the TRC Task Force culminated in a presentation of its final report and recommendations to the university community on March 21; a historical milestone commemorated with an event that day at the Agnes Etherington Art Centre.
"Jason has been a key leader in helping to shape the faculty's and the university's response to the TRC's calls for action," says Dean Bill Flanagan. "Ever articulate, persistent and thoughtful, it has been a privilege to work closely with Jason over the past three years, and I look forward to his continued engagement with the law school as he launches what will no doubt be a remarkable legal career."
"Jason worked extremely hard to help advance the goal of reconciliation by making positive changes at Queen's," adds Professor Cherie Metcalf, who worked with Mercredi during her term as Associate Dean (Academic). "It was not easy work for Jason to constantly speak to Indigenous issues at the Faculty and on campus. Jason dedicated a lot of his energy as a Queen's Law student to work that was important to making the Faculty a better place – not just for Indigenous students, but for all of us."
Indeed, Mercredi's time at Queen's Law was replete with accomplishments. 
In the fall of 2015, he advocated for, and was elected to, the first seat on the Law Students' Society (LSS) for an Aboriginal Student Representative – a position created to give a voice to First Nations, Métis and Inuit perspectives within the law school. He also was a voice on the LSS to endorse the Canadian Council of Law Deans' response to the TRC calls to action, leading to the later creation of a Truth and Reconciliation Committee within the LSS. 
Moreover, he was instrumental in the drive to allocate an LSS surplus fund to the establishment of the Queen's LSS Aboriginal Entrance Award, now an endowed fund in perpetuity to support Indigenous students coming to Queen's Law. 
In his first year, Mercredi and fellow Indigenous student Ashley Pitcher, Law'17, created and continuously championed the Indigenous Law Students' Alliance at Queen's Law, now a strong student organization that will continue to be a force in the school. In 2016, he was elected as the law students' representative on the Queen's Senate. 
Mercredi organized and presented a number of Indigenous culture-based and issue-related workshops, including a panel on Legal Efforts of Reconciliation in March, and he played a strong role in the organization and execution of the Kawaskimhon Moot hosted at Queen's Law two years ago. In addition, he has been active in endorsing and encouraging the work of staff recruiting and supporting Indigenous students at Queen's.
"More difficult to quantify is Jason Mercredi's service to the school as a positive presence," wrote one of his nominators for the Dean's Key award. "Jason was never afraid to raise difficult questions or challenge issues, but always ultimately focused on finding solutions and paths forward. Queen's Law is a better place for his having been here."