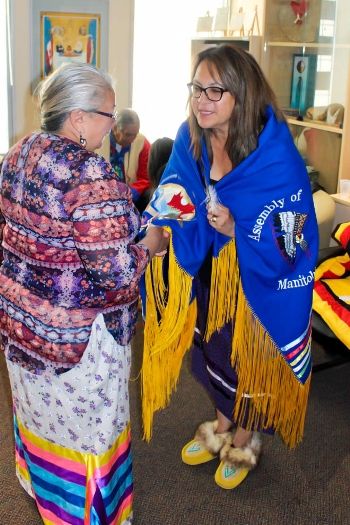 After a year of initial service, Loretta Ross, Law'89, has accepted a five-year reappointment as Treaty Relations Commissioner for Manitoba. "I'm delighted, of course," she says. "With a one-year mandate, it was difficult to tackle some of the substantive issues between the parties, and with the various initiatives going on – such as the treaty tables and the rights and recognition framework agreement, I had to adopt a wait-and-see attitude. However, I'm now ready to roll up my sleeves and get busy making long-term plans." 
Because there had been no commissioner in place when she became head of the Treaty Relations Commission for Manitoba (TRCM) in May 2017, Ross feared she might have a lot of "catch up" to do in raising the importance of treaties. Happily, that wasn't the case. Since Day One on the job, she has been busy responding to ongoing demands for information and making plans. 
"My sense of the situation is that the Trudeau government is still feeling its way in its relations with First Nations people. Federal officials are being careful not to fall into the behavioural patterns of their predecessors," says Ross. "They're trying not to dictate what the process going forward will be. This provides a real opportunity for the Assembly of Manitoba Chiefs (AMC) and leadership to begin setting the agenda and to advance issues. We feel there can be a definite role for the TRCM in assisting the parties to navigate those discussions."
With that goal in mind, one of Ross's immediate priorities is to continue educating the public – both Indigenous people and non-Indigenous alike – on treaty issues. She has increased her efforts in that regard. In addition to the many community meetings and informational sessions she has made it her priority to attend, Ross is forging ahead with innovative new initiatives. For one, she co-edited the May-June 2018 issue of Canada's History magazine, which focused its editorial spotlight on First Nations' perspectives on treaties. 
For another, Ross is hosting "Let's Talk Treaty," a bi-weekly radio program that airs on stations of the Native Communications Inc. (NCI-FM) network in Manitoba and is available as an on-line podcast. 
"The show is only 15 minutes – just long enough to impart information and get peoples' attention without getting too technical and losing listeners," says Ross. "It's the sort of initiative that will help get our message out and that will continue to build understanding of treaties and treaty relationship, as well as support the work the TRCM is doing. I'm excited to be part of that."   
By Ken Cuthbertson