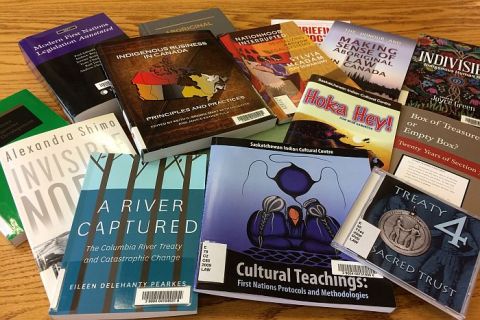 As a school located on traditional Anishnaabe and Haudenosaunee Territory, Queen's Law has been part of a campus-wide effort to provide an opportunity for members of indigenous communities to see representations of their cultures on campus, and also provide non-Indigenous people an opportunity to learn about Indigenous cultures and languages. One way Lederman Law Library is doing this is through a recent gift for the purchase of legal texts.
"An anonymous donor generously provided us with $5,000 for books for the Lederman Library.  In the context of the recent findings of the Truth and Reconciliation Commission, expanding our available works on Aboriginal law is a priority," says Amy Kaufman, Head Law Librarian. "We focused particularly on works on Aboriginal law and aspects of law, as published by Aboriginal authors and publishing houses."
The gift allows the Lederman Library to begin broadening and deepening its collection in this area. "What we have now is not huge, but it's important," Kaufman says. "It's a modest collection, but is composed of material that can give researchers a fuller understanding of Aboriginal law than books that have often been written through a non-indigenous lens. We have also held some of the donation in reserve, so we can keep looking and stay current."
Further work to expand the collection will involve consultation outside the library, as well. "Jason Mercredi, the Aboriginal Student Representative on the Law Students' Society, has kindly agreed to help us with forward-looking research," Kaufman explains.
As well as books that give wider, and particularly indigenous, perspectives on aboriginal law, Kaufman says that the new acquisitions have resonances that extend past strictly legal interests. "We're focusing on books that go beyond black letter law; that look at what Aboriginal people themselves say are important rules, customs and methodologies. We're looking for ways to explore the Aboriginal context and formulation of Aboriginal law – to have a new openness to those customs and methods."
The Lederman acquisitions represent one of the ways Queen's University Library is supporting diversity and inclusion on campus. Another recent example includes the creation of 12 new study rooms at Stauffer Library with Indigenous names and artwork.