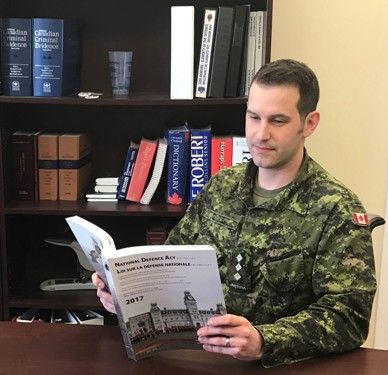 It's a world often only seen through procedural TV shows and movies. But on March 20, Queen's Law students will be given an exclusive opportunity to meet and speak with lawyers working with The Office of the Judge Advocate General (JAG) at Canadian Forces Base (CFB) Kingston. JAG lawyers have diverse military, and legal, backgrounds and want to share their experiences with Queen's Law students interested in learning more about this exciting career path. 
"This is the 100th anniversary of the legal branch of the Canadian Armed Forces, and to mark the anniversary, we're holding events across Canada," says Captain Peter Briffett, Law'17, currently completing his articling requirements at CFB Kingston. "Our idea was to reach out and create an information session as an event, and present what we do, and what it's like to be a lawyer in the Forces." 
Individuals come to military law via "one of two scenarios," Briffett says. "The first way to work for the military legal branch is to serve, and then be selected through a competitive selection process to be sent to law school. This was my path. The other avenue is to first be a young lawyer with a few years of experience, apply to the Forces, and join the Forces as a legal officer." As he explains it, both career tracks are equally weighted, with a key difference in training: "I learned about the Forces first, and law second. Direct entry officers already have a background in law, but then have to learn about working in the military. 
"This event is really about that second career path, direct entry officers," he says. "Future lawyers may not have considered this as an option yet – a career in the office of the JAG may not have yet crossed their minds." 
The event will see a number of military legal experts joining Captain Briffett to answer students' questions and discussing the realities of JAG with their Queen's Law guests. They include Major Eric Carrier, a former military prosecutor and now Deputy Judge Advocate; Major David Duggins , also a Deputy Judge Advocate in Kingston and with a number of past deployments around the world; and Captain Kelly Lynch, a former business and real-estate lawyer who joined the forces in 2006. She enrolled in 2016 and has never looked back.
"The public often doesn't have a clear idea of what a military lawyer does," Briffett says. "It's exciting to be able to share this alternative career path, and answer questions about it."