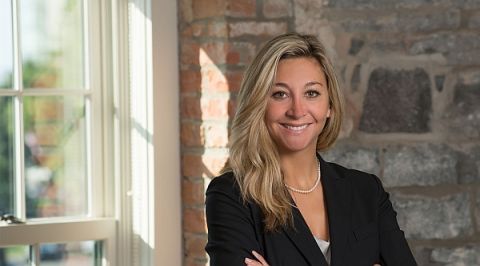 It's exam time in the law faculty.  With the help of Queen's Law alumni, the class of 2018 is already looking ahead to one of their first major challenges post-graduation: licensing exams in June. Passing the bar is the first step to practice, and proper preparation both increases a student's chances of success and goes a long way towards relieving any anxiety. On February 26, Andrew Sapiano and Emma Cotman, both Law'16, shared their strategies for licensing exam success with about 60 third-year JD students. Both practise in Kingston at Cunningham Swan. Sapiano also co-presented last year.
For Emma Cotman, volunteering to help students get ready is a way of giving back – and as a recent graduate, she can easily recall the stresses involved in preparing for the bar. "As a law student, the bar exams can seem daunting," Cotman explained. "When a student knows what to expect going into the exams it can relieve a lot of additional stress. I had the guidance and tools I needed to prepare for the exams and succeed, which was largely a result of the support and efforts of Queen's Law students before me."
Since 2011, recent Queen's Law alumni have presented tips on how to study for and write the Ontario licensing exams in partnership with the faculty's Career Development Office (CDO). The format of the session has varied, but "it consistently provides recent alumni working in Kingston the opportunity to return to the law school and give back", explained Michael Molas, a career counsellor in the CDO.
"Emma and Andrew did an excellent job explaining what to expect and how to study," said Ethan Gordon, Law'18. Gordon found the talk "very helpful" as he looks toward graduation, preparing for the licensing exams and the start of his articles at Bennett Jones in Toronto.
"One of the greatest things about being part of the Queen's Law community is the sense of collegiality," Emma Cotman explains. "When Queen's Law students excel, it is a success that is felt throughout the entire Queen's Law community."
– Alexander McPherson