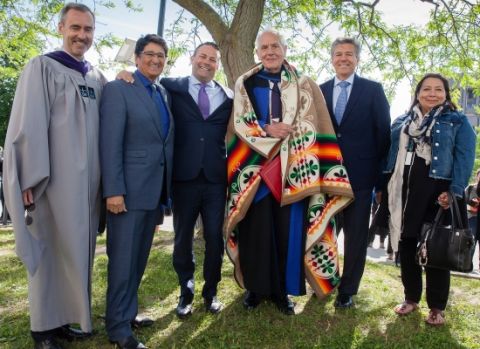 "Queen's University has a reputation of having graduated those citizens who have contributed to the positive development of this country. They've opened their doors, their minds, and their hearts to the Indigenous community, and they have nurtured the development of Indigenous professionals who have made major contributions to their communities, as well as to the rest of Canada." Those are the words of Douglas Cardinal, a leading voice for reconciliation, as he accepted an honorary Doctor of Laws degree from Queen's University at the Law Convocation on June 6.
Cardinal is an internationally acclaimed architect, an iconoclastic designer, a philosopher, an activist, and an Officer of the Order of Canada. In his Convocation address, he took the opportunity to acknowledge the great strides taken by Queen's towards reconciliation with Indigenous peoples.
For Canada to continue on the path of reconciliation, he continued, "It is imperative to fully understand traditional governance, traditional laws, and the inherent rights of traditional people, which have evolved over thousands of years of living in harmony with each other and with the land." However, he lamented that those implementing justice in the country have limited knowledge of the traditional governance.
According to Cardinal, there is still much to be done and education is the only way forward. "I believe this university has a great opportunity because of its history in working with First Nations people to be able to create a better understanding and knowledge of traditional law, so that future lawyers and judges will have a better understanding of our inherent justice system in order to act more responsibly in the courts with the challenges that we will face in the future on the path to reconciliation."
Calling upon all those entering the next stage of their careers to continue the efforts towards reconciliation, he said, "I request all graduates to commit to support the university and provide a forum to educate society to the positive contributions of the laws, customs and traditions of the Indigenous peoples."
Kandice Baptiste, Director of Queen's Four Directions Aboriginal Student Centre, presented Cardinal with a Creation Turtle Pendleton Blanket, and The Four Directions Women Singers performed an honour song for him.
"Your message today is one of hope," Dean Bill Flanagan said to Cardinal. "It is also one that quite rightly challenges us to do more as our law school, our university and the broader Canadian society continue to reflect on how we can respond most effectively, and with an open heart, to the calls to action in the Truth and Reconciliation Commission Report." 
The Dean also thanked the alumni in attendance who generously contributed to the Douglas Cardinal Bursary. That bursary, to support for Indigenous students in their Queen's Law studies, is another of the school's efforts to honour its newest honorary LLD recipient. 
Dean Flanagan continued, "Dr. Cardinal, you have been a tremendously valued partner for the law school as we recommit ourselves to ensuring that Queen's Law is a place where our Indigenous students and of the study of Indigenous legal traditions can continue to thrive and grow. I look forward to continuing to work with you and our many other Indigenous partners as we continue to walk together down the path of reconciliation."
For more photos, check out our Convocation gallery.
Watch a webcast of Douglas Cardinal delivering his address, and the entire Queen's Law Convocation (ceremony 21) on the University Registrar's website. 
By Aschille Clarke-Mendes